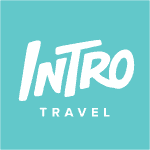 Number of tours

33
Age Range

18-55
Number of reviews

13,805
Rating

4.8

/5
Response rate

96%
Response time

within 2 days
Ali

Written on December 7th, 2022

I had the best month ever, I've learnt so much about the different places I've been too and felt so happy with the group and leaders I was with, I can't wait to…

Read more

Amy

Written on December 7th, 2022

This November, I did my first tour to Vietnam with Introtravel. I had a fantastic time and enjoyed every minute of it. The variety of places visited in Vietnam …

Read more

Written on December 5th, 2022

Well organized. Excellent group leader and great travel crew.

Tan

Written on December 4th, 2022

Fantastic itinerary with a budget. Seen and did both touristy and adventurous itinerary. Operator was very helpful in booking additional nights and other arrang…

Read more

Written on December 3rd, 2022

Great value overall, might recommend only spending one night in Tekapo as there is very little night life (especially during the week). Perhaps one full day/nig…

Read more

Zerrouki

Written on December 2nd, 2022

I was part of the Intro Travel 13 days Mexico trip, it was an amazing experience from start to end and I got the chance to meet fantastic people, I really coul…

Read more

Written on December 2nd, 2022

We had James as our group leader for the Vietnam 12 day intro. He made our Intro experience unforgettable, safe to say we will all miss him very much. What a pr…

Read more

Written on December 2nd, 2022

I was a part of the 12 day Vietnam trip with Intro Travel and it was amazing! My group leader, James, was hilarious and enthusiastic and also extremely helpful …

Read more

Written on December 1st, 2022

Absolutley amazing 18 day tour by Intro. The accomodation and activities were fantastic, whole tour was really well organised and both our group leaders Eliza a…

Read more

Written on December 1st, 2022

A tour trip you would struggle to pick many holes in. From accommodation to day trips to experiences, overall it's an excellent introduction to Bali. Day trip g…

Read more
INTRO Travel Destinations
INTRO Travel Videos
COVID Safe Travel
Your Safety & Wellbeing Is Our Top Priority

The safety and wellbeing of our group members, staff and operators is our top priority. And that will continue as we operate in and beyond the COVID-19 era. 
Check out some of the extra measures we've taken to ensure you stay safe and healthy on your next epic adventure with us. 
These new measures will evolve based on current advice and will in no way distract from our core goal of showing you the absolute trip of a lifetime.
Peace of Mind Before You Go
Should you have any questions regarding your trip, we are here to help. Our dedicated reservations and support teams will be ready around the clock to answer any of your questions or concerns. We stay up to date with relevant restrictions and measures in place regarding COVID-19 and will ensure the start of your awesome adventure is totally stress-free. 
Experienced Group Leaders
Your Group Leader is there to ensure your enjoyment and wellbeing, and to answer any questions you may have. INTRO Group Leaders are also supported 24/7 by our dedicated operations team and are there to help you in any situation. All Group Leaders have recently undergone revised safety and hygiene training in line with professional health advice regarding COVID-19.
Travel With Care
When travelling throughout your trip we may use several different methods of transport, from tuk tuks, taxis, private minivan's, ferries, trains and planes. We are working with all operators to ensure that the relevant social distancing and hygiene standards are adhered to. Where necessary, this may include specific seat allocations, regular deep cleaning, the use of facial coverings and hand sanitisers. Your Group Leader will be there to advise you of any of these new processes.
Rest Easy
We choose our accommodations extremely carefully and have a great relationship with all of our hotel, hostel and guesthouse operators. We will be working closely with all operators to ensure that all recommended hygiene and social distancing protocols are being met and maintained. Some of these increased measures will include the daily cleaning of your room with the focus of disinfecting all surfaces and most commonly used areas. After which no accommodation staff will enter your room and it is recommended that only the room occupants enter the room. In public areas within the properties, social distancing measures may be in place. Also where needed we may adapt room allocations to ensure social distancing measures can be maintained. 
Unforgettable Experiences, No Worries
Just like our accommodations, we have chosen our experiences and local operators with great care. We are proud to have great, long standing relationships with all of our activity operators and will be working closely with them to ensure that all recommended hygiene and social distancing protocols are being met and maintained whilst participating in any activity. 
Tasty & Safe Eating
Whilst exploring our awesome destinations, no trip would be complete without sampling the local food. We always encourage group members to try as much of the local cuisine as possible and will continue to do so whilst ensuring that the appropriate hygiene and social distancing standards are being met. We always try to reserve private areas in restaurants our groups dine in and where possible we will reserve outside seating options.
Help Us Help You
At INTRO we want all group members to feel safe and comfortable whilst travelling with us. As a result of the ongoing COVID-19 pandemic, the use of facial coverings, hand sanitisers, enhanced cleaning and disinfecting processes, as well as social distancing measures will be practiced where appropriate or deemed necessary on our tours. These will vary in accordance with mandatory guidelines and advice by the relevant authorities depending on the destination. All of these measures are in place to keep our group members, staff and operators as safe as possible. We recommend that all group members are prepared for such measures and ideally bring their own hand sanitisers and facial coverings should they be required. We will do all we can to provide these, however for your own comfort and ease we recommend bringing your own. And let's all help keep each other safe and healthy while we get back to exploring this beautiful world once again!
Contact our Travel Experts
+1 844 311 8331
24/7 Support
Our team of experienced tour specialists have travelled to hundreds of countries around the globe and have decades of first-hand travel experience to share. Contact us now to have all of your tour-related questions answered!