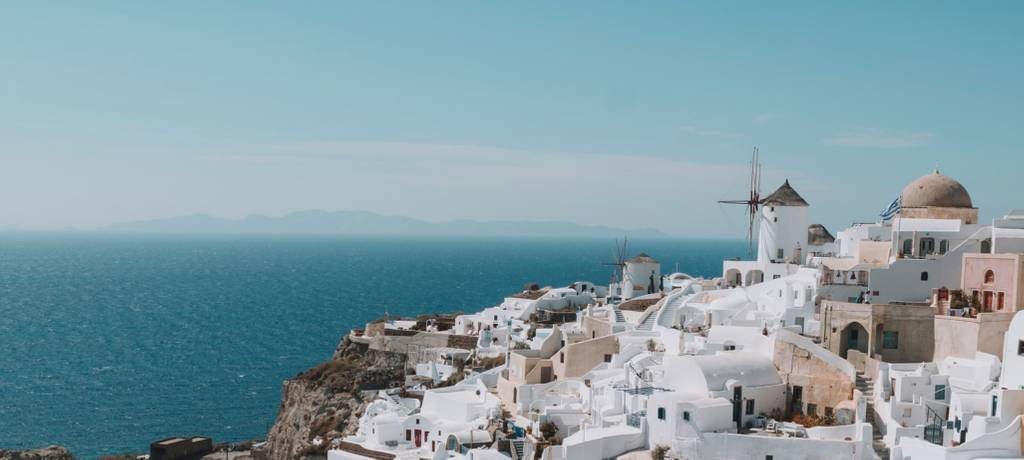 Private Tours
Add your personal touch to one of our ready-to-book adventures and enjoy a tour focused solely on your travel group. From trekking the icy slopes of Everest at your own pace to strolling through the finest wineries with your very own sommelier, the world is yours on a private tour.
See tours
Why Choose a Private Tour?
If you're looking to travel solo, or just with friends or family, then a private tour is perfect for you! You pick the people, the place, and the pace – we take care of the rest!
Personal

Make your adventure more you. Giving you complete freedom to upgrade your accommodation or add extra nights to savor those special moments.

Private

Enjoy a tour focused solely on your travel group. Choose your own travel companions and we'll arrange experiences that are tailored to everyone.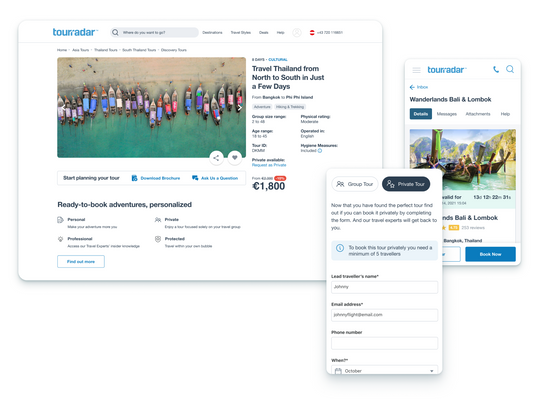 Booking a private tour is as easy as 1-2-3!

1. Personalize
Choose one of our ready-to-book adventures and make it your own.

2. Review
Receive your free, personalized quote. We're here to help you fine-tune any details.

3. Book
Once your adventure is just the way you like, it's time to book!

Start now
Where to Go on a Private Tour
Top Destinations
We've gathered together some of the best destinations for a private tour around the world. From hiking to cooking, each destination offers unique experiences that can only be cherished exclusively on a private tour.
Latest Private Tour Deals
What to Expect on a Private Tour
Will I meet other travelers on my private tour?

It's up to you! Some private tours might include an activity that involves a day or half-day with other travelers, such as a guided tour of a museum, a city walking tour, or a cooking course. 

Will there be a guide on my private tour?

Yes. On a private tour, you are typically escorted by a friendly and knowledgeable guide. On some private tours, your guide may not be with you all of the time so be sure to check out your tour guide type before booking. You should also expect to have a local guide during specific activities like walking or museum tours, guided hikes, or cooking classes. We also offer a range of independent tours, if you prefer to travel without a guide.

Do I need to pay extra when requesting a private tour?

It depends on the type of tour that you book. We have plenty of private tours and plenty of tours that can be requested to be private, so be sure to double-check which category your tour falls under. Don't worry, if you're unsure our Travel Experts will let you know. It's important to note that prices also vary greatly depending on the destination you choose, and whether or not you choose to upgrade your accommodation.

Can I book a private tour at the last-minute?

Yes, one of the perks of a private tour is that they are personalized to you which means that many private tours offer last-minute departures.

How do private tours compare to a typical group tour?

On a group tour, you travel with like-minded people who you've never met. Group sizes can range widely, have a tour leader, and a set itinerary that cannot be changed. Some include free time where nothing is planned and you can choose to fill the day how you'd like, while others are filled with pre-planned activities for each day.

On private tours, you travel on your own, or with your travel companions, and have more freedom and flexibility on where you stay and what you do.

How much can I change about a private tour?

It depends on your tour operator. Typically you should be able to add extra nights, upgrade your accommodation and change your start date. You can also choose to add or replace any activities to suit your requirements.
What Our Travelers Say
Jade on her Golden Triangle tour

"I had the most amazing time on my tour of the Golden Triangle. The person who made it the most amazing was my driver, Raj, who was kind, polite, and an excellent driver. He was always checking on whether I was okay or if I needed a convenience break and as a solo female traveller..." Read more

Tour Style: Private chauffeur with local guides

 

More about Taj Destination Tours

Sunny on his private Lithuania tour

"A professionally organised and action-packed itinerary. Alina welcomes you with her positive pre-departure emails. Upon arrival in Lithuania, be prepared for daily fun-filled adventures. My adventures were enhanced by my good-humoured local guide, Paulius..." Read more

Tour style: Private chauffeur and guide



More about Travel Addicts

Xiao on her private Morocco tour

"Overall the tour was excellent. It was our first time visiting Morocco and we had a great cultural experience. This custom tour allowed us to learned a lot about the history of Morocco. We really enjoyed all the cities we visited. Some of our top favorites places are Chefchaouen, Sahara Desert, and Marrakech." Read more
 
Tour Style: Private chauffeur and guide

 

More about Marrakech Tours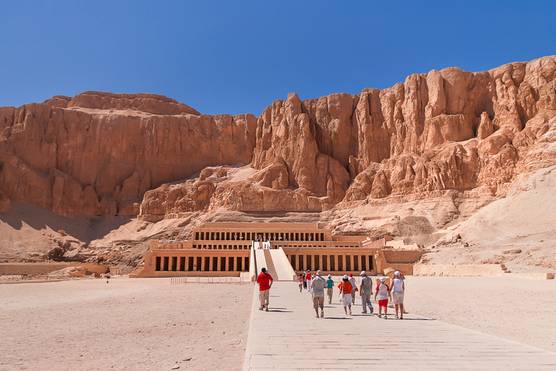 Booking for a Group?
✓ Religious groups
✓ Affinity groups
✓ School groups
✓ Large family or friendship groups
There's a lot to consider when
booking a private tour for your group
. Luckily, our team of experienced Travel Experts have traveled to hundreds of countries around the globe and have decades of first-hand travel experiences.
If you're looking to
book a tour for four people or more
, send us a message and we'll do the hard work for you!
Other Private Tours Around the World
Contact our Travel Experts
+1 844 311 3006
24/7 Support
Our team of experienced tour specialists have travelled to hundreds of countries around the globe and have decades of first-hand travel experience to share. Contact us now to have all of your tour-related questions answered!