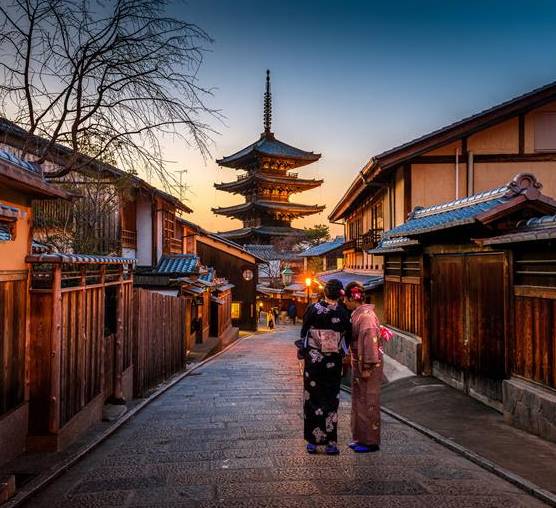 TourRadar Announces Top 100 Multi-Day Travel Experiences of the Year
Japan One Life Adventures is revealed as the #1 tour of 2019, based on traveler reviews in TourRadar's annual Tour of the Year Awards
TourRadar
, the world's largest online marketplace for multi-day tours, announced today its top 100 multi-day travel experiences of the year in the company's annual Tour of the Year (TOTY) Awards. According to traveler reviews from around the world,
Japan One Life Adventures
is the #1 tour of the year listed on TourRadar. 
Japan is a hot destination for travelers heading into next year as the country prepares to host the 2020 Olympics. The 10-day Japan One Life Adventures tour, which currently has over 700 reviews from travelers and a perfect five star rating on TourRadar, explores the unique culture and traditions of Japan, taking travelers to various locations stretching from Tokyo to Osaka. Highlights of the tour include a sushi making class, an overnight stay at a temple and, of course, karaoke. The tour operator, One Life Adventures, also takes concerted steps to ensure their tours are environmentally responsible by partnering with local suppliers to eliminating single use plastics from their operations. 
TourRadar's Tour of the Year awards also recognizes 99 other outstanding multi-day tours based on country, region, and travel style. Each winner was chosen based on an algorithm that determines the overall quality of tours listed on TourRadar, with traveler reviews a key factor. These tours span the globe with experiences ranging from gorilla trekking in Uganda and sampling the best eats of Sicily to exploring Uzbekistan and cycling Vietnam. This year, 61 different tour operators won a TOTY award for their exceptional experiences.
"With over 40,000 different tours available, TourRadar has the most thorough collection of multi-day travel experiences you'll find, including really obscure, locally-based tours that you may not be able to find elsewhere," says
Christian Wolters, Managing Director of North America
. "Our travelers gave us a tremendous amount of feedback this year, and we want to congratulate these amazing tour operators that are helping to connect people to meaningful travel experiences."
"Being recognized for producing TourRadar's top tour of the year is something our team will never forget," wrote
One Life Adventures Co-founders, Pierre Araman and Sean Mulhern
, in a statement. "At One Life, we firmly believe that incredible things can happen when people are doing their best work and we always dedicate the success we have had over the years to the incredible group of people in our business who share the same vision, mission, and values. Heading into 2020, we can't wait to showcase even more destinations through our friends at TourRadar, who have played an extremely important role in our growth as a company and who act as a true partner."
TourRadar's Tour of the Year Winners: Travel Styles
Adventure – 
7 Day Inca Jungle Adventure To Machu Picchu with Mountain Bike, Rafting, Zip Line and Trek
by Inkayni Peru Tours
Polar Excursions – 
Antarctica Classic
by G Adventures
Bicycle – 
Cycling Vietnam
by Exodus Travels
Culinary – 
Small Group Sicily Food & Wine Tour
by Sicily Activities
Family – 
Vietnam Family Holiday
by Intrepid
Festivals & Events – 
7-Day Halloween in Transylvania including 3 Halloween parties
by Transylvania Live Expert in Transylvania
Gorilla Trekking – 
Uganda Gorilla Short Break - Basix
by Intrepid
Hiking & Trekking – 
Classic Inca Trail to Machu Picchu - 4 Days
by TreXperience
In-depth Cultural – 
Highlights of Morocco
by G Adventures
Independent – 
Argentina & Chile: Amazing Patagonia - 13 days
by Say Hueque Tours
Northern Lights – 
5 Day - Snaefellsnes, South Coast and Northern Lights
by Arctic Adventures
Photography – 
Photo Tour 5 - TEA Active Tour - Sand, Trees & Animals
by TEA Tapajos Extreme Adventures
River Cruise – 
From Portugal to Spain: Porto, the Douro Valley and Salamanca (port-to-port cruise)
by Croisi Europe River Cruises
Safari – 
Kenya Wildlife Safari
by Intrepid
Sailing – 
Phuket Sailing Adventure
by Intrepid
Ski/Snowboard – 
Ski / Snowboard trip - perfect for solo travellers
by the HOFNAR experience
R
egions
Alaska –
Alaska Adventure - 20 Day
s by Infinite Adventures
Amalfi Coast – 
Highlights of the Amalfi Coast
by Exodus Travels
Bali – 
Bali Bucket List Original 10 Day Tour
by Bali Bucket List Tours
Borneo – 
Classic Borneo
by Intrepid
Central America – 
Central American Journey: Rainforests & Ruins
by G Adventures
Cross Europe – 
European Pioneer
by Topdeck
Eastern Europe – 
European Pioneer
by Busabout
Everest – 
Everest Base Camp Trek
by Nepal Hiking Team
Galapagos – 
Galapagos Essentials
by Adventure Journeys
Golden Triangle – 
Explore Golden Triangle
by Yolo India Tours
Hawaii – 
Hawaiian Explorer
by Trafalgar
Himalaya – 
Himalayan Kingdom Culture tour Nepal-Tibet and Bhutan
by Manakamana Treks Expedition
Kilimanjaro – 
Climb Kilimanjaro: 9 Days Lemosho Route
by Altezza Travel
Machu Picchu – 
Classic Inca Trail to Machu Picchu - 4 Days
by TreXperience
Patagonia – 
Patagonia Highlights
by Tucan Travel
Petra – 
Petra & Wadi Rum 3 Day Tour from Jerusalem
by Abraham Tours
Rocky Mountains – 
Rockies Premium Tour from Vancouver 2020 (34 Seats)
by Discover Canada Tours
Scandinavia – 
Highlights of Scandinavia
by CostSaver
Scotland – 
5 Day Skye & Highland Fling
by MacBackpackers
Silk Road – 
Tracks of the Silk Road - 13 Days
by Travel China Guide Tours
Taj Mahal – 
Taj Mahal and Wildlife with Royal Stay at Castles
by Swastik India Tours
Tuscany – 
Walking in Tuscany
by Exodus Travels
USA - East Coast – 
New England's Fall Foliage (Summer 2019)
by Insight Vacations
USA - South – 
Deep South And Delta Blues
by Grand American Adventures
USA - West – 
7 Day Southwest National Parks Grand Canyon Camping Tour
by Bindlestiff Tours
Western Europe – 
European Wonder
by Topdeck
Countries
Albania – 
Local Food & Unesco Heritage
by Good Albania
Argentina – 
Patagonia Hiking
by G Adventures
Australia – 
Absolute Aussie
by Wild Kiwi
Bhutan – Best of Bhutan by World Tour Plan
Cambodia – 
Cambodia Intro
by Intro Travel
Canada – 
Rockies Premium Tour from Vancouver 2020 (34 Seats
) by Discover Canada Tours
Chile – 
4-Days Discovery Puerto Natales & Torres del Paine
by Signature DMC
China – 
8 Days Small Group China Tour - Beijing - Xi'an - Shanghai
by Travel China Guide Tours
Colombia – 
Colombia - Lost City Trekking
by G Adventures
Costa Rica – 
Essential Costa Rica - Package with Manuel Antonio National Park
by DS Costa Rica
Croatia – 
Dalmatian Voyager - Depart Split
by Koda Sail
Ecuador – 
Ecuador Highlights 10 Days
by Adventure Journeys
Egypt – 
Pharaohs Nile Cruise Adventure - 5-star
by Beyond the Nile Tours
England – 
3-Day Stonehenge, Glastonbury, Bath & the South West Coast Small-Group Tour from London
by Rabbie's Tours
Ethiopia – 
5 Days Classic Northern Ethiopia Tours
by Ethio ToursbyLocals
Finland – 
Lapland 7 Days in Santa Claus Town on the Arctic Circle!
by Nordic Unique Travels
France – 
Burgundy River Cruise Adventure
by G Adventures
Georgia – 
Georgia GRAND Tour
by This is Georgia
Germany – 
Best of Germany Summer 2019
by Trafalgar
Ghana – 
The Year Of Return Ghana 2020 ( Panafest )
by Olives Travel Tour Ghana
Greece – 
Greek Island Hopper (Fixed Itinerary)
by Busabout
Iceland – 
6 Day - Around Iceland Adventure
by Arctic Adventures
India – 
Golden Triangle
by G Adventures
Ireland – 
Great Atlantic Adventure small group tour - 7 Days
by Overland Ireland
Israel – 
Coastal & Northern Israel - 5 Days
by Abraham Tours
Italy – 
Small Group Tour of Sicily: Highlights
by Sicily Activities
Japan – 
Japan One Life Adventures - 10 Days
by One Life Adventures
Jordan – 
Best of Jordan - 3 Days
by Jordan Private Tours and Travel
Kenya – 
Kenya Wildlife Safari
by Intrepid
Laos – 
Laos Explorer XL
by TruTravels
Madagascar – 
Highlights of Madagascar
by G Adventures
Malaysia – 
Borneo – East Sabah Adventure
by G Adventures
Mexico – 
Magic Mexico
by Destination Services Mexico
Mongolia – 
Local Living Mongolia—Nomadic Life
by G Adventures
Morocco – 
3 Days / 2 Nights High Atlas Mountains and Sahara Adventure
by Morocco Joy Travel
Myanmar (Burma) – 
Very Best of Myanmar - 11 Days
by EMH Tours and Travel Group
Namibia – 
Wonders of Namibia National Geographic Journeys
by National Geographic Journeys with G Adventures
Nepal – 
Nepal Classic Tour -11 Nights 12 Days
by Himalayan Adventure Treks Tours
Netherlands – 
Best of Holland
by Trafalgar
New Zealand – 
Vibe of the North' - New Zealand Tour for 18-35s!
by Kiwi Vibes
Norway – 
Norway Fjord Trekking
by G Adventures
Peru – 
Classic Inca Trail to Machu Picchu - 4 Days
by TreXperience
Philippines – 
Philippines One Life Adventures - 10 Days
by One Life Adventures
Poland – 
Best of Poland
by Trafalgar
Portugal – 
Portugal in Depth
by Globus
Romania – 
Classic Romania Tour in eight days from Bucharest- Small group tour
by Rolandia
Russia – 
Back Roads of Russia: St Petersburg - Moscow
by G Adventures
South Africa – 
6-Day Group Garden Route & Addo Adventure Tour
by Earthstompers Adventures
South Korea – 
Discover Korea Round Korea - 7 Days
by HanaTour ITC
Spain – 
Spanish Wonder (9 Days)
by Trafalgar
Sri Lanka – 
Sri Lanka One Life Adventures - 12 Days
by One Life Adventures
Taiwan – 
Taiwan Island - 9 Days
by Super Value Tours
Tanzania – 
Climb Kilimanjaro: 9 Days Lemosho Route
by Altezza Travel
Thailand – 
Northern Thailand Adventure
by TruTravels
Turkey – 
Turkey Classics Tour
by Fez Travels
USA – 
3 Day Southwest USA National Parks Tour from Las Vegas
by Bindlestiff Tours
Uzbekistan – 
Uzbekistan Cultural Tour (Tashkent to Samarkand, Bukhara, Khiva and back to Tashkent)
by Steppe Journeys
Vietnam – 
Vietnam Experience
by Contiki