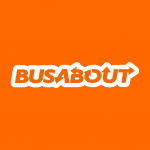 Number of tours

0
Age Range

18-99
Number of reviews

7,424
Rating

4.7

/5
Response rate

84%
Response time

within 1 day
Busabout Videos
Why Busabout
Independent Travel
In 1998, Busabout set themselves apart from the rest by linking up the best cities and destinations, and seeing the company rise above from just being an average tour operator. They are committed to allowing travelers to explore Europe in an independent way, allowing the time, cash and experiences available to go further. Busabout is known as the alternative choice, dedicated to their freestyle way of traveling, and their one of a kind hop-on hop-off coach network.

Staff That Live To Travel
Busabout staff and crew live to travel, and they know first hand what makes a memorable trip. This is why sometimes they will show you around, and other times you are free to explore yourself. No matter which it is, they will always give youlocal knowledge to make the most of what is available.
Busabout Benefits
Independence, With Benefits
With Busabout, you get all the benefits of a group tour, like door-to-door service, knowledgable guides on the coaches, optional activities to make the most of your time there, as well as the experience of being able to travel around with like minded backpackers. As well as these benefits, you have the bonus of flexibility of independent travel, with the hop-on hop-off bus system, allowing you to decide where you want to explore next and how long you want to spend there.

Understanding Travelers
Understanding that backpackers want independant travel, to explore the world, and to keep it all within budget, means that Busabout can now offer its adventures across mainland Europe, island hopping through Greece or Croatia, trekking through Eastern Europe, or marveling at the ancient cultures of Egypt and Morocco.
We Are Committed To Your Well-Being
Committed to Your Well-Being

We have all adapted to this new world, where it's imperative for us to take additional measures to stay healthy.
That's why you can travel with us reassured that we have put numerous new measures in place to elevate our hygiene standards and protocols. The health and well-being of our guests and team has always been, and always will be, our primary concern.
In this new, fast changing Covid-19 era, we are doing all we can to adapt to new requirements and expectations. Here are some important new steps and procedures that we have implemented to enhance hygiene protocols, to comply with physical distancing requirements by relevant government authorities and to give you the needed peace of mind during your travels in these new times.
EXPERTLY TRAINED GUIDES
Our Guides have now been trained in new and enhanced hygiene and physical distancing procedures. During your trip they operate caring duty of care and monitor the hygiene etiquette of our guests during our trips, reacting and advising as needed to ensure high standards are maintained. We will also look to you being well informed before you travel about new protocols required in these areas, and that you cooperate with and heed the advice and direction of our Guides while on your trip. Our Guides have preventative measures in place to try and ensure your well-being and in the event that any unexpected issues arise on trip, they will activate additional protocols.
A FULL TEAM OF SUPPORT 24/7
It's not just your Guides and Drivers who will be taking care of you. Behind the scenes, our operations and guest support teams are in contact with them and on call 24/7, so you can rest assured that you're in good hands.
STRINGENT ON-THE-ROAD PROTOCOLS
Our coaches are sanitised before the start of your trip and have always been kept to very high standards. Following the outbreak of COVID-19, we have taken additional measures to elevate our hygiene and sanitary practices in accordance with guidance from the World Health Organisation (WHO) and as required, applicable government regulations.
Our Drivers are trained with the latest hygiene protocols and will clean and disinfect all surfaces including handrails, door handles, tables, seats, air-conditioning filters and overhead lockers on a daily basis.
All our guests are asked to follow hygiene practices recommended by the World Health Organization, including the thorough and regular washing of hands and sanitising when required. Hand sanitiser is freely available on board for our guests to use throughout the day. Please bring your own washable face mask and gloves with you, and additional hand sanitiser to make you feel comfortable, as these are required to be worn in public in some countries.
Should an unexpected situation arise, additional face masks, rubber gloves, antiviral sprays and wipes are available for guest distribution on all trips.
TRUSTED PARTNERS, EXCEPTIONAL STANDARDS
We are very selective in who we work with and choose to only use hotels, restaurants, ground handlers and venues that take the health and well-being of our guests as seriously as we do and agree to meet expected guidelines and specifications. We only work with establishments that we are confident will consistently adhere to our standards.
SMALLER GROUPS, MORE PERSONAL SPACE
On our trips now, we have worked to ensure our groups are divided into smaller sets at each stop, to ensure the required physical distancing is ensured.
ALWAYS IN THE KNOW
As part of The Travel Corporation (TTC), Busabout is kept up to date with all government advisories and travel alerts on a daily basis and is continually in touch with all of our partners on the ground in each destination. Also, rest assured that during your trip, our teams work to ensure our supplier partners (hotels, restaurants, museums and other venues) are also applying the same standard to these new hygiene and distancing protocols, to the extent possible.
Questions & Answers
Is it possible to change departures dates for Busabout adventures and treks?

Yes, depending on availability but an amendment fee may apply.

Does Busabout adventures and treks includes accommodation?

Yes, most of Busabout trips includes accommodaton with the exception of Greek Island Hopper since it is a flexible product. The Croatia and Turkey Sailing trips, accommodation is included on board the boats/gullets, with the Scandi-Baltic Adventure accommodation is included in a mix of hostels and guesthouses, along with on-board cruise accommodation during overnight sails. With the Ibiza Island Hoppers, Iberian and Italian Adventures, as well as all our Eastern European Treks, all accommodation is also included – mainly smaller hostel dorms, guesthouses and the occasional hotel.

How do I link up Busabout adventures and treks?

Please contact us and we will be happy to assist in booking your Busabout trip and provide all the information you need to know to link them up.

How do I get to the start point of Busabout trips?

Information on your starting location and time will be emailed to you after your booking is confirmed, so you can plan your arrival accordingly.

How can people contact me while I'm on a Busabout trip?

Busabout is able to track all of their passengers across their circuit so in the event of emergency you can contact the Reservations office at info@busabout.com or call +44(0)8450 267 514 who will be able to assist.

What is the age limit to Busabout trips?

You need to be 18 at time of travel because the nature of the trips are for independent backpackers. Busabout can, in exceptional circumstances, give confirmation of acceptance of a person outside this age restriction, provided they are accompanied by a person 18 years or over.

What adapters is needed on the trip?

A standard Europe adaptor is recommended and the coaches come with a few power points on board.

What are the operating dates of the Busabout Hop-On Hop-Off season?

The Busabout Hop-On Hop-Off operates in the summer season and runs from the beginning of May through to the end of October.

What is the accommodation on a Busabout trip?

Busabout offers modern, cool and independent hostels in the city and in some of their smaller destinations, resort style campsites at some of their Italian cities and the odd city guesthouse. Dorm share options are also available with a budget of around €20 - €25 a night. Cities like Paris will be closer to €30; Prague closer to €10. There's not much of a hostel culture on the Greek Islands so you stay at beach resorts and guesthouses which are generally much cheaper than European hostels anyway.

Are there any solo travellers on a Busabout tour?

Absolutely! There are plenty of independent travellers with Busabout so it's easy to meet and spend time with like-minded people.

How far in advance should I book my Busabout trip?

As trips can sell out at any time, it is best to book as early as possible. Please contact us and we will be happy to assist.

Am I able to book hostels and transport together with my friend/ partner?

Yes, this is certainly possible - after you have made your booking, further details will be provided to see if it is possible for your tour.

How to book a seat on the bus?

Once you buy your Busabout Hop-on Hop-off or Adventure pass, you'll be able to plan your travels and book your buses, all in a matter of seconds. Please contact us and we will be happy to provide you with additional information on how to organise your trip.

Do I have to follow the direction of the arrows?

Yes – just the one way round. There are many options with Busabout passes so you can decide where you want to go and how long you wish to stay for.

How long is the time spent in each city?

For the compulsory Overnight stops, you can spend any odd number of nights. Many people opt for 3 or 5, but 1 would just give you that evening and then you're heading on the next morning. For the optional (Day stops), you can journey through and head for the next Overnight stop that day, or spend any even number of nights there.

Is it possible to start anywhere on the Busabout Hop-On Hop-Off network?

Yes, when purchasing a Hop-on Hop-off trip you'll have the choice of the Loops where you can start anywhere on that route, or a Flexitrip where you pay per stop, so just pick anywhere on our map you like. You can break away from your pass and return to it later at a different place if you like. With the One-Way passes there are set routes with a set start point, but you still decide how long to stay in each place.

How much is the recommended spending money per day?

The spending money depends on the each traveller. A €60 a day budget (including accommodation) is a recommented. Dorm beds are around €20 to €30 across most places in Europe and €15 will get you a meal and a beer at a decent local restaurant.

Does Busabout offer student discounts?

Yes, Busabout offers student discount but you'll need an ISIC, ISE or ITIC Student Card to show the guide on your first travel day otherwise you will be charged the difference between the normal brochure price and the discounted price in addition to an administration fee of £25.

How does hip-on hop-off compare with a rail pass?

With Hop-on Hop-off bus, you decide where to go and how long to stay there. You'll get all the perks of a tour such as a door to door service, guides on the coaches with all the info about your next destination, optional activities and a great travel experience. On the other hand rail passes have the following limitations: Your rail pass may not allow you to travel on high speed trains, surcharges will apply Your rail pass may not entitle you to a seat. There is a surcharge for each seat reservation on each journey Your rail pass does not save you money on accommodation. An overnight 'couchette' can cost double or triple the amount paid for a hostel bed.
Contact our Travel Experts
+1 844 311 3006
24/7 Support
Our team of experienced tour specialists have travelled to hundreds of countries around the globe and have decades of first-hand travel experience to share. Contact us now to have all of your tour-related questions answered!