Explorer Tours & Trips
Calling fellow adventurers! Tossing up between a hike of Mount Fuji to admire sunrise views, a kayaking excursion on pristine Lake Louise, or even a stroll through the vineyard valleys of the Rhine? On an explorer tour, you don't have to choose. Curated to ignite your sense of adventure, entice you to try something new, and fall in love with cultures all over the world, an explorer adventure is every traveller's dream, creating the perfect overview of a country (or continent!).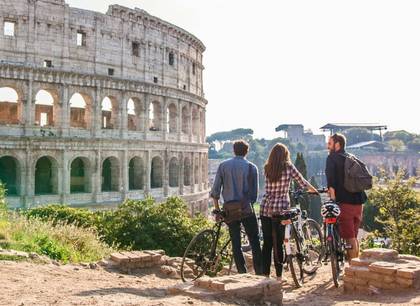 Over 250 Explorer Holiday Packages With 16,005 Reviews
What to Expect on an Explorer Adventure
Consider this a "mix-and-match" kind of style, Explorer trips are designed for the adventurer who wants a bit of everything! Sightseeing through iconic European cities? Check! Indulging after a sushi masterclass? Check! Riding through towns on two wheels? Check! Hiking to see sunrise views from a volcano? Check!
Max. Adventure, Minimal Time

As much as we love travelling, sometimes we just don't have the time (or the annual leave) to satisfy our wanderlust. Explorer tours promise maximum adventure in minimal time - discover new cultures, try new foods and get your adrenaline-fix all in one vacation package!

Guaranteed Good Times

With itineraries that cover all kinds of activities, from following in the footsteps of gladiators to camel-riding adventures in the Sahara, our Explorer tours are fun for the whole family. Whether you're travelling solo, relaxing on a honeymoon or celebrating an early retirement!

A Little Bit of Everything

With a world full of new and exciting experiences, it's hard to limit yourself to just a few, on an Explorer tour you don't have to! If you want to sail the Greek Islands whilst transporting yourself to a world full of mythology and filling your belly with a fresh Mediterranean feast, you can, seamlessly with TourRadar.

No Regrets!

No other Adventure Style perfectly blends intricate cultural experiences, hearty new culinary cuisines, tales of legends gone by and the best highlights even a local wouldn't know. With sprinkles of active excursions to relish in the wonders of these new lands, you're sure to leave your Explorer tour yearning for more!
Come Along On a Youth Explorer Tour
It's a classic, isn't it? Everyone dreams of spending time exploring all of Europe's nooks and crannies, discovering the food, museums, culture, and languages for themselves. It's one of those experiences that everyone thinks about when work gets stressful - if only I could run away to Europe for a little bit! This dream can become a reality for everyone - not only can you
explore Europe
, but you can do it with a group of people just as excited about the experience as you are!
Our
young adult Explorer tours
 have itineraries catered towards new adventures, fast-paced activities, great food, and the company of people that always up for a party! From spotting snow in Switzerland to drinking a beer (or two!) in Germany, this group of travellers collected incredible experiences that they'd been dreaming of forever. The best part? They got to do it together, while their transportation, food and accommodation was already taken care of.  
View Youth Explorer Tours


Most Popular Destinations for an Explorer Tour
Explorer Adventures Around the World
Best Ways to Explore
The world is your oyster - and that's never been more true than on an Explorer adventure! With many experiences all over the world, it's hard to narrow down where to go and what to do. Our Travel Experts have hand-picked our favourite Explorer experiences that will light up any itinerary. Guaranteed good times ahead!
Meet the llamas of Machu Picchu

Canoe on sapphire-blue waters in Alaska

Visit iconic European landmarks

Forage with the locals in Jamaica

Embrace Japan's colourful culture

Find hidden treasures in Moroccan souks
Explorer Itineraries for Everyone
Easy

Perfect for all ages, easy explorer tours feature lots of sightseeing with minimal effort! You can expect walking tours to discover hidden gems of metropolitan cities, smooth bike rides through quaint towns, or journeys that feature activities suitable for all fitness levels. We've taken care of the nitty-gritty so that you can enjoy adventures with ease.

See Easy Explorer Adventures

Moderate

Embrace the full explorer experience with a moderate adventure! You'll find tours that include a sunrise hike, a 4WD adventure to remember, and activities that require you to be of reasonable fitness to fully enjoy them. You can expect to be pushed outside of your comfort zone just a little, in all of the best ways!

See Moderate Explorer Adventures

Serious

Here's where adventures get really exciting! A serious explorer tour is designed for those who have a good level of fitness as most activities on tour are prolonged or require physical effort to fully be enjoyed. Think of hikes with strenuous climbs, long cycling trips or venturing to incredible sights where the journey itself is the adventure!

See Serious Explorer Adventures
Your Explorer Questions, Answered
How do I know an Explorer tour is right for me?

If you're the type of traveller who can't make up their mind on what they want to do, or perhaps you can't decide on where you want to go, then an Explorer tour is perfect for you! Designed to get the most out of your trip without cutting corners, an Explorer adventure is budget-friendly and the most popular Adventure Style on TourRadar (which is a testament in itself!)

Are Explorer tours fast-paced?

In general, Explorer tours do tend to be more fast-paced than our other Adventure Styles as they feature a wide range of activities that are often in a short amount of time. You'll still have plenty of time to enjoy your trip, however, it's best to check with our Travel Experts as we have plenty of operators who offer slower, in-depth experiences which might be more suitable.

What's the difference between a Cultural and Explorer tour?

We've curated Adventure Styles to suit everyone's taste, so if you're looking to fully embrace different cultures (or even get to know your own a bit more) then a Cultural tour is ideal for you! Our Explorer tours are designed for those who love a bit of everything - think of a Peru trip that visits Andean hill tribes, but also includes a hike to Machu Picchu, an Amazonian boat cruise or a beach escape amongst the Galapagos Islands - yes please!

What if I don't want to do an activity on tour?

That's perfectly fine! Most activities on our adventures are optional, simply contact our Travel Experts or notify your guide whilst on tour if you're unable to participate. Sometimes your tour guide may offer an alternative excursion that can be just as exciting - like trying new foods at quaint cafes or free time to explore on your own!

Can I combine Adventure Styles?

Yes absolutely! An adventure is what you make of it, so why not add on wine-tasting in France, an island-hopping escape to the Greek Islands, or a wild safari ride in Kenya.

How do I book an Explorer tour on TourRadar?

Find your next Explorer adventure by searching through our tours until you find one that stands out. Simply choose your dates and fill out your details to secure your trip. If you have any questions along the way, our Travel Experts are standing by 24/7!
Current Deals on Explorer Trips
Best Tour Companies for Explorer Adventures

Much loved by our past travellers, these tour operators know how to craft the perfect Explorer adventure!
Other Adventure Styles You Might Like
Having a change of heart? Not to worry, we've got plenty of Adventure Styles to suit every taste - from the fussiest connoisseur to the hopeless romantic.
Unearth your world. Get lost in the intricate details of the

Mona Lisa

, sleep under impossibly star-filled skies in a

bedouin tent

, or listen to tales passed down by generations with cultural immersions that capture your heart. You're invited to...

See Adventures

Hoist the sails, it's time for an adventure on the high seas! Bring your pirate fantasies to life

island-hopping

through the Caribbean, or with a dreamy island getaway in

Greece

. Whether you're setting sail on an exclusive private yacht in the

See Adventures

Warning, mouth-watering guaranteed! Feast your eyes on some of the best foodcations in the world. Whilst the cellar doors of

Bordeaux

and wood-fire stoves of

Naples

guarantee no hungry bellies on a European food tour, an Asian adventure satisfies...

See Adventures
EXPLORER TRAVEL INSPIRATION HAND-PICKED BY OUR TRAVEL EXPERTS