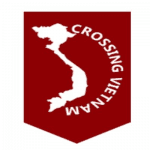 Number of tours

101
Age Range

1-99
Number of reviews

199
Rating

4.9

/5
Response rate

100%
Response time

within 1 day
Trekking

Written on March 14th, 2020

Alice from Crossing Vietnam was polite and helpful with us from the very first day. She immediately understood what we needed and organized a great trekking tri…

Read more

Justė

Written on March 10th, 2020

Our guide Duc gave us a lot of useful tips about travelling in Vietname. We were very happy and would like to say thank you.

Iveta

Written on March 10th, 2020

Duc's offered places was very good. We spend very good and interesting time

Eimantas

Written on March 10th, 2020

Duc was very pleasant and gave a lot of useful information! Good luck!

Written on March 4th, 2020

I didn't see all as per itinerary, so am giving this tour a 'okay' score. It said I would have a walk on first day to see villages and a bridge, but when I tu…

Read more

Luis

Written on February 25th, 2020

We were able to discover the daily life of Vietnamese people as well as the culture of this lovely country. Kudos Hung

Luís

Written on February 25th, 2020

Was a great trip with lots of activities guided by. We also learned about the country throughout the tour. Would definitely recommend this tour

Joao

Written on February 25th, 2020

Doing this tour was a unforgettable decision. Had great time with our tour guide. He showed us amazing highlights in Vietnam as well as helped us with all the q…

Read more

Kars

Written on February 19th, 2020

I did the tour with Hoang. He speaks very good english and has a lot to tell about the Vietnamees habits which was very nice. I enjoyed the tour with him and I …

Read more

Andreas

Written on February 19th, 2020

Abraham was a great guide. Hé knows his stuff. Great food and nice places. We had a great time overall. 10/10 would doe again. Thanks Abraham!
Crossing Vietnam Tour Tours
Crossing Vietnam Tour Destinations
Crossing Vietnam Tour Videos
Contact our Travel Experts
+1 844 311 8331
24/7 Support
Our team of experienced tour specialists have travelled to hundreds of countries around the globe and have decades of first-hand travel experience to share. Contact us now to have all of your tour-related questions answered!