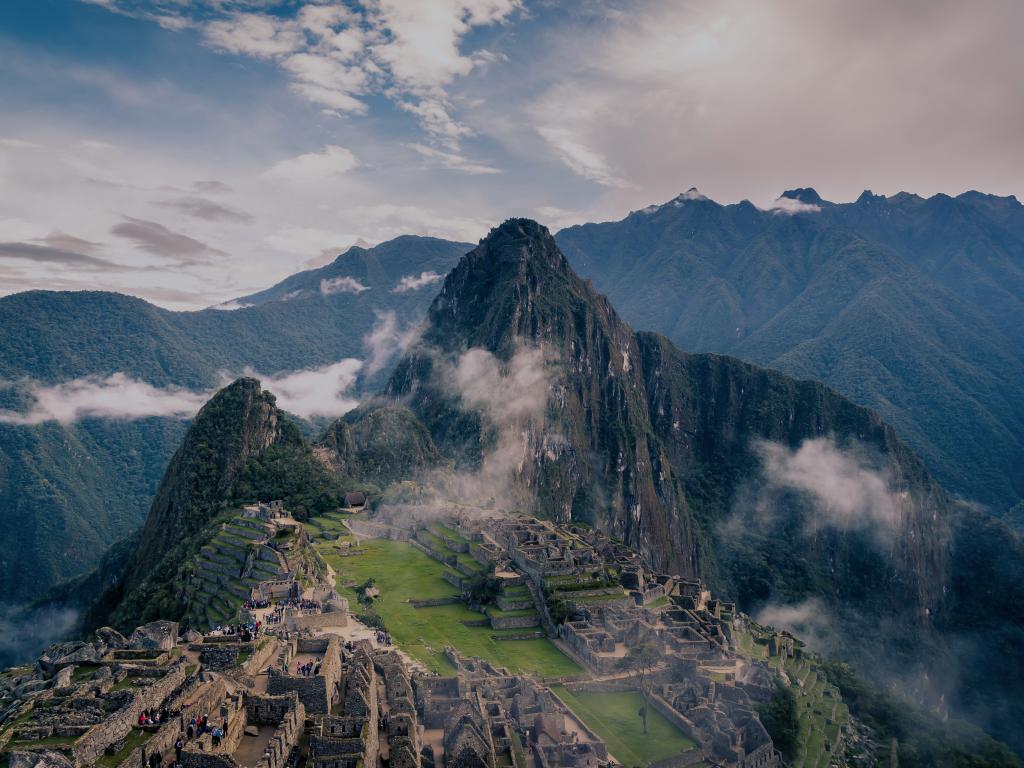 Best time to visit Machu Picchu
Fortunately for travellers, Machu Picchu is open year-round, which means there are more than enough opportunities to marvel at this wonderous site. If you are planning to visit Machu Picchu by train or taxi and skipping the hiking option, then you have the luxury of not needing to worry about rain or other weather conditions. 

Ideally, you would want to visit in the dry months of June to August (also known to be the peak season), especially if you're not concerned with crowded trails or a spike in accommodation prices. If you're hiking, you will need to be mindful of the seasons, as there are a distinct wet season and a dry season which could wreak havoc on your plans if not timed correctly. 
 
Peak season - June to August
Similar to most destinations around the world, the dry season coincides with the peak season, where travellers can enjoy trekking through the Andes without fear of a heavy downpour. While it's possible that it will rain, the chances are much lower compared to the wetter months at the end of the year. Most importantly, if you have your heart set on viewing Machu Picchu set against a backdrop of clear blue skies, then the dry season is your best bet. Within the region, this is the most popular time for Westerners on summer vacation to make the pilgrimage to Machu Picchu.

Inca Trail permits book up fast, and are difficult to obtain during the peak period. The alternative trails in the area, however, do not follow the same permit restrictions. 

As for the best time to visit, this an individual decision, but it is recommended that travellers visit during the shoulder season months of April, May, September and October, when the weather is favourable, the crowds are far fewer, and the climate will be quite mild. These months are just outside of the main peak season, and the weather will be mostly dry. 
 
Low season - mid-October to March
The Andes are an unpredictable region, thanks to the mountainous geography and varied ecosystems. October to March is mostly recognised as the wet season, which, of course, means there will be fewer crowds visiting Machu Picchu or exploring the trails of the Sacred Valley. If it's warm weather that you're after, November to March is the time you will want to visit. However, this is also the rainy season. 

The beginning of the rainy season means fewer crowds, and will likely offer lower flight and hotel prices. In February, the Inca Trail is closed for maintenance. 
Machu Picchu weather
JAN
FEB
MAR
APR
MAY
JUN
JUL
AUG
SEP
OCT
NOV
DEC
Average °C
15
15
15
15
15
14
14
15
15
15
15
15
Average °F
59
59
59
59
59
57
57
59
59
59
59
59
High °C
24
25
25
25
25
25
25
25
26
25
26
26
High °F
75
77
77
77
77
77
77
77
79
77
79
79
Low °C
13
13
13
12
11
9
9
10
11
12
13
13
Low °F
55
55
55
54
52
48
48
50
52
53
55
55
Rainfall (mm)
138
141
151
62
23
17
22
24
44
75
86
121
How to climb Machu Picchu and the Sacred Valley
Machu Picchu routes
Inca Trail. Distance: 45 km, average duration: 4-5 days
The Lares Trek. Distance: 33-45 km, average duration: 4 days
The Salkantay Trek. Distance: 55 km, average duration: 5 days
The Choquequirao Trek. Distance: 65 km, average duration: 8-10 days
The Vilcabamba Trek. Distance: 62 km, average duration: 5 days
The Huchuy Qosqo Trek. Distance: 20 km, average duration: 3 days
The Quarry Trail. Distance: 26 km, average duration: 4 days
Machu Picchu tours & reviews
A TRAVEL MAGAZINE BY TOURRADAR