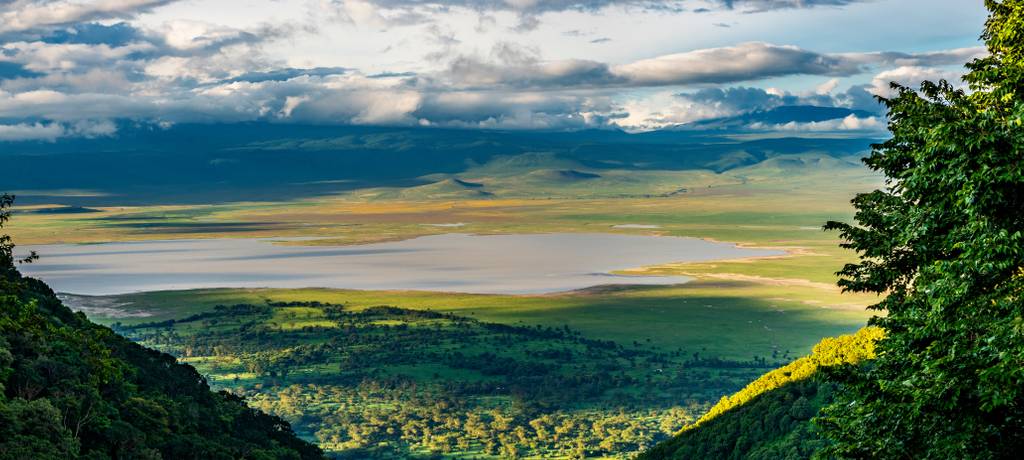 Ngorongoro National Park Guide
Located in northern Tanzania, Ngorongoro Conservation Area is a tremendous highlight of an already impressive region. Home to both the seemingly boundless Ngorongoro Crater and the must-see "big 5" game, there are countless exciting activities to get lost in! Join a safari and take off on vibrant game drives through diverse landscapes that you'll never forget. Prepare for your visit with our guide.
View Ngorongoro Safaris
Facts About Ngorongoro Crater Conservation Area
If you're embarking on a safari for the first time or it's your first time to this wildlife-rich reserve, you might want to brush up on your Ngorongoro facts to help you plan for an exciting adventure ahead!
Why visit Ngorongoro?

There are, of course, plenty of reasons to visit Ngorongoro, but unique highlights of this area include its UNESCO world-heritage Ngorongoro Crater, the endangered black rhino and black-maned male lions and the other 25,000 and more animals that roam the surroundings. 

Why is Ngorongoro Crater a natural wonder?

More than 2 million years old, Ngorongoro Crater is the world's largest inactive, intact and unfilled volcanic caldera. Its magnificent size, depth and unique wildlife has secured it a spot as one of the world's standout natural features. It was even voted as one of the Seven Natural Wonders of Africa in 2013.

How was Ngorongoro Crater created?

Calderas like the one found in Ngorongoro Crater are only formed after major eruptions. About 2.5 million years ago, this once-active volcano erupted so furiously that it caused an implosion. This implosion formed the impressive caldera that exists today. 

What is the size of the Ngorongoro Crater?

The Ngorongoro Crater is 610 metres deep and its floor covers 260 square kilometres. Prior to its eruption, the volcano was thought to be anywhere between 4,500 to 5,800 metres high. Nowadays it would take you an hour and a half to cross the crater on foot. 

What does Ngorongoro mean?

Named by the Maasai pastoralists after the sound a cowbell makes, Ngorongoro translates (quite literally) to "big hole" in English. 

What's the eco-system like in Ngorongoro Crater?

Predominantly comprised of open grassland, the Ngorongoro Crater is home to a truly diverse collection of animals as well as geographic highlights such as small springs, and a shallow soda lake where colourful flocks of pink flamingos linger. See park fees for Ngorongoro.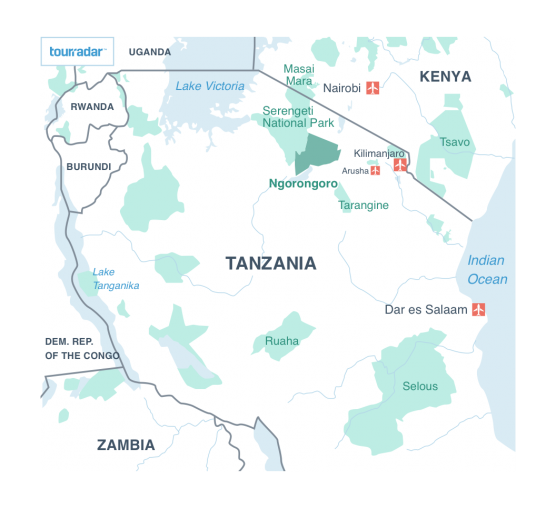 How to Get to Ngorongoro
Ngorongoro Conservation Area is conveniently located only three-hours from the town of Arusha, the starting point of all safaris in northern Tanzania (see all
maps of Ngorongoro
). To get to Arusha, you must fly to Kilimanjaro International Airport at Moshi and continue onward to the area by taxi, shuttle or chartered flight, covering a total distance of 55km.   
View Ngorongoro Location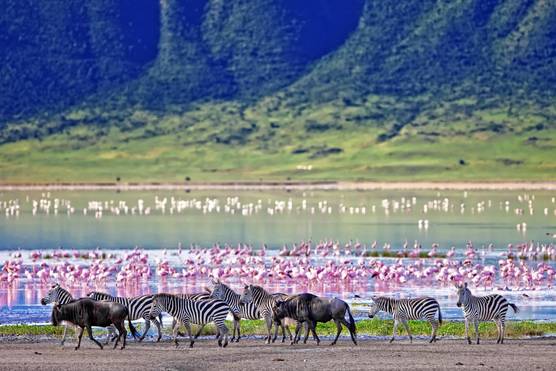 Wildlife You Can Spot

A safari in Ngorongoro presents an incredible opportunity for observing truly diverse wildlife in their natural habitat. With over 25,000 animals roaming the grasslands, you'll understand immediately why so many compare this area to the Garden of Eden. All major animals can be easily spotted including the impressive and typically recluse black rhino, as well as wildebeest, zebra and hyena! You can expect to also enjoy sightings of classic favourites like elephants, hippos, lions and even the occasional giraffe. 
 
View Ngorongoro Animals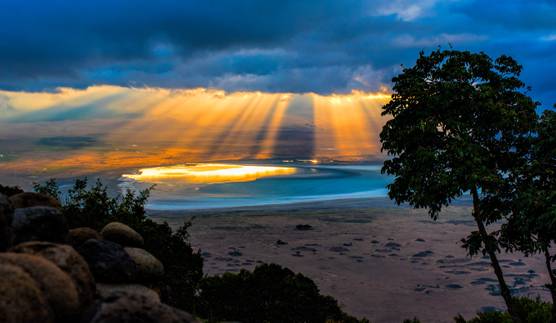 Weather and Climate

Overall, the weather in Ngorongoro Conservation Area is both mild and temperate with only two wet seasons to contend with. 'Short' rains last from October to November and are followed by 'long rains' from March to May. Learn more about the specific seasons and what to expect by reading more below.
 
View Ngorongoro Climate
Most Popular Ngorongoro Safaris
Latest Deals on Tanzania Tours
Ngorongoro Safari Reviews
Best Tour Operators & Travel Companies to Ngorongoro
Book your Ngorongoro tour today!
+1 844 311 8331
24/7 Support
Our team of experienced Travel Experts have ventured to hundreds of countries around the globe and have decades of first-hand travel experience to share. Contact us now to have all of your tour-related questions answered!
TANZANIA TRAVEL INSPIRATION BY TOURRADAR