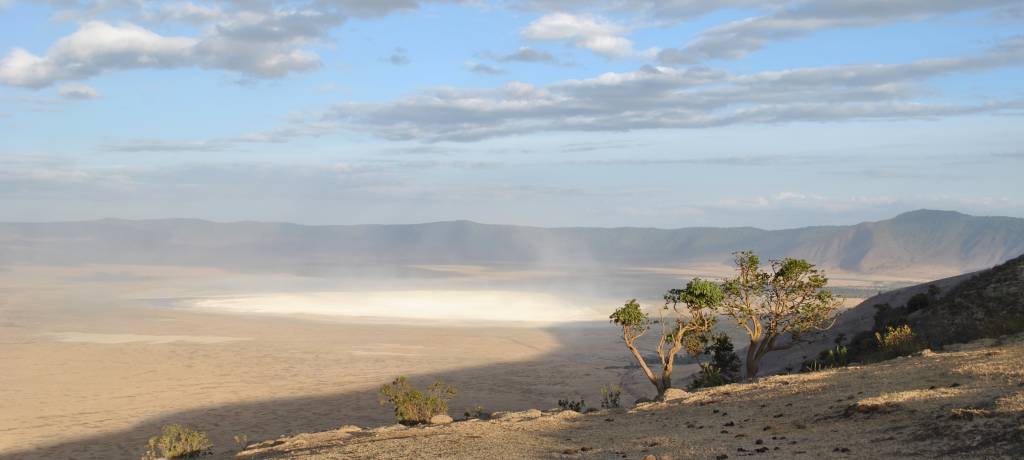 Wildlife in Ngorongoro
As one of Tanzania's most spectacular places to spot wild animals, Ngorongoro Conservation Area boasts one of the largest concentrations of wildlife in Africa. The list of species who call Ngorongoro Crater their home is magnificent. On a single safari tour, travellers can find at least 50 different species of large mammals including lions, rhinos, elephants and over 200 species of birdlife. 
Popular wild animals in Ngorongoro
Flamingo

Pink flamingos are very common in Ngorongoro, specifically in and around the crater's lakes. During the wet season, when the water levels of the lakes are at their highest, it's possible to see hundreds of thousands of flamingos spread throughout the watering holes.  The best time to spot flamingos is from September to April before the dry season shrinks lakes.

Where to spot? You can find flamingos around Lake Magadi, Lake Ndutu, and Empakaai Crater Lake

Giraffe

The majestic giraffe is one of Africa's most stunning creatures and holds the distinction of being Tanzania's very own national animal. While you won't find them in Ngorongoro Crater (the descent is too steep for them to manage) you can spot them in around the rest of the conservation area.


Where to spot? Outside of the crater

Great white pelican

The great white pelican (also known as the eastern white pelican, white pelican or rosy pelican) is a massive bird that resides around the world, specifically in southeastern Europe through Asia and Africa. Breeding takes place around swamps and shallow lakes making Ngorongoro Crater and ideal location for the birds to thrive. 

Where to spot? You can see the great white pelican around Lake Magadi within the crater, Lake Ndutu, and in the Empakaai Crater Lake

Cheetah

The cheetah is a large, spotted cat and can be found throughout Africa, and also some unexpected places like Iran. Not only are they the fastest land animal in the world they're also listed as a vulnerable species, making their protected home in Ngorongoro Conservation Area vital to their survival. They typically roam around the plains outside the crater but seeing them on a safari is very common. 

Where to spot? You can commonly find the cheetah in the Lake Ndutu area, outside the crater

Hippopotamus

While these herbivores may look deceptively cute from afar, they can be aggressive and are considered very dangerous to approach. Nonetheless, they make for a delightful sight to enjoy from a safe distance. They don't roam as frequently or as far as some of the other animals in Ngorongoro Crater and sightings are quite common with spottings occurring throughout the year. 

Where to spot? You can find them around Mandusi Hippo Pool and within the Gongor Swamps
The Big Five in Ngorongoro
In Africa, the Big Five is made up of the lion, rhinoceros, leopards, elephant and Cape buffalo. All of these animals are viewable within the Ngorongoro Conservation Area, including the crater and are protected thanks to the wildlife conservation efforts of Tanzania. What's especially noteworthy about these protected lands are that they are considered to be the only place in the world where you have a great chance of seeing the Big Five all in one day!
Black rhino

The black rhino is the smaller of the two African rhino species and prefers browsing around its habitat as opposed to grazing. They are considered a particular highlight of the crater. The black rhino is typically very shy and sticks to the areas where the thick vegetation conceals it from public view. Although the rhino population has increased in the past years, thanks to the aggressive wildlife conservation efforts of the Tanzanian government, it continues to remain an endangered species.

How many? There are only about 25-50 black rhinos in Ngorongoro 
Where to spot? You can find them in the Gongor Swamps

Lion

Lion prides run wild throughout the Ngorongoro Crater and is an impressive, powerful sight to behold. As of 2016, there were about 70-75 lions prowling around the crater floor, but a more recent study predicts this number is closer to 60 nowadays. There is an ongoing and active conservation effort from KopeLion happening in Ngorongoro, which helps to keep the lion population growing (though reproductive issues continue to affect the prides).


How many? About 60 lions
Where to spot? Lions prowl the grasslands but congregate near Lake Ndutu area, outside the crater

Elephant

One of the most majestic creatures you'll encounter on your safari, the African bush elephant is a rare sight reserved for only the luckiest of travellers. The elephant population has been dwindling all over Africa throughout the last several years, but efforts are being made to protect them from poaching, specifically in Tanzania. Sadly, only about 30 elephants are estimated to remain inside Ngorongoro, but hopefully, this number will increase as more and more poachers prosecuted.

How many? About 30 elephants exist in Ngorongoro 
Where to spot? Elephants can typically be seen in and around the bush or near the Ngoitokitok Spring inside the Crater

Buffalo

The African buffalo (also known as Cape buffalo) is one of the most commonly spotted animals in the entire Ngorongoro Conservation Area, and their species are one of the only that continues to thrive. As their main predator is humans, buffalo flourish in protected areas like Ngorongoro. Despite how many you'll see throughout your safari, be sure to keep your safe distance as the African buffalo are considered one of the most dangerous animals you can encounter.

How many? About 4,000 buffalos call Ngorongoro their home 
Where to spot? Buffalos love to graze and can be found everywhere from swamps to floodplains to savannahs and grasslands

Leopard

The leopard is another majestic member of the feline family and unfortunately, another animal classified as vulnerable on the IUCN Red List, mostly due to the threat of global habitat loss. They stalk the forests and grasslands but tend to stick to the crater rim, where they have easier access to their prey. Leopards are generally more active throughout the day.




How many? The exact number of leopard in Ngorongoro are unknown
Where to spot? You can see the leopard sulking around the rainforest of the crater rim
The Great Migration in Ngorongoro
Every year, nearly two million wildebeest and 20,000 plains game, migrate from Tanzania's Serengeti to the south of Kenya's Masai Mara as they look for a lush place to graze and drink water. In total, the migration spans more than 2000-kilometres and an iconic opportunity for travellers and nature lovers alike to watch one of the greatest spectacles on Earth. December through March is the best time to observe this migration in Ngorongoro with February and March marking your best chance to see newborn animals discover their surroundings for the first time.
Blue wildebeest

The blue wildebeest is a typical animal you can expect to see on most safaris in the Ngorongoro Crater. These herbivores are more active during the morning and late afternoon and are incredibly agile creatures, who can manage to run up to 80-kilometres per hour (50 mph).



How many? About 1.7 million wildebeest participate in the Great Migration, with an estimated 7,000 residing in the area fulltime
When to spot? The wildebeest can be observed beginning in December through March

Zebra

The zebra, a genuinely mesmerising creature, is one of the most common animals in the region and can be easily spotted on most safaris in Ngorongoro Crater. Belonging to the horse family, they are highly social animals who only sleep in large groups because they need their friendly neighbours to stick around and warn them of any incoming predators.

How many? There are about 260,000 zebras in Ngorongoro 
When to spot? Zebra can be spotted in Ngorongoro from December through March

Antelopes

There are many species of antelopes in Ngorongoro Crater, including gazelles and impala, the latter of whom are considered to be one of the most elegant of their kind. All in all Africa is home to 72 different types of antelope, and your chances of seeing them on your safari are more or less guaranteed.


How many? About 470,000 gazelles live in Ngorongoro
When to spot? You can easily spot antelopes from December through March
Popular Ngorongoro Crater safaris
Contact our Travel Experts
+1 844 311 3006
24/7 Support
Our team of experienced tour specialists have travelled to hundreds of countries around the globe and have decades of first-hand travel experience to share. Contact us now to have all of your tour-related questions answered!
Ngorongoro safari reviews
Tour operators and travel companies in Ngorongoro
A TRAVEL MAGAZINE BY TOURRADAR