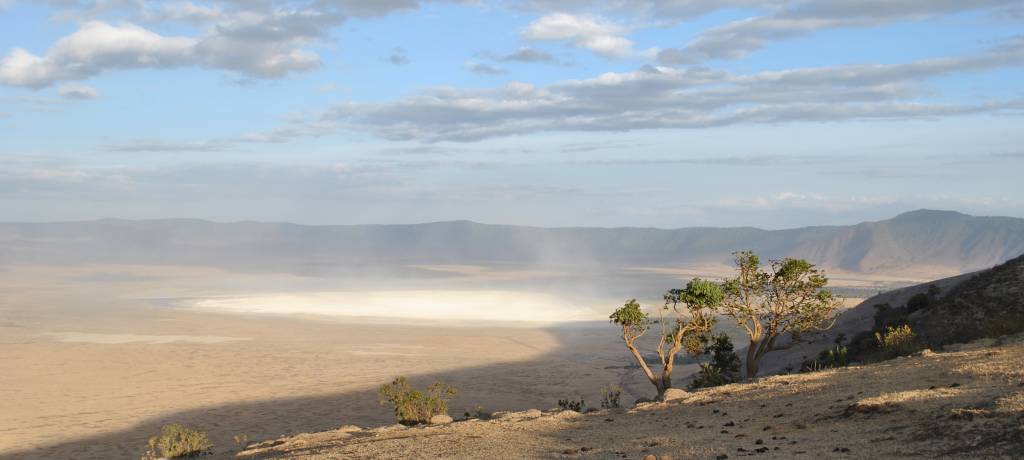 Maps of Ngorongoro Conservation Area
Ngorongoro Conservation Area covers an incredible stretch of land in northern Tanzania and is a must-visit amongst the safari-going community. Witness your favourite animals participate in the Great Migration, study our maps to find the perfect routes, and experience the beauty of this impressive crater for yourself.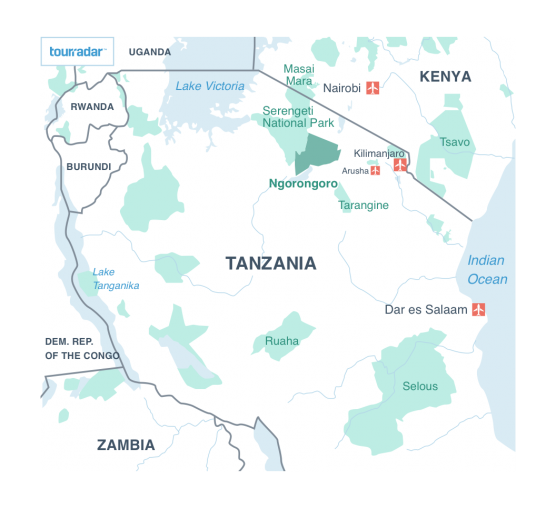 Ngorongoro location map
As visible from the map, Ngorongoro Conversation Area is
located in northern Tanzania, Africa
. Situated within the Ngorongoro District, it is one of five districts of the Arusha Region of Tanzania. The southern half of this district is under a protected area status and governed by the Ngorongoro Conservation Area Authority, and is the only one of its kind in the entire country.
The closest airports include:
Arusha Airport; the gateway to Ngorongoro Crater
Kilimanjaro International Airport (JRO); approximately 46km (29 miles) from Arusha
Julius Nyerere International Airport (DAR); near Dar es Salaam. Fly on to Arusha
More on 'how to get there'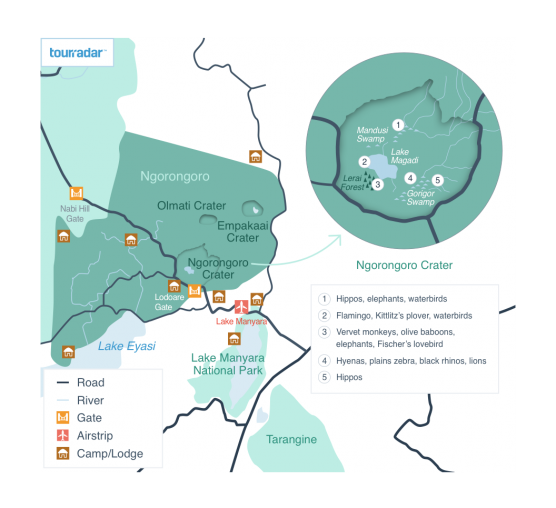 Ngorongoro Crater map
The Ngorongoro Crater road and lodges map displays all important roads as well as camping spots and lodges in the area. As viewable in the map, you can see the main points of interest listed as
Olmati Crater
,
Empakaai Crater
, and of course the namesake highlight:
Ngorongoro Crater
(including Lake Magadi and the Mandusi and Gongor swamps).
You can enter the crater through Loduare Gate, located within the caldera's rainforest. The local airstrip belongs to Lake Manyara Airport.
While visiting Ngorongoro, travellers typically also spend time visiting
Mount Kilimanjaro
,
Serengeti
,
Masai Mara
, and
Tarangire National Park
. Other areas worth visiting include Lake Victoria and Zanzibar.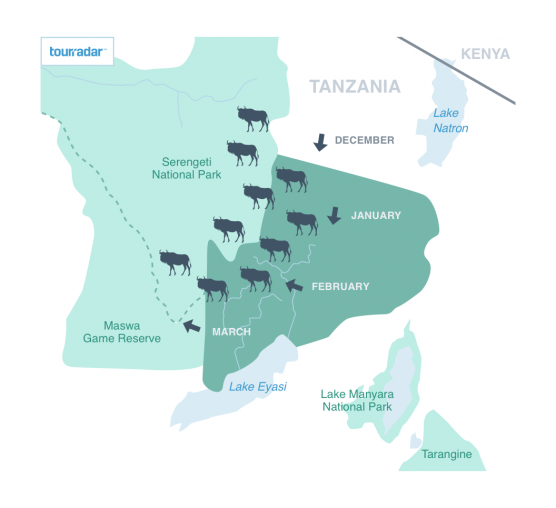 Ngorongoro migration map
Visitors can expect excellent wildlife viewing opportunities throughout the year, but migratory seasons in November through May make for an especially awe-inspiring sight.

As seen in the Ngorongoro migration map, the annual wildebeest migration passes through the conservation area beginning in December. It's at this time that more than 1.5 million ungulates move south into the area before moving out of the Ngorongoro area in March. 
 
More on 'wildlife'
Most popular Ngorongoro safaris
Contact our Travel Experts
+1 844 311 3006
24/7 Support
Our team of experienced tour specialists have travelled to hundreds of countries around the globe and have decades of first-hand travel experience to share. Contact us now to have all of your tour-related questions answered!
Ngorongoro safari reviews
Road to Zanzibar

"The tour exceeded my expectations! It was a great adventure, we were very lucky with..."

5 days - Tanzania wildlife Camping Safari

"I have booked 2 safari tours with this company. The service was outstanding! First..."

Tanzania Camping Safari

"We did the Tanzania camping safari and it was absolutely amazing!! Loved the company,..."

5 Days Predators In Action Northern Tanzania Budget Camping Safari

"Awesome once in a lifetime experience!"

Tanzania Camping Adventure

"We had a great time. Mostly the animals were amazing, which Moses and our drivers..."

3 days 2 night Private Tanzania Safari Wildlife

"Incredible! Tarangire Ballon Camp and Ngorongoro Sopa Lodge were fabulous! The folks..."
Tour operators and travel companies in Ngorongoro
A TRAVEL MAGAZINE BY TOURRADAR