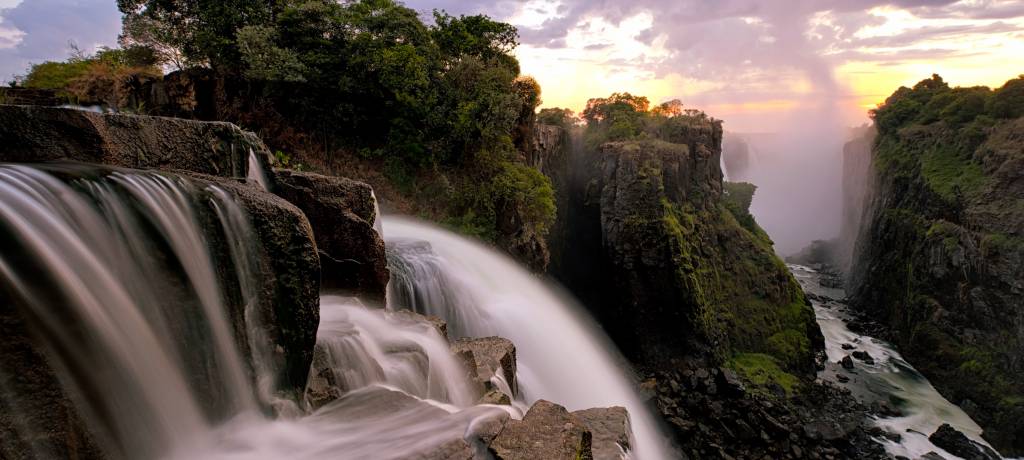 Animals at Victoria Falls
There's lots of notable wildlife to be discovered in Victoria Falls. Among the exciting animals you can expect to see in the game park are the Big Five (elephant, lion, buffalo, leopard and rhino), as well as safari favourites like zebra and giraffe. Read on to find out what creatures you'll get up close and personal with in Victoria Falls. 
 
See all Victoria Falls safaris
Can I see the Big Five in Victoria Falls National Park?
It's possible to spot the Big Five in Victoria Falls. If you're hoping to hear a lion roar in the wild or come face to face with elephants in their natural habitat, you just have to know where to look. 
 
Elephants

Elephants are one of the most frequently seen animals in Victoria Falls. Visitors will find small herds in Zambezi National Park and Victoria Falls National Park. If you're walking or driving along Zambezi Drive, it's not uncommon to pass by an elephant or two, so keep your eyes peeled for this Big Five animal. 

Chances to spot: High

Lions

There's nothing like seeing a lion in the wild for the first time. This mighty beast is both fierce and majestic. Although it's much more common to see the king of the jungle in the nearby Hwange National Park, lions wander through Victoria Falls quite often. If you're looking for an intimate way to experience lions, look into conservation initiatives that offer a chance to walk alongside them. 

Chances to spot: Medium

Buffalos

Of all the Big Five, this incredible horned creature is the most dangerous, but seeing it move rhythmically across open plains or grazing in the wild, really is a sight to behold. Cruise up the famed Zambezi Drive to see a thirsty herd of buffalo making their way to the river for a refreshing drink. To increase your chances of seeing them, join a game drive. 

Chances to spot: High

Leopards

By nature, leopards are elusive, and even though they are somewhat common in Victoria Falls, the chances of actually seeing a leopard in the wild are very rare. They can be found in both Victoria Falls National Park and the Zambezi National Park. To maximise your chances of spotting one, opt for a game drive at night, which is when these big cats are most active. 

Chances to spot: Low

Black rhino

The only way to see a black rhino in the wild in Victoria Falls is to make your way to nearby Stanley and Livingstone Private Game Reserve, which is home to the rare and endangered black rhino. In a bid to tackle the widespread poaching of rhino in South Africa, this fenced game reserve has an intensive rhino monitoring programme in place to help increase the black rhino population in the region. 

Chances to spot: Low
More wildlife to see in Victoria Falls
Along with the Big Five, there are other wildlife to see in Victoria Falls. Here's a handful of other animals to spot on your visit to the area. 
Giraffe

While it's not impossible to see giraffes in Victoria Falls, you need to know where to look. You'll find them in low densities in Zambezi National Park on the south bank, and they have been introduced to Mosi-oa-Tunya National Park. For a real chance at sighting these lofty creatures in all their glory, head to Hwange National Park, located just under two hours away from Victoria Falls.

Chances to spot: Low in Victoria Falls 

Zebra

Distinguished by their black and white stripes, zebras have a firm spot on the list of animals travellers hope to see when embarking on a safari. You can find a small population in Zambezi National Park, but your best chance of seeing a herd of zebras is at Victoria Falls Private Game Reserve - 2500 hectares of savannah full of wildlife minutes away from the falls.

Chances to spot: Medium

Hippo

The Zambezi River offers a perfect habitat for hippos, as this large mammal will find plenty of spots to wallow along the flowing waters. The hippo is often heard further upstream of the falls. The most unforgettable way to experience this creature in the wild is to book an excursion where you can cruise alongside hippos.

Chances to spot: High

Hyena

Hyenas are quite common in many South African national parks, and every now and again, they have been spotted in Victoria Falls, but the actual chances of sighting them in this park are lower. Hwange National Park is a much better option for seeing this creature, where brown hyenas occur in fairly large numbers. A lot of people think that hyenas are related to dogs, when in reality they are closer to cats. 

Chances to spot: Low

Antelope

The various terrains surrounding Victoria Falls are home to many different antelope species. The most common of these found inside the national park are bushbuck. This medium-sized reddish-brown antelope can often be spotted in small groups grazing in grassy areas or rainforests. They are also frequently seen upstream in fringes along the river.

Chances to spot: High
Animals in the rain forest
Victoria Falls also has a tropical ecosystem where you'll discover fascinating animals hanging from trees or slithering across the ground. 
Baboons

Among the many fascinating species present in the rainforest are the chacma baboons. Baboons are one of 23 genera of Old World monkeys, and a strict hierarchy governs the behaviours of baboons according to which group they belong to in the forest. Most visitors to Victoria Falls can seem them, and over time, they have grown tame, and have even been known to grab food from unsuspecting humans. During mornings and evenings, it's possible to hear them chattering away in areas surrounding the falls.


 

Vervet monkeys

Vervet monkeys or vervets are one of the most widespread monkey species in sub-Saharan Africa. Also governed by a hierarchal system, vervets spend a good portion of the day grooming each other and taking care of one another. Like baboons, vervet monkeys are very common in Victoria Falls, and you'll find them occupying either an area of vibrant woodland or a sub-tropical forest.

 

Warthogs

Common in big national parks, warthogs in Victoria Falls are typically found in either a group or pairs. During the day they like to eat roots and graze on the grass of gardens belonging to both hotels and lodges. Warthogs have even been seen roaming the grounds and front lawn of Victoria Falls Hotel! For the best view of this creature (and many others) on the Zimbabwe side, the deck of Victoria Falls Safari Lodge has a looking point over a watering hole where elephants, impalas and warthogs congregate at sunset.
 

African pythons

No rainforest in Africa would be complete without the presence of a python. The incredible African python, which can grow large enough to constrict and swallow small antelope such as bushbuck, have occasionally been recorded in Victoria Falls Park over the years. The African python is the largest snake in Africa, and despite its size, it has a non-venomous bite and even more surprisingly, scares easily! 


 

Schalow's turaco

While the game and wildlife roaming the land in Victoria Falls will astound you, don't forget to look up! The bird life found in the region is spectacular; keep your eyes peeled for the vivid colours of the Schalow's turaco. This large and secretive bird looks fantastic in flight, with a blaze of red feathers against green. While the Schalow's turaco lives across Zambia, they often frequent the banks along the River Zambezi.

 
National parks close to Victoria Falls
Discover more national parks nearby Victoria Falls where you can experience the wildlife and landscapes of this stunning region. 
Learn more about Victoria Falls
Most popular Victoria Falls trips
Contact our Travel Experts
+1 844 311 8331
24/7 Support
Our team of experienced tour specialists have travelled to hundreds of countries around the globe and have decades of first-hand travel experience to share. Contact us now to have all of your tour-related questions answered!
Tour operators and travel companies in Victoria Falls
Compare the best companies operating tours to Victoria Falls based on user reviews from past travellers.
A TRAVEL MAGAZINE BY TOURRADAR