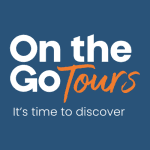 Number of tours

397
Age Range

18-70
Number of reviews

1,773
Rating

4.7

/5
Response rate

100%
Response time

5 hours
Written on June 23rd, 2022

We arranged this tour on the basis it was an guided tour, as advertised. When we arrived we were the only two and had to self-guide all the way. However all vou…

Read more

Written on June 11th, 2022

The tour was well organised, the guide and driver were excellent. Pick up and drop off were punctual and hassle free. The hotel resort for the last 2 days in D…

Read more

On The Go Tours commented on this review

Thank you so much for posting your review and we hope to welcome you on Tour again very soon!

Written on June 8th, 2022

I would like to give the experience 5 stars. The cruise ship and service on-board were amazing. Unfortunately, what was offered by Tourradar in writing , their …

Read more

On The Go Tours commented on this review

Although you have rated your experience extremely well, we are so sorry to note some frustrations from your trip. After your original reservation was secured onboard a traditional category cruise, our local team noted availability on a superior deluxe vessel, and they felt it would be a bonus to upgrade you to that vessel. Unfortunately, the itinerary for the deluxe vessel was slightly different to that of the original traditional boat, and we are sincerely sorry that this was not better explained to you in our email from the 26th of April.

richard

Written on June 6th, 2022

Iceland is expensive and the food not to our diet - should be more greens etc. The nature is terrific and the tour we did was great

On The Go Tours commented on this review

Many thanks for the positive review!

ramya

Written on June 1st, 2022

The trip was a bit rushed, some days we spent time on eating and shopping center instead of the sights. however the overall experience was great and we loved it…

Read more

On The Go Tours commented on this review

Thank you so much for taking time to post your review!

Written on May 30th, 2022

Got upgraded to a different ship, which was great but I get getting information from the first book I had booked like time of departure instead of the new boat …

Read more

On The Go Tours commented on this review

Thank you kindly for the great review!

Cairo to Luxor Explorer - 6 days (6 destinations)

Written on May 8th, 2022

Wonderful guide, very well organized tour. Very good price point too. The only think that prevented me from giving an excellent rating was the train transf…

Read more

On The Go Tours commented on this review

Thank you so much for the review!

Azam

Written on April 26th, 2022

This was an amazing trip! A fully comprehensive experience of Jordan. Each day of the tour gets better and better until the end. Obviously, Petra and the Dead S…

Read more

On The Go Tours commented on this review

Thank you so much for the awesome review! We are so pleased you enjoyed your time with us and hope to welcome you on holiday again very soon!

Written on April 15th, 2022

it was fabulous!! On The Go Tours was great and our tour guide Ahmed Esmat (Medo) was amazing, knowledgeable, and treated me like his mom helping me with wal…

Read more

On The Go Tours commented on this review

Thank you very much for your lovely review Diana!

Written on April 13th, 2022

Amazing tour guide, magical country.

On The Go Tours commented on this review

Many thanks for the great review!
On The Go Tours Destinations
On The Go Tours Videos
Why On The Go Tours
Comfortable Travel
On The Go knows that adventures can be better when the day ends with a cold beer by the pool or a soft pillow to lay down on. Each day On The Go is searching out comfortable hotels and boutique properties where travelers can stay while on tour. On The Go is known for their attitude of "adventure in style"!

Friendly Team
When traveling with the On the Go team, you will notice that they are more like a family than a group of colleagues. They are brought together by their enthusiasm for travel, as well as a professional work ethic.

Continuous Improvement
To help build the family-like relationship, once a year they will travel from all across the globe to meet up and discuss how to make One The Go even better. They get together at one of their destinations, and share ideas, reflect on the previous year, and make plans for the future, to ensure you as a traveler have the best experience possible.
On The Go Tours Benefits
Giving Back
When traveling with On The Go, you know that you are experiencing these places while giving something back to the local communities. On The Go ensures they have a light footprint, and the large majority of the funds remain in the countries visited - they aim to support the local communities at a grassroots level. Their sustainable travel policies mean that you can enjoy your travels and experiences, knowing you have made a positive contribution to the local communities.

Enjoy Your Travels
By ensuring everything has been planned and organised, One The Go allows you to have an unforgettable holiday. They know that time is precious, and how much of a profound impact travel experiences can have on someone, so they do everything they can to make the most out of each day.
Health & Safety Guidelines
COVID Hygiene Measures

We adhere to WTTC Safe Travel Protocols [COVID-19] for safe travels. Each destination has approved standards and is constantly monitored and checked by our local teams to keep us all safe.
Our key areas of focus include: 
- Health screening and questionnaire upon arrival, constant monitoring for all tour participants
- Social distancing throughout the tour
- Use of certified Travel Safe, COVID Safe hotels only, standards by local authorities
-  Regular hand hygiene stops and sanitizer available
- Enhanced vehicle & luggage cleaning throughout tour
- Removal of solo sharing options, single room available on all tours
- Service to plate or a la carte meals only
Sustainability
Tourism is one of the largest industries in the global economy and employs more people worldwide than any other. For those of us privileged enough to travel, we take on a responsibility to aid people relying on tourism and to treat their country with respect. We believe travel should be a rewarding experience for you, as well as for the people you meet, and that preserving the natural environments we pass through is essential. Ensuring our footprint is light and that the benefits of travelling reach the local communities you visit is paramount to us. We're proud to say that when travelling with us, the large majority of your holiday funds remain within the countries you visit, supporting local economies at a grass roots level.


These are the initiatives that this operator has in place to make your adventure more sustainable:

Sustainability Programs
- Invests a percentage of revenue back into community projects or sustainability projects 
- We host community-building or sustainability projects for tour goers to partake in

Supporting Destinations and Local Communities
- Hires local guides
- Brings our passengers to locally run restaurants & businesses

Animal Welfare
- Does not offer any tours that include elephant riding
- Does not offer any tours that use animals for entertainment
- We avoid places that sell/eat parts of endangered animals on tour

Transportation
- Uses local transportation while on tour

Accommodation
- Tours stay in locally run hotels/accommodations
 
Contact our Travel Experts
+1 844 311 8331
24/7 Support
Our team of experienced tour specialists have travelled to hundreds of countries around the globe and have decades of first-hand travel experience to share. Contact us now to have all of your tour-related questions answered!