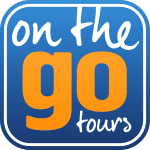 Number of tours

261
Age Range

18-70
Number of reviews

1,702
Rating

4.7

/5
Response rate

100%
Response time

9 hours
Written on June 16th, 2021

But unfortunately we got stuck in Morocco for 64 days due to the Covid19 but we used On the Go Tours to China, Vietnam and can recommend them to anybody. Due to…

Read more

Written on April 26th, 2021

Had a fabulous and unforgetable camping adventure. Very well organised with our amazing tour guide, cook and driver. In our 60's we were the oldest couple, bu…

Read more

Written on March 5th, 2021

On the go is a great company to travel with. I have done 4 of their tours and haved loved each one. Experienced guides, excellent accommodation and good group s…

Read more

On The Go Tours commented on this review

Thanks Dawn. Can't wait to see you on your 5th :-)

Written on February 24th, 2021

My life dream is to visit Egypt. After a long research I have decided to book a group tour with this company for May 20. Due to COVID my plan had to be postpo…

Read more

On The Go Tours commented on this review

Thanks so much for your kind words - its been a tough time for everyone so hoping we can get you to Egypt ASAP! Cheers OTG

Written on February 14th, 2021

On the go guides and service were the best.

On The Go Tours commented on this review

Thanks so much for the great review - we really appreciate it!

Written on February 9th, 2021

Some countries are easy to travel round independently but Russia isn't one of them so i'm really glad I booked this tour. Our tour guide Olga was fantastic, she…

Read more

Gabriela

Written on November 10th, 2020

The tour was great. Maybe we went to too many places for shopping instead of the summer palace or places we could use the time. All tour guides were excellent. …

Read more

On The Go Tours commented on this review

Thank you for taking the time to review your time with us!

Written on April 9th, 2020

Halal is a world class guide. He is kind, friendly, focused, time and money savy, knowledgeable, safety conscious,, and completely focused on your family's exp…

Read more

On The Go Tours commented on this review

Thank you for taking the time to review your Tour! Your comments will naturally be passed to Halal as a valued member of our Team!

Written on April 9th, 2020

I'd researched this trip for many years so I knew what I wanted to see and the highlights necessary for my "bucket list" adventure. Since I'm not a fan of tours…

Read more

On The Go Tours commented on this review

Thank you for taking the time to review your Tour!

Written on April 5th, 2020

Helal was a really great guide, he really knew his history and was great at expanding our days out. Would definitely recommend and travel with him again.

On The Go Tours commented on this review

Thankyou very much for taking the time to provide feedback on your recent trip with On The Go Tours. We are pleased you had a wonderful time. Feedback in very important to us to not only congratulate our teams who have done a wonderful job but to also help us to continually improve. We look forward to you travelling with us again.
On The Go Tours Destinations
On The Go Tours Videos
Why On The Go Tours
Comfortable Travel
On The Go knows that adventures can be better when the day ends with a cold beer by the pool or a soft pillow to lay down on. Each day On The Go is searching out comfortable hotels and boutique properties where travelers can stay while on tour. On The Go is known for their attitude of "adventure in style"!

Friendly Team
When traveling with the On the Go team, you will notice that they are more like a family than a group of colleagues. They are brought together by their enthusiasm for travel, as well as a professional work ethic.

Continuous Improvement
To help build the family-like relationship, once a year they will travel from all across the globe to meet up and discuss how to make One The Go even better. They get together at one of their destinations, and share ideas, reflect on the previous year, and make plans for the future, to ensure you as a traveler have the best experience possible.
On The Go Tours Benefits
Giving Back
When traveling with On The Go, you know that you are experiencing these places while giving something back to the local communities. On The Go ensures they have a light footprint, and the large majority of the funds remain in the countries visited - they aim to support the local communities at a grassroots level. Their sustainable travel policies mean that you can enjoy your travels and experiences, knowing you have made a positive contribution to the local communities.

Enjoy Your Travels
By ensuring everything has been planned and organised, One The Go allows you to have an unforgettable holiday. They know that time is precious, and how much of a profound impact travel experiences can have on someone, so they do everything they can to make the most out of each day.
Health & Safety Guidelines
COVID Hygiene Measures

We adhere to WTTC Safe Travel Protocols [COVID-19] for safe travels. Each destination has approved standards and is constantly monitored and checked by our local teams to keep us all safe.
Our key areas of focus include: 
- Health screening and questionnaire upon arrival, constant monitoring for all tour participants
- Social distancing throughout the tour
- Use of certified Travel Safe, COVID Safe hotels only, standards by local authorities
-  Regular hand hygiene stops and sanitizer available
- Enhanced vehicle & luggage cleaning throughout tour
- Removal of solo sharing options, single room available on all tours
- Service to plate or a la carte meals only
Sustainability
Tourism is one of the largest industries in the global economy and employs more people worldwide than any other. For those of us privileged enough to travel, we take on a responsibility to aid people relying on tourism and to treat their country with respect. We believe travel should be a rewarding experience for you, as well as for the people you meet, and that preserving the natural environments we pass through is essential. Ensuring our footprint is light and that the benefits of travelling reach the local communities you visit is paramount to us. We're proud to say that when travelling with us, the large majority of your holiday funds remain within the countries you visit, supporting local economies at a grass roots level.


These are the initiatives that this operator has in place to make your adventure more sustainable:

Sustainability Programs
- Invests a percentage of revenue back into community projects or sustainability projects
- We host community-building or sustainability projects for tour goers to partake in

Supporting Destinations and Local Communities
- Hires local guides
- Brings our passengers to locally run restaurants & businesses

Animal Welfare
- Does not offer any tours that include elephant riding
- Does not offer any tours that use animals for entertainment
- We avoid places that sell/eat parts of endangered animals on tour

Transportation
- Uses local transportation while on tour

Accommodation
- Tours stay in locally run hotels/accommodations

Contact our Travel Experts
+1 844 311 3006
24/7 Support
Our team of experienced tour specialists have travelled to hundreds of countries around the globe and have decades of first-hand travel experience to share. Contact us now to have all of your tour-related questions answered!