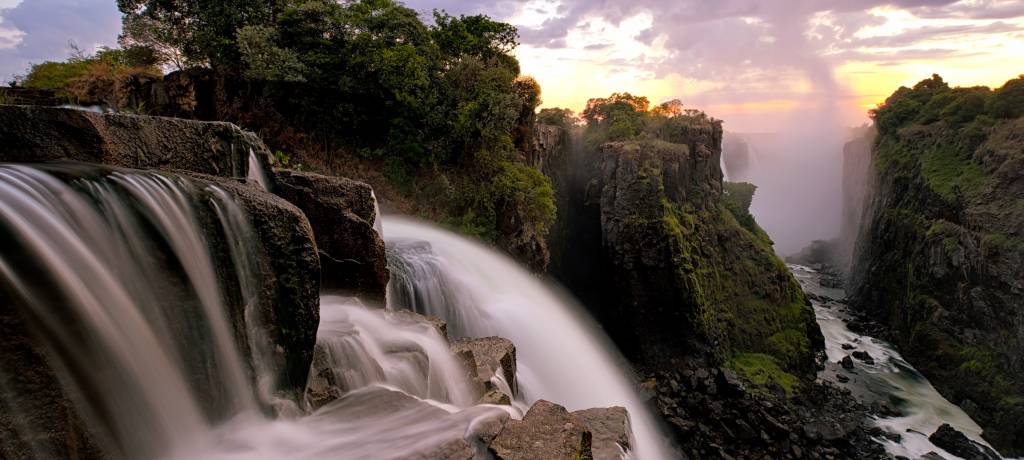 Victoria Falls Activities
From close encounters with the Big Five to hikes through incredible rainforests and adventures in shopping and nature alike, there are many amazing activities travellers making the journey to Victoria Falls and the surrounding area can enjoy. Read on to discover just a few of these adventures, and get ready to take your trip to Victoria Falls to the next level!
See all Victoria Falls safaris
Wildlife activities in and around Victoria Falls
As Victoria Falls is located in an incredibly lush ecosystem, there are plenty of amazing wildlife activities travellers can experience during their visit. As the falls sit along the border of two major safari destinations, lucky travellers can even catch glimpses of the Big Five - lions, elephants, Cape buffalo, leopards, and rhinoceroses. 

 
Jeep safari

One of the best ways to get up close and personal with the wildlife in the Victoria Falls region is with a jeep safari! These open-air vehicles are perfect for long days driving through nature reserves and national parks and allow travellers the best views of their surroundings. 

 

River safari

As Victoria Falls sits along the Zambezi River, there are countless opportunities for travellers to embark on a river safari. Cruise along the Zambezi - the longest east-flowing river in Africa - and take in views of abundant bird species such as herons, pelicans, and African fish eagles soaring alongside you. Mammals, such as hippos, buffalo, zebras, giraffes, and elephants, are often also seen on river safaris. 
 

Bush walks

Travellers who want to get even more up close and personal with the incredible nature on offer in Victoria Falls should consider participating in a bush walk. These walks are an excellent way to explore national parks and wildlife reserves in a more personalised, serene manner. Of course, visitors should always listen to local advice and travel in groups where possible for their own safety, and pay close attention to any signs or notices along the way. 
 
Water activities in and around Victoria Falls
If there's one thing Victoria Falls is known for, it's water! As the world's largest waterfall by size and volume, the surrounding region is home to the largest eastern-flowing river in Africa, which makes it the perfect place for lucky travellers to enjoy some water activities. 
 
Devil's Pool

Located on the Zambian side of Victoria Falls, Devil's Pool is home to a completely unforgettable experience. Livingstone Island, a small piece of land on the top of the falls, contains a small pool of water which hangs just over the falls. The island is so small that only 24 people are permitted to be on it at once, but if you're one of the lucky few, you can experience a natural infinity pool overlooking Victoria Falls!
 

White water rafting

Known as one of the best one-day rafting trips in the world, white water rafting in Victoria Falls is a special treat for adrenaline junkies. The length and severity of the rapids depend on the season - January through March and May through July will be shorter, as the rains raise water levels and make part of the rapids unsafe for rafting. In March, as water levels increase, rafting is generally unsafe and companies will not offer rapid excursions until around June. 
 

Kayaking and canoeing

If white water rafting feels a bit extreme, travellers to Victoria Falls can take to calmer waters on a kayak or canoe trip. These journeys take things at a slower pace so that travellers of all experience levels are able to enjoy them, meaning the focus can be on the incredible wildlife - including birds, elephants, and other game animals - visible from the canoe or kayak. 
 
Adventure activities in and around Victoria Falls
Adventure is everywhere in Victoria Falls! No matter what adventure looks like to you, you'll find it in this gorgeous region. From water activities to close encounters with massive animals and beyond, there are countless adventure activities to be enjoyed in Victoria Falls. 
 
Helicopter or microlight flight

Travellers to Victoria Falls may be surprised to learn that a spectacular helicopter journey over the falls can be as affordable as $150 USD per person! A trip on the "Flight of Angels" is a 13-minute helicopter ride that whisks travellers up and over the falls, allowing every angle of this incredible natural wonder to be seen. For the best views, a helicopter or microlight flight - similar to paragliding - is a must-do. 
 

Skydiving or paragliding

This one's for the ultimate thrill-seekers: imagine seeing Victoria Falls approach as you soar through the air. Imagine leaping out of a plane and arriving near the falls with the aid of a parachute. It's possible with a skydiving or paragliding experience! Several companies offer similar experiences, so make sure to research and read reviews in order to select the best provider. 

Bungee jumping or bridge swing

Bungee jumping is a bucket-list activity for many, so why not complete this daring activity during your time in Victoria Falls? From the top of the Victoria Falls bridge, travellers plummet straight towards the river before their cable allows them to gently swing just above the rushing water below. The bridge swing option is also available to do with a partner so you can share in the surge of adrenaline! 
Cultural activities in and around Victoria Falls
Victoria Falls isn't all adrenaline and adventure (although it can be!) - travellers can also immerse themselves in unique and memorable cultural activities. Whether you want to learn about the region's history or imagine what day-to-day life is like in this beautiful area, you can get a culture fix in Victoria Falls. 
 
Victoria Falls Town

More than just the gateway to Victoria Falls, Victoria Falls Town in Matabeleland North, Zimbabwe, is home to luxury hotels, libraries and museums, sporting events, and grade 5 rapids for white water rafting and kayaking excursions. 
 

Traditional villages

No trip to Victoria Falls would be complete without a visit to a traditional village. Not only will this give travellers the opportunity to appreciate the history and culture of the region they're visiting, they often make for highlights of the trip. Some travellers choose to bring small gifts for the village children, and they're always appreciated!
 

Visiting museums

There are several museums in Victoria Falls, including the popular Livingstone Museum, which highlights natural history with fossils, animal specimens, and a collection of Stone Age tools and artifacts. There is also a Railway Museum, which displays steam trains and describes the history of rail travel in the area. 
 
Learn more about Victoria Falls
Most popular Victoria Falls trips
Contact our Travel Experts
+1 844 311 8331
24/7 Support
Our team of experienced tour specialists have travelled to hundreds of countries around the globe and have decades of first-hand travel experience to share. Contact us now to have all of your tour-related questions answered!
Tour operators and travel companies in Victoria Falls
Compare the best companies operating tours to Victoria Falls based on reviews from past travellers.
A TRAVEL MAGAZINE BY TOURRADAR