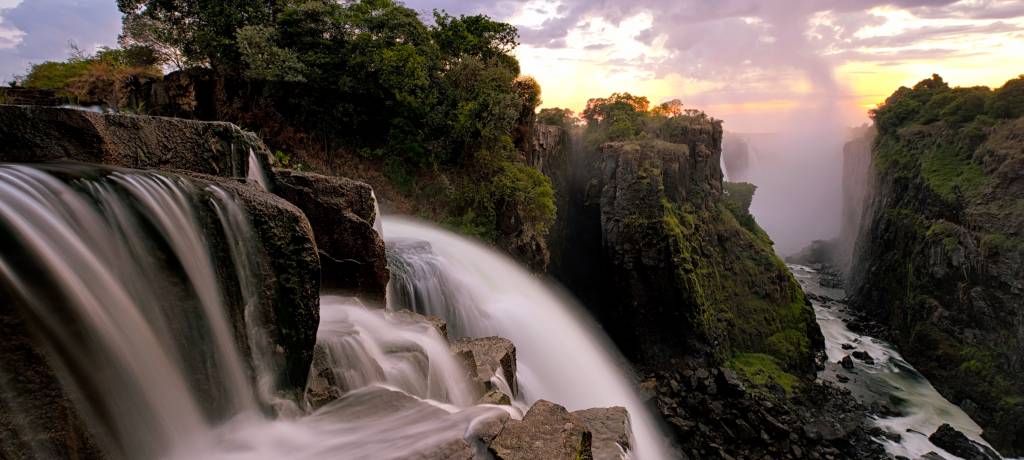 Victoria Falls Map
One of the Seven Natural Wonders, Victoria Falls is a demonstration of the power of nature. Every minute, an estimated 500 million litres of water plunge over jagged edges, thundering into the stunning gorges below. The falls are located on the border of Zambia and Zimbabwe, and the region surrounding Victoria Falls is an incredible experience. The following maps give an overview of the area.
See all Victoria Falls safaris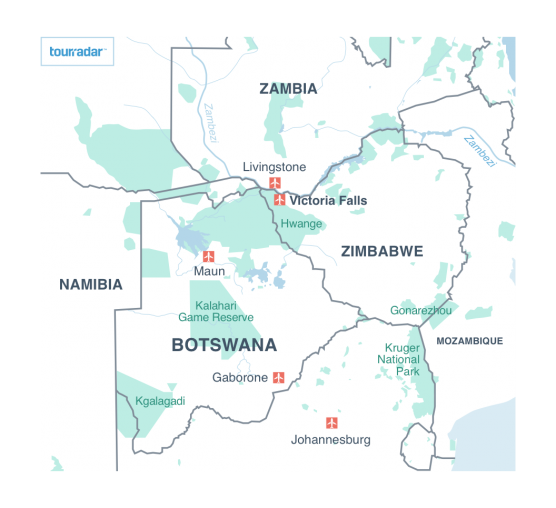 Victoria Falls location map
Located in Africa, Victoria Falls is the world's largest sheet of flowing water. Situated on the border of Zimbabwe and Zambia, it's a significant feature of the Zambezi River. Visitors flock to southern Africa so they can experience this spectacular wonder for themselves, often hearing it before they see it. The raging waters can be heard from up to 40 kilometres away! Another exciting feature of Victoria Falls is its proximity to Hwange National Park. A little over two hours away from the falls by road, Hwange is home to one of the world's largest populations of elephants. 

From the map, you'll see the nearest towns to the waterfall are Livingstone in Zambia and Victoria Falls in Zimbabwe. Both towns have domestic airports with regular flight route. For Livingstone, you can fly from Johannesburg, and for Victoria Falls, you can fly from Harare or Johannesburg. It's also possible to take a wood-panelled overnight steam train from Bulawayo to Victoria Falls or drive from either country. As the waterfall has border checkpoints on both sides, ensure you have the right travel documents before making the trip.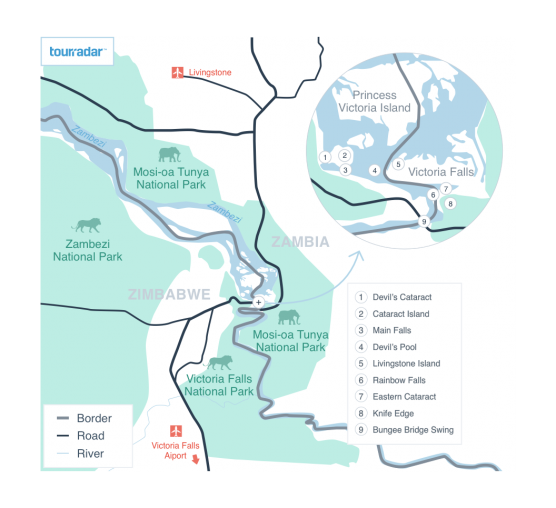 Victoria Falls area map
The area surrounding Victoria Falls is also an amazing experience. A major highlight of visiting Victoria Falls are the number of rock pools that have formed over a hundred thousand years. The most famous and daring of these is Devil's Pool, where travellers can rest against a rock lip and peer over the edge of the waterfall. 

As you'll see on the map, the falls are part of two national parks, Mosi-oa-Tunya National Park in Zambia and Victoria Falls National Park in Zimbabwe, so the region offers plenty of opportunities to experience African wildlife and observe animals in their natural habitats. The two countries are connected by Victoria Falls Bridge, constructed in 1905 and 198m long, it is one of only three road links between Zambia and Zimbabwe. 
Learn more about Victoria Falls
Most popular Victoria Falls trips
Contact our Travel Experts
+1 844 311 8331
24/7 Support
Our team of experienced tour specialists have travelled to hundreds of countries around the globe and have decades of first-hand travel experience to share. Contact us now to have all of your tour-related questions answered!
Tour operators and travel companies in Victoria Falls
Compare the best companies operating tours to Victoria Falls based on reviews from past travellers.
A TRAVEL MAGAZINE BY TOURRADAR