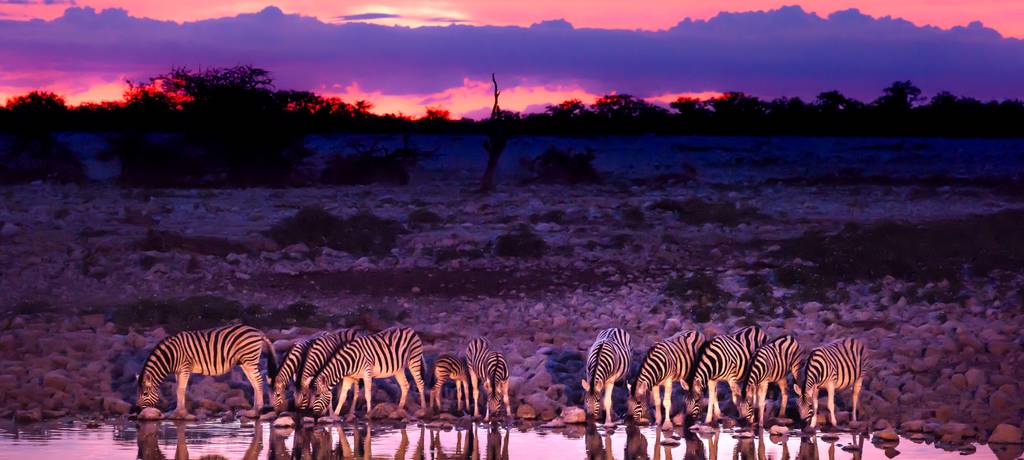 Etosha National Park Guide
Located in northwestern Namibia, Etosha National Park is a prime destination for an African safari! Etosha is one of the largest nature reserves in Africa - it's half the size of the country of Switzerland! Located only a 4 hours' drive from the capital of Windhoek, it's high time you discover all there is to see and do in this gorgeous national park. 
View Etosha Safaris
Facts About Etosha National Park
If you're embarking on a safari for the first time or it's your first time to this wildlife-rich reserve, you might want to brush up on your Etosha facts to help you plan for an exciting adventure ahead!
What does Etosha mean?

The word "Etosha" comes from a Ndonga word meaning "Great White Place." This refers to the Etosha pan, a 120-kilometre (75 mile) long dry lake bed which makes up a large part of Etosha National Park.

How big is Etosha National Park?

Etosha National Park spans an area of 22,270 square kilometres (8,600 square miles). The Etosha pan, which covers an area of 4,769 square kilometres (1,840 square miles) is 23% of the total area of Etosha National Park. 

Is Etosha malaria free?

Travellers planning on visiting Etosha in the winter months have one less thing to worry about: the park isentirely malaria-free during the dry season, when mosquitos are unable to breed. However, in the wetter months from November to June, travellers are encouraged to take anti-malaria medication. The risk of contracting malaria in Etosha, though, is incredibly slim. 

Where is Etosha National Park located?

The massive Etosha National Park is located in northwestern Namibia, in the country's Kunene region.

How many lions are there in Etosha?

Lions - a proud member of the Big Five - can only be found in northern Namibia. Etosha National Park is home to approximately 250 to 750 lions, and smaller populations exist elsewhere in the country's north, specifically in the Caprivi and Kaokoland.

How many watering holes are there in Etosha?

Great news for travellers looking to make the most of their Etosha safari experience: the park is home to numerous watering holes, over 40! They make it much easier to spot animals who can otherwise be elusive. Okondeka is the best waterhole to spot lions, and Halali and Goas are known for leopard sightings. The Okaukuejo watering hole is known as thebest place in Africa to see black rhinos!

What is the Etosha pan?

The largest salt pan in Africa, the Etosha Pan is a dry lakebed that can be seen from space. Believed to have been formed 100 million years ago, some of the park's wildlife use the pan as a salt lick in the dry season, and migrating flamingos flock to the area during particularly rainy wet seasons.

How many black rhinos are there in Etosha?

While, unfortunately, black rhinos are critically endangered due to poaching, Etosha's population remains relatively stable. However, in order to protect the population from further poaching, Etosha National Park does not disclose the exact black rhino population in the park. Travellers dreaming of catching a glimpse of a black rhino should wait by watering holes at night for the best chance.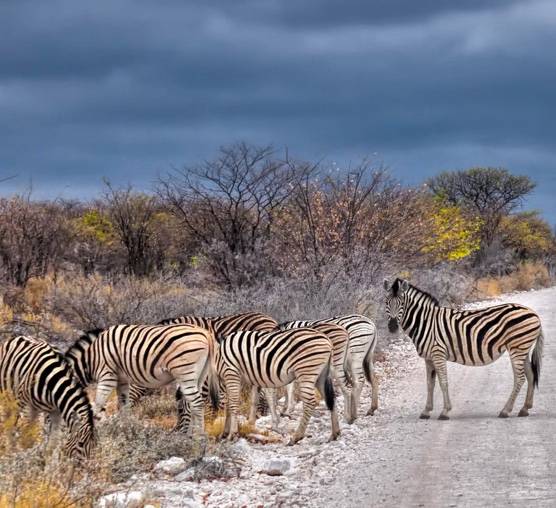 How to Get to Etosha

Of course Etosha National Park has skyrocketed to the top of your must-see list - we can't blame you! Whether travelling by sea, sky, or road, discover the best way to reach this incredible national park and the vibrant cities that surround it with our guide to travelling to Etosha National Park. 
 
View Etosha Location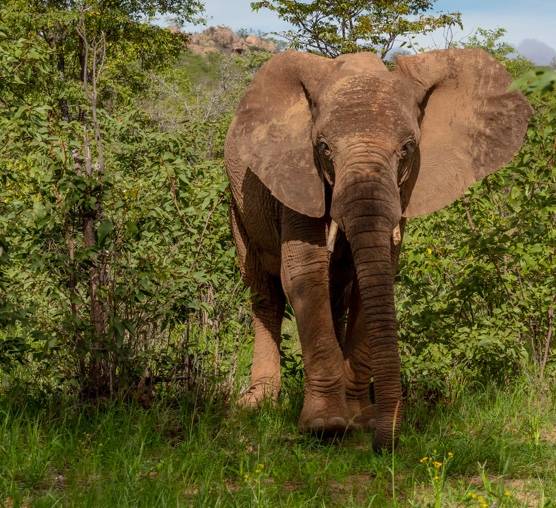 Best Time to Visit

While Etosha National Park is a year-round destination, certain times of the year are better to visit in order to see specific wildlife. Wet or dry season? When is the best time to spot the elusive black rhino? Find out the best time to visit Etosha National Park depending on what your dream trip looks like here.
 
View Etosha Times to Visit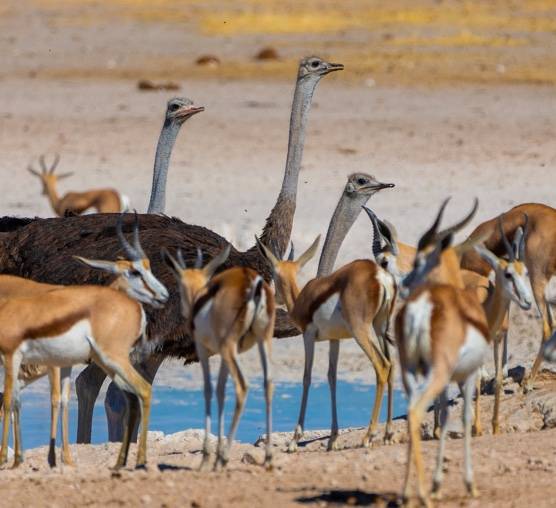 Wildlife You Can Spot

From the Big Five to some seriously amazing birdlife, grazing animals to apex predators, Etosha National Park is a prime location to see many animals in their natural habitats. Read on to discover what creatures you'll find in the park, the best time of year to spot them, and our top tips and tricks for finding your favourites!
 
View Etosha Wildlife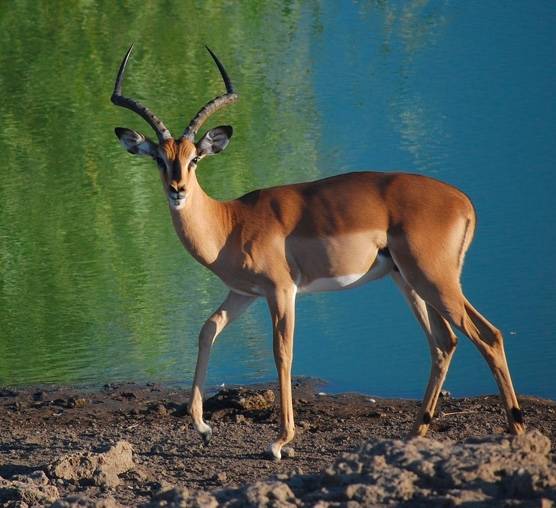 Fees & Costs

How much should you budget for your visit to Etosha National Park? Whether you're looking for a camping adventure with the family or a luxury lodge experience with that special someone, we have the answers to all of your money questions here!
 
View Etosha Prices
Most Popular Etosha National Park Safaris
Latest Deals on Namibia Tours
Etosha National Park Safari Reviews
Best Tour Operators & Travel Companies to Etosha
Book your Etosha tour today!
+1 844 311 8331
24/7 Support
Our team of experienced Travel Experts have ventured to hundreds of countries around the globe and have decades of first-hand travel experience to share. Contact us now to have all of your tour-related questions answered!
SAFARI TRAVEL INSPIRATION BY TOURRADAR