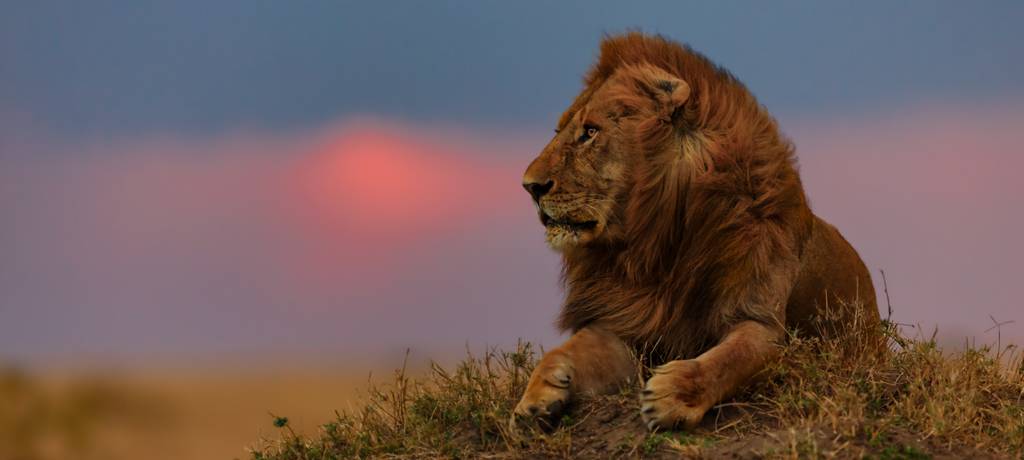 Masai Mara Guide
Masai Mara National Reserve is an incredible safari destination and named after the Maasai people, the ancestral tribe of the region. Read on to learn about the most important facts to help you plan the perfect safari.
View Masai Mara Safaris
Facts About Masai Mara National Reserve
If you're embarking on a safari for the first time or it's your first time to this wildlife-rich reserve, you might want to brush up on your Masai Mara facts to help you plan for an exciting adventure ahead!
What is Masai Mara famous for?

With its high concentration of lions, leopards, and cheetahs, the Masai Mara is iconic for wildlife spotting. As well as being home to Maasai tribes, the reserve is famous for the Great Migration. Thousands of zebras, Thomson's gazelles, and wildebeest cross to and from the Serengeti every year between July and October. Witness this incredible sight from a hot air balloon or a fly-in safari. 
 

How much does a safari cost?

The cost of a safari to Masai Mara will depend on the tour you choose. Prices vary according to the duration of your tour, accommodation, inclusions (for example, park fees), transportation to and from the park, and so on. TourRadar Pro Tip: Use our search filters to view tours starting from the lowest price per day or contact our friendly Travel Experts who can help you find a safari that fits your budget. More on pricing and fees here.

What does Masai Mara mean?

The Masai Mara National Reserve got its moniker from the Maasai tribes who inhabit that the region. In their native language of Maa, Mara means spotted. The Mara is not a park but a national reserve that belongs to the Masaai people.

Is Masai Mara safe?

Masai Mara is safe. It's a popular destination in Kenya for safaris, and in light of this, the government takes measures to ensure security. As you will have the opportunity to encounter many beasts in the wild, when going on a safari it's important to follow your guide's instructions at all times. As long as you follow their lead and treat the animals with respect, there's nothing to worry about.

Is malaria common in Masai Mara?

Thanks to the high elevation of Masai Mara and Nairobi, malaria is not common in this region as mosquitos do not do well at these elevations. Having said that, malaria is common in other parts of Kenya. It's best to consult your family physician about whether you need to take malaria prophylaxis and other necessary vaccinations prior to travel.
 

What is the ecosystem like in Masai Mara?

The Masai Mara falls in the northern-most section of the Mara-Serengeti ecosystem, covering some 25,000 square kilometres (9,700 square miles) in Tanzania and Kenya, and is comprised mostly of open grasslands and seasonal streams. 

How many lions live in Masai Mara?

In 2016, using Masai Mara as a case study, scientists from Oxford University devised a method of counting lions. Lion numbers are hard to count, but the study estimated that there were almost 17 lions per 100 square kilometres (38 square miles) in the region, about 420 lions in total - making Masai Mara one of the most concentrated areas for lions in Africa. 

What are the park fees?

Park fees per day for Masai Mara vary. For non-resident adults inside the park, the cost is $70 USD, and for non-resident adults outside the park, the cost is $80 USD. For children inside the park, the price is $40 USD, outside it's $45 USD. Non-resident student adults pay $40 USD. Please note, rates inside the park are applicable to guests staying at Mara Serena Safari Lodge and Little Governors' Camp. While we make every effort to provide up-to-date information, rates may change annually. Read more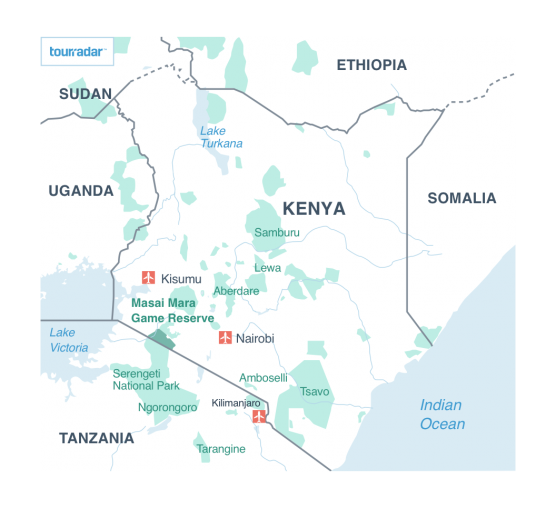 How to Get to Masai Mara

The Masai Mara is located 270 kilometres (167 miles) northwest of Nairobi. When travelling to the reserve from most locations, you have two options: road or air. Flying is probably the easiest option (there are a number of airstrips located close to the park), but driving gives you a chance to experience the landscape. However, the road conditions aren't the best. 
 
View Masai Mara Location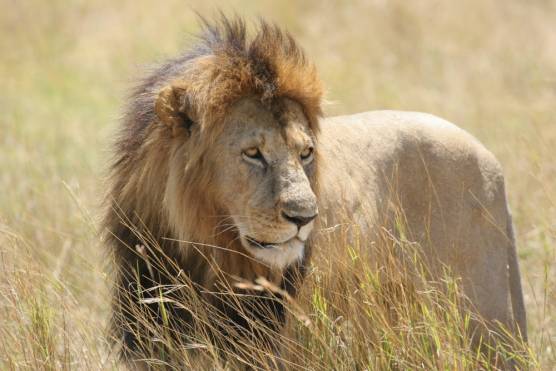 Wildlife You Can Spot

Masai Mara's abundant wildlife scene encompasses big five favourites such as elephants, rhinos, buffalo, lions, and occasionally leopards. You can also experience animals that take part in the Great Migration: wildebeest, Thomson's gazelle, and zebras, or spot exciting bird species like Kori bustards, Rufous-bellied herons, Secretary birds, Soot chats, and the Usambiro barbet. 
 
View Masai Mara Animals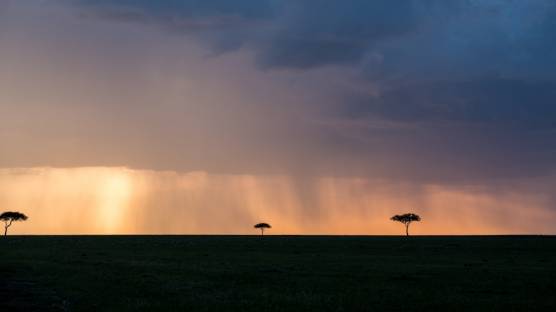 Weather and Climate

Masai Mara's climate is colder and wetter than what might be expected. The altitude of the region causes the temperatures to drop with every 1,000 metres (3,280 feet). Daytime is pleasant (temperatures hover around the mid 20°C (mid 70°F)) and lowers even further at night. The dry season from June to October offers perfect, sunny days.
 
View Masai Mara Climate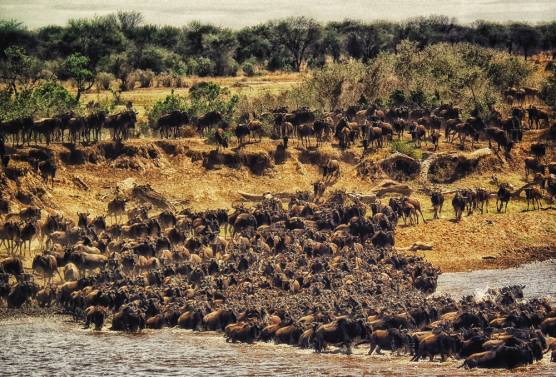 Best Time to Visit
Masai Mara offers plenty of wildlife viewing all year, but the wet season can make things trickier (particularly with navigating roads), and animals are hard to spot. The time for visiting is during the dry season when creatures flock to the flowing rivers and waterholes. It's hard to time safaris with the Great Migration, but your best chance is from August to October.
View Masai Mara Times to Visit
Most Popular Masai Mara Safaris
Latest Deals on Kenya Tours
Masai Mara Safari Reviews
Best Tour Operators & Travel Companies to the Masai Mara
Book your Masai Mara tour today!
+1 844 311 8331
24/7 Support
Our team of experienced Travel Experts have ventured to hundreds of countries around the globe and have decades of first-hand travel experience to share. Contact us now to have all of your tour-related questions answered!
KENYA TRAVEL INSPIRATION BY TOURRADAR