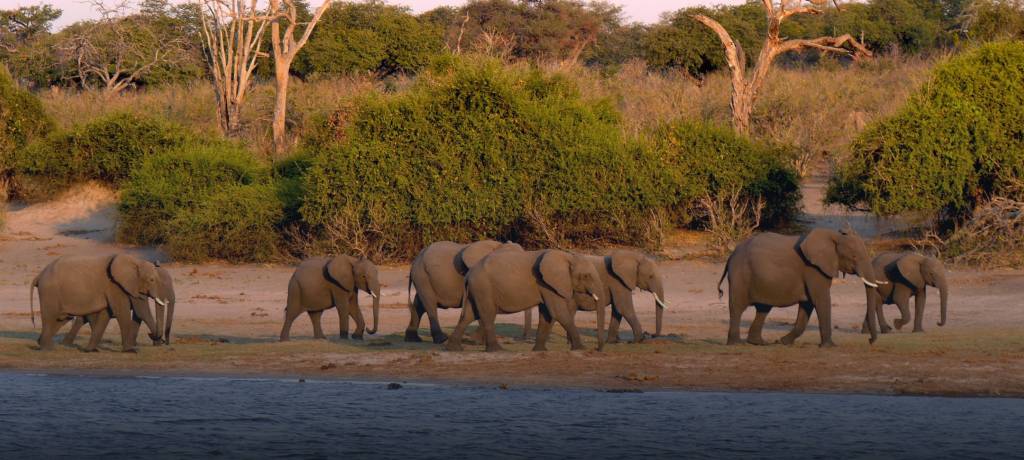 Chobe National Park Cost & Fees
Planning a visit to Chobe National Park? This awe-inspiring safari destination in northern Botswana is known for its herds of elephants, abundant bird life, and lush waterways. Before you start packing your bags, though, you'll need to know what to expect to pay to visit this national park. 
See all Chobe safaris
Chobe National Park entry fees
The national currency of Botswana is the Botswana pula (BWP). Non-citizen adults aged eighteen and over can expect to pay 120 BWP per person, per day to visit Chobe National Park (about $11 USD), while adult residents of Botswana pay 30 BWP (about $3 USD) and adult citizens pay just 10 BWP (about $1 USD). Children aged 8-17 pay 5 BWP as citizens (about $0.50 USD), 1 BWP as residents (about $1.40 USD), and 60 BWP as tourists (about $5.60 USD). Children under the age of 8 enter the park for free. As always, conversion rates are subject to change, and travellers are encouraged to check the current conversion rate before they leave. 
Citizens
Residents
Tourists
Adults (+18)
10 BWP
30 BWP
120 BWP
Children (8 -17 years)
5 BWP
15 BWP
60 BWP
Children under 8 years
Free
Free
Free
How much does it cost to go on a safari to Chobe National Park?
The cost of a safari in Chobe National Park depends on several variables. Here, we break down the different costs travellers will encounter while planning their adventure.
Accommodation

There are several types of accommodation available to travellers in Chobe National Park, ranging from budget options to luxurious lodges. Travellers have the option of camping at one of several private campsites for a generally-minimal fee, but there are also several lodges which offer accommodation with more creature comforts - and at a higher price tag. One night in these lodges can range between $100 USD to more than $1000 USD, depending on the lodge and its amenities. 

 

Transportation

Within the park, there are several options for transportation. Travellers visiting on a safari will be transported throughout the park in a safari vehicle (such as a jeep or bus) provided by the tour operator. However, travellers looking to get even closer to the nature around them can opt for a walking safari led by expert local guides. 
 

Tour guides

Tour guides are almost always included in a safari - these guides are experts at knowing when to see animals, how to navigate the park, and how to make your safari journey unforgettable. 

Tipping

Tipping is generally expected in Botswana. Travellers should anticipate tipping their guides about $10 USD per day, and their trackers, paddlers, and other experts $5 USD per day. Tipping is often a major source of income for guides, trackers, and other staff in lodges and campsites, and is always greatly appreciated. 

Meals

Meals are usually included in a safari tour package, with considerations being made for travellers following a specific diet such as veganism, halal, or kosher. Always check with your tour operator before you depart to ensure your dietary needs are met. 

Botswana entry fee

In an effort to better preserve the nature and habitat of Botswana's native animals, the country charges visitors a Tourism Development Levy. Introduced in 2017, this $30 USD fee is used to support conservation and can be paid upon arrival in airports and at the country's borders. 
Most popular Chobe tours
Contact our Travel Experts
+1 844 311 8331
24/7 Support
Our team of experienced tour specialists have travelled to hundreds of countries around the globe and have decades of first-hand travel experience to share. Contact us now to have all of your tour-related questions answered!
Chobe safari reviews
Tour operators and travel companies in Victoria Falls
A TRAVEL MAGAZINE BY TOURRADAR