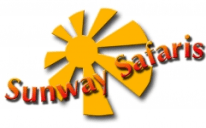 Sunway Safaris
Headquarters in Sunninghill, South Africa
View all tours
Number of tours

19
Age Range

12-99
Number of reviews

9
Rating

4.6

/5
Response rate

100%
Response time

less than 1 hour
Written on March 4th, 2020

The guides were fantastic and I loved the itinerary. It was an amazing trip. My only complaint is that Tour Radar took way too long to respond to my questions b…

Read more

Sunway Safaris commented on this review

Hi Lorraine, thank you so much for the review, and we are happy to hear that you enjoyed both the guides and the itinerary. Our delay in responding to your questions is due to the fact that our offices are closed on weekends and we do not have access to our emails after hours. We look forward to welcoming you back on a Sunway tour in the future. The Sunway Team

Written on November 2nd, 2019

Great tour of South Africa covering so much of the country. You'll get a variety of experiences including safaris, hikes, national parks, beaches, wineries and …

Read more

Written on September 5th, 2019

Our guide supposedly had a lot of experience but in comparison to other tour guides (I've taken many tours), he did not give us ongoing information specific to …

Read more

Written on August 7th, 2019

A great adventure on your amazing continent. Our guides Maxwell and Stephen explained Africa is not a holiday or safari and it sure was an adventure. Their pr…

Read more

Sunway Safaris commented on this review

Good afternoon Ewen & Sue. Many thanks for your review of the Sunway Safaris Southern Circle NBa21. I am really happy that our guides Maxwell and Stephen looked after you whilst on tour and assisted in all ways to accompany the late arrival of your bags in Livingstone. I'm sure the hippo experience in the Okavango Delta will be one to never forget and im pretty sure we will see you back to Africa in the near future. Thank you again for your review. Dirk, Marketing Manager Sunway Safaris.

Written on May 10th, 2019

Incredible, fantastic, trip of a lifetime. The rest of the people and the guides added to the overall pleasure of the trip

Written on April 28th, 2019

This trip was awesome ..the experiences were wonderful but, I cannot express how much this was also due to Brian and Jo Jo, who with their eagle eyes, amazing k…

Read more

Elizabeth

Written on October 9th, 2018

Tour was generally what was described in all the information provided. Sunway did a great job of providing written material about the trip, so one should not ha…

Read more

Natalie

Written on October 18th, 2017

I have just returned from Sunway South Africa Rainbow Route tour (17 days). It was an absolutely wonderful tour from start to finish and I cannot recommend or p…

Read more

Written on June 24th, 2017

Excellent tour for wildlife and scenery. Grace and Liberty were exemplary tour leaders and Grace's culinary skills kept us much better fed than expected. Thanks…

Read more
Sunway Safaris Destinations
Sunway Safaris Videos
Questions & Answers
What food can I expect while on Safari?

Sunway will provide three scrumptious meals per day, unless specified in the itinerary [B=breakfast, L=lunch, D=dinner], from lunch on the day of departure until breakfast on the last day of your tour. Good healthy meals make happy travelers. The tour leaders do all the shopping and meal planning for each group. He/she will always try to obtain fresh produce wherever possible. Each tour has 1 cool box / freezer for the meats and fresh produce only, and 1 cool box for drinks. We do cater for special dietary requirements. Please bring this to our attention at time of booking. A rough idea of what meals can be expected: Breakfast - Cereals and milk or bread/toast, jam and fruit with coffee and tea or the occasional cooked breakfast. Lunch - Cheese, cold meats, fish, fruit, pasta salads and bread or rolls. Dinner - Potjies (stews), braais (barbecue), stir fries, curries etc prepared on a wood fire or gas stove. On several nights we visit local restaurants, which because of individual tastes will be an own expense meal.

Do I need malaria tablets?

Yes, Malaria prophylaxes are required on all of the safaris that we offer. Some trips, like the South Africa Scenic or Rainbow Route, are only in a Malaria area for 5 days, while others, such as the Zambia, Malawi & Mozambique Trade Route, travel through malaria areas for all 21 days. Your tour leader will advise you when you enter a malaria area, and when you exit a malaria area. Do not be put off visiting Southern Africa because of malaria. Realistically most of Southern Africa is low risk area and if you use prophylaxis, use insect repellent and cover up at dusk with long shirt or trousers, the chances are very low that you would contract malaria. Of the thousands of clients that Sunway has carried since 1994 we know of only 1 case of a client contracting malaria, and only a handful of guides (and remember that the guides do not even use the tablets). Clients visiting Malawi and Mozambique should pay most attention to precautions as those two countries are warm and wetter, and therefore have higher incidence of malaria. Please contact your local physician for latest information on malaria prophylaxis and what type of prophylaxis will be best suited for the area that you are visiting. If you feel when you get home that you have flu like symptoms, headache, stiffness, nausea, fever, then it's best to consult your doctor immediately. Remember that prophylaxis do mask the symptoms, so get checked out – and remember to tell your doctor that you've been to a malaria area. Malaria is easily treatable if detected early.

Are mosquito nets provided?

If you are joining a camping trip, the Sunway tents have mosquito netting on the windows and door. Mosquitoes spend the heat of the day in shaded areas, so please remember to keep the mosquito net on the door closed during the day too, so that mosquitoes do not enter your tent. At night, you can sleep with the tent window flaps open, and the door rolled up, but remember to keep the mosquito net zipped closed. This will keep out the little biting things (like mosquitos) and the big biting things (like lion and hyena Smile). On the accommodated safaris, if we visit a malaria area, or a place with mosquitoes, then the accommodation will have nets provided. In areas where there are low numbers of mosquitoes and/or no malaria, mosquito nets will not be provided. These include places such as Knysna, Hermanus, Cape Town, Swakopmund, Windhoek etc.

Do I need to bring a sleeping bag and a towel?

If you are joining a camping trip, you will need to bring your own sleeping bag (and small camp pillow) and a towel. Should you not have, or do not want to buy a sleeping bag, you can rent a sleeping bag and camp pillow from the Sunway office for Euro 1 per sleeping bag per day on tour. Please book this at the time of booking. On the accommodated safaris, all bedding is provided, and you will not be required to bring a sleeping bag or pillow. When we do stay in areas where sleeping bags are required (such as the tented camp in the Okavango Delta) sleeping bags and pillows will be provided. At most accommodation establishments, towels will be provided, but it is always a good idea to bring a small travel towel for the beach or swimming pool.

Are there luggage restrictions?

Due to space and weight limitations within each safari vehicle, luggage should be kept to a maximum of 12kgs per person (excluding camera equipment / day bag). The bag should be of a soft sided duffel bag / back pack design – no hard cases or hard sided bags will be accepted. While many people feel that they will need their full quota of 20kgs, people quickly realise that they have packed far too much.

Can I use a credit card while on Safari?

Yes, Mastercard and Visa credit cards and debit cards are widely accepted throughout Southern Africa. American Express is not widely used in Southern Africa. You'll be able to use credit card to pay for most restaurant meals, and at most formal shops (although there may be a time delay in the check out queue.) Optional activities in Cape Town, Swakopmund, Maun and Livingstone can also be paid by credit card. More specific details available in the downloadable Sunway general information dossier.

Do I need to purchase travel insurance?

Yes, all clients travelling on a Sunway safari are required to have their own comprehensive travel insurance. The travel insurances needs to cover lost luggage, missed flights and most importantly comprehensive medical cover in the un-likely event of you being injured while on safari. Please note that while most credit card companies offer travel insurance if you have bought your airline ticket on your credit card, we have found that cover is not sufficient for adventure travel in Africa. We strongly recommend you buy additional specific travel insurance. You need to buy this insurance in your home country, before you travel and your local Sunway travel agent can assist you with this.

What is the age limit?

The minimum age for our guests is 12 years old, although we do occasionally make exceptions depending on the specific itinerary, the group make-up and sometimes during our low season. Please note that a child of 12-17 years will only be accepted for travel with an accompanying adult. On some of our safaris we camp wild in remote areas and these campsites are not fenced, so it is possible for wild animals do enter the campsite. It is important that parents make sure that the children listen and follow the guide's safety instructions. Parents are also required to supervise their children at all times so as not to affect the enjoyment of the tour for any other clients. We, as Sunway, do not believe that age should be a determining factor on the enjoyment of life! Therefore we do not have an upper age limit. But clients who are older than 65yrs are required to submit a doctor's report stating that they are fit and healthy and that they will be able to undertake a safari that includes a moderate level of physical activity, some long driving days and some moderate day walks. This is not an onerus document, but rather an indication that the client is aware of the style of tour that they will be joining, and capable of participating in all activities on tour. We've found that we have many fit and healthy clients who are over 65 years of age, join Sunway trips, and put the younger clients to shame on the mountain walks!
Contact our Travel Experts
+1 844 311 3006
24/7 Support
Our team of experienced tour specialists have travelled to hundreds of countries around the globe and have decades of first-hand travel experience to share. Contact us now to have all of your tour-related questions answered!