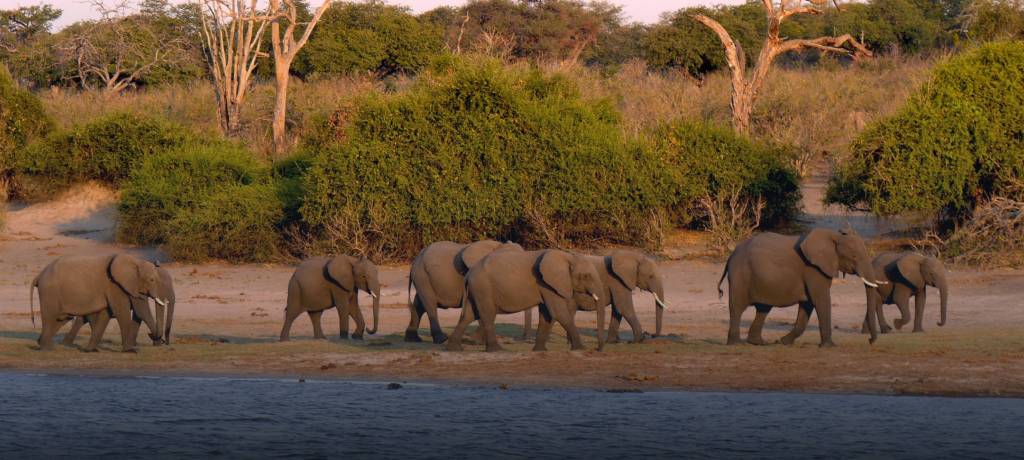 Animals of Chobe National Park
Chobe National Park - a stunning nature reserve in northern Botswana near the Okavango Delta - is known as a top-shelf safari destination for one very good reason: it's home to thousands of animals, including the Big Five! Learn everything you need to know about the animals found in this stunning reserve before you set out. 
See all Chobe safaris
Animals in Chobe
There are hundreds of species of animals living in Chobe National Park - over 500 species of bird call the park home! But before you start planning your dream safari in Chobe, take note of what kinds of animals you can expect to see to make sure your bucket list is covered. 
Elephant

If your number one must-see animal on a safari is the African elephant, Chobe National Park is the absolute best place to visit. The park is home to the largest concentration of African elephants in the world, which means visitors are almost guaranteed to spot these incredible, intelligent animals. Chobe elephants are migratory, moving between the Chobe and Linyanti rivers. For the best chance of spotting elephants, visit during the dry season, when they're likely to concentrate at the Linyanti River in large numbers. 
 

Lion

The undisputed royals of African ecosystems, lions can be found in Chobe National Park resting under trees and searching for their next meal in the herds of prey animals that live nearby. The best time to spot lions in the park is during the dry season when animals congregate around available water and lions venture out to drink - and eat. 
 

Zebra

You'll have no problem spotting the iconic black and white stripes of zebras in Chobe National Park! For the best chance of seeing zebras during your safari, visit during the rainy season, when a huge group (the second-largest zebra migration in Africa, in fact) of 25,000 zebras migrate to the Makgadikgadi Pans. 
 

Hippo

While hippos may seem like gentle giants, they've been known to hunt and kill other animals over territorial disputes, and they're known as "the deadliest animal in Africa". Travellers looking to - carefully! - catch a glimpse of hippos in their natural habitat should find it easy: they can be found year-round along the Chobe River. 

Giraffe

While elephants tend to be the main attraction in Chobe National Park, travellers are also nearly sure to see more than a few giraffes! Find them near the water during the dry season - they tend to travel in large groups, so if you see one, chances are there are several others nearby. 
 

Buffalo

Another species of animal travellers are all but guaranteed to spot on safari in Chobe National Park, buffalo travel in huge herds in Botswana. A visit during the dry season gives visitors a chance to spot a herd made up of nearly 1000 of these massive creatures in the Chobe River floodplains. However, when the rains begin, the buffalo tend to migrate further inland, making them slightly more difficult to spot. 
 

Red Lechwe

While the Red Lechwe is dependant on water in their habitat for their survival, you'll find these deer-like creatures located firmly on dry land. You can spot them specifically in the Chobe floodplains year-round, but travellers should note that males are famously territorial - and they have the horns to back it up. 

Hyena

Known for their iconic cackle and their centuries-long history of animosity with lions, hyenas are largely nocturnal animals with a bit of a bad reputation. In reality, hyenas are intelligent, social animals that can often be found by the Linyanti River.

Cheetah

While cheetahs are more rarely seen in Chobe National Park, they're often found in the Linyanti region of Botswana. Although they're known as the fastest animal on land, cheetahs are actually often threatened by larger predatory animals who tend to steal their prey.
 
Most popular Chobe safaris
Contact our Travel Experts
+1 844 311 8331
24/7 Support
Our team of experienced tour specialists have travelled to hundreds of countries around the globe and have decades of first-hand travel experience to share. Contact us now to have all of your tour-related questions answered!
Chobe safari reviews
Tour operators and travel companies in Victoria Falls
Compare the best companies operating tours to Chobe National Park based on real reviews from past travellers.
A TRAVEL MAGAZINE BY TOURRADAR