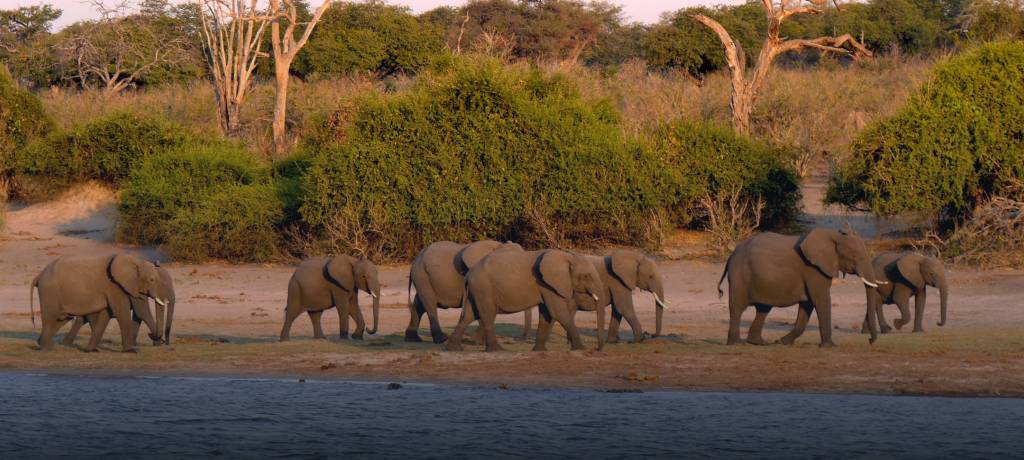 Chobe National Park Maps
After being established to preserve wildlife and promote tourism in the area in 1960, Chobe became Botswana's first national park. The park has several sections, and you can use the maps below to get a better understanding of land that was once inhabited by the ancient San bushman tribe.
See all Chobe safaris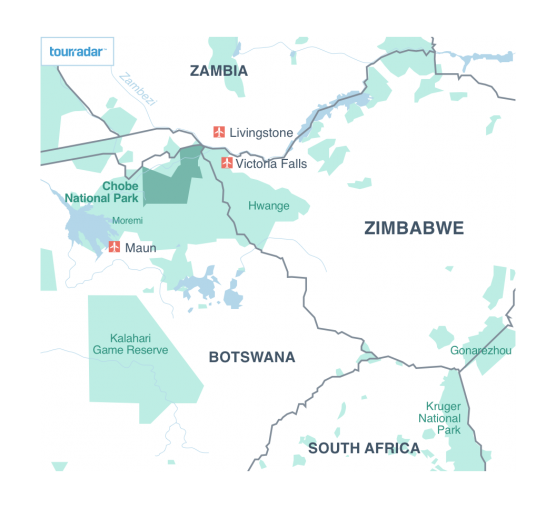 Chobe National Park location map
Given the location of Chobe National Park, it's not hard to see why it's one of the most biologically diverse parks in the region. Located in northern Botswana nearby the Okavango Delta, Chobe National Park is the country's third largest park and has one of the highest densities of game in Africa. Neighboured by Namibia, South Africa, Zimbabwe and Zambia, Botswana's landscape features the arid beauty of the Kalahari Desert and the extraordinary wetlands of the Okavango Delta and has the benefit of many airports and other attractions like the Moremi Game Reserve and Victoria Falls nearby. 

From the map, you'll see Harry Mwanga Nkumbula International Airport (LVI), Victoria Falls Airport (VFA) and Maun (MUB) are the closest airports. Travellers to the region often use these airports for connecting flights and domestic flights to Chobe National Park. Many people also fly into Kasane Airport (BBK) from one of the larger airports as it is located near the northern entrance of the park.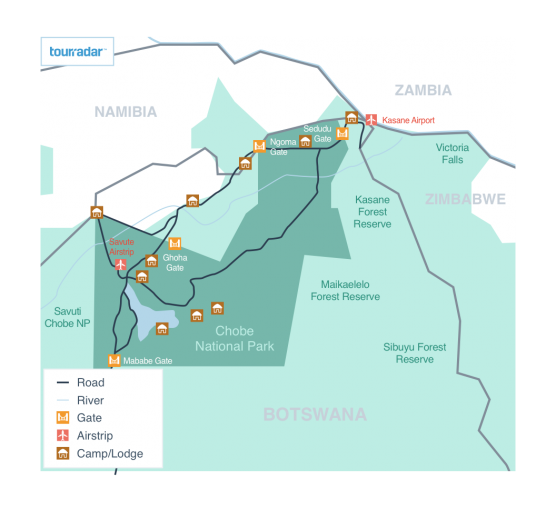 Chobe area map
Chobe National Park can be divided into four different terrains and ecosystems within its boundaries.
The Chobe riverfront
is the northernmost part of the park and encompasses mopane woodlands (a kind of tree often found in arid regions of Africa) and floodplains. Rich in game, the riverfront is one of the more popular and accessible areas of the park and often becomes crowded. 
Kasane
, a town located nearby the park is considered the most important in the region and serves as the perfect access point to the northern entrance of the park. 
In the northwest, Chobe's predators stalk the Linyanti Marsh
looking for their next meal, and in the west the Savuti Marsh area feeds off the Savuti Channel, flourishing when water levels are high. Between the Linyanti Marsh and Savuti Marsh lie the Nogatsaa grass woodlands. 
Gates: The entrance gate will depend on where you want to go to the park. For the riverfront region use Sedudu Gate and Ngoma Gate, for Savuti areas use Ghoha Gate and Mababe Gate and for Liyaniti use Savuti Gate.
Nearest airstrip: Savuti Airstrip
Lodges: Garden Lodge, Chobe Safari Lodge, Savute Safari Lodge, Chobe Game Lodge, Ngoma Safari Lodge, Elephant Valley Lodge 
Nearby reserves: Moremi Game Reserve, Chobe Forest Reserve, Kasane Forest Reserve, Maikaelelo Forest Reserve 
Most popular Chobe tours
Contact our Travel Experts
+1 844 311 8331
24/7 Support
Our team of experienced tour specialists have travelled to hundreds of countries around the globe and have decades of first-hand travel experience to share. Contact us now to have all of your tour-related questions answered!
Chobe safari reviews
Tour operators and travel companies in Victoria Falls
A TRAVEL MAGAZINE BY TOURRADAR