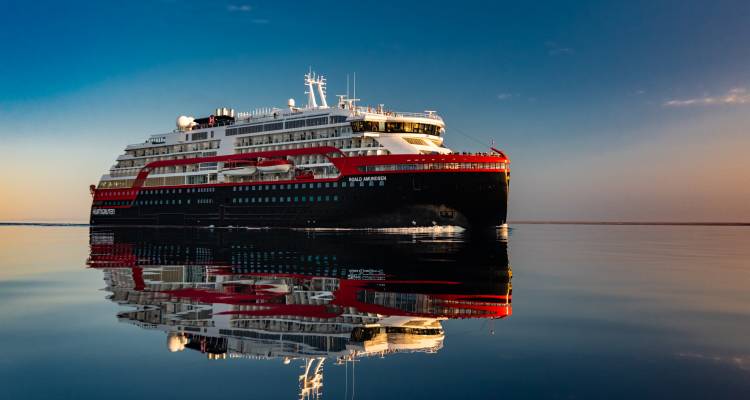 Built

2019

Guests

530
Length

140 m / 459 ft

Staterooms

265
Gross Tonnage

20 889 T

Beam

24 m / 79 ft
Cruising Speed

15 knots

Country Regions
Mountain

State
Ship Overview
Launched in 2019, MS Roald Amundsen cruise ship is the first of the two new hybrid-powered expedition ships in Hurtigruten's fleet. The newbuilds (Fridtjof Nansen and Roald Amundsen) were both named after the most influential Norwegian polar explorers from the era when the Hurtigruten company started to operate on expedition cruise itineraries.
MS Roald Amundsen is the first of two hybrid ships Hurtigruten will add to its fleet over the next few years, cutting emissions by sailing with electrical propulsion. Hybrid technology, combined with the advanced construction of the hull and effective use of electricity on board will reduce fuel consumption and CO2-emissions on the ships by 20 percent. The build of these two ships represents the largest single investment in the history of Hurtigruten.
The future of shipping will be silent and emission free. MS Roald Amundsen will lead the way towards an even more sustainable way of traveling. Sailing on electrical power is not only a great benefit for the environment, but it will also enhance the impact of experiencing nature for the guests. The ship will be specially constructed for voyages in polar waters and serve as a comfortable basecamp at sea – bringing adventurers from all over the world to the most spectacular destinations in the most sustainable way.
Ward (wardroom, ship officers' dining room and relaxation lounge)
Embarkation/disembarkation area/lobby for easy loading/unloading of passengers going on land expeditions; ship-to-shore tendering is serviced by inflatable boats, used mostly for wildlife watching)
Lecture halls (offer expert lectures and multimedia presentations)
The Lobby (with floor-ceiling windows, reception, expeditions booking and information)
Internet corner (Internet Cafe with 4 Internet computers, combined with a library)
Shop (selling hand-made souvenirs, special occasion gifs, Hutigruten logo merchandise); Video Games Arcade.
2-level indoor/outdoor Observation Deck which is expected to be wrapped around the top of ship's raked bow
Amundsen Science Centre. The immersive area, packed with high tech gadgets and state of the art technology like science equipment and touch screens, is the place where passengers and crew meet and mingle. The venue has a small library, lecture spaces, speciality areas for workshops in biology, photography, and more.
Observation Lounge (with panoramic windows for 270-degree ocean views; served by its own bar; lounge's outdoor area is named "Passenger Bridge")
Deck 10 forward-facing Explorer Lounge
Fitness Room (with treadmills, exercise bikes, rowing machine, ping pong table, free weights); two whirlpools with shower section; two separate Saunas
The Sun Deck is the place for Hurtigruten's special ceremony "Arctic Circle baptism", including a Neptune-costumed crewmember, icy seawater, and a shot for warming up
Staterooms / Suites
Expedition Suite (MA) (495 ft²)
Expedition Suite (MB) (474 ft²)
Expedition Suite (MC) (215 ft²)
Expedition Suite (MD) (377 ft²)
Expedition Suite (ME) (215 ft²)
Expedition Suite (MF) (215 ft²)
Arctic Superior Stateroom with Balcony (XT)
Arctic Superior Stateroom with Balcony (XY)
Arctic Superior Stateroom with Balcony (XTD)
Arctic Superior Stateroom Ocean View (TT)
Arctic Superior Stateroom Ocean View (TY)
Polar Stateroom Ocean view (RR)
Polar Stateroom Ocean view (RS)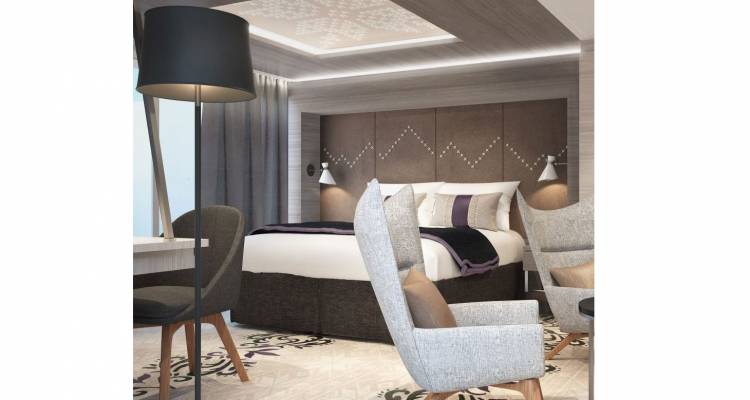 Features
Television
Large windows
Bathrobe
Toiletries
Mini-fridge
Balcony
Lounge area
Coffee maker
Sofa bed
Hot tub
Dining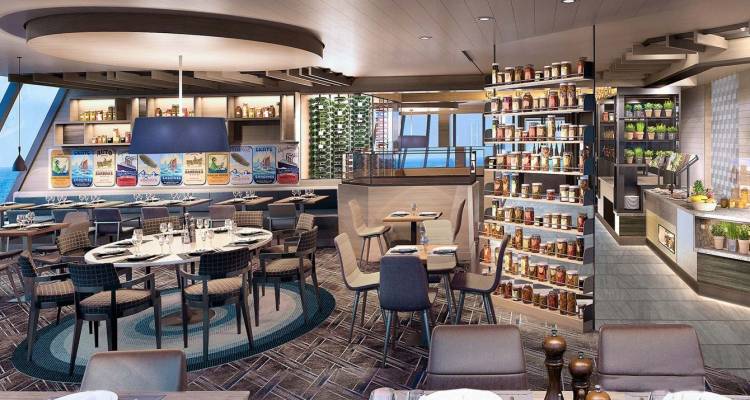 MS Roald Amundsen will feature three restaurants inspired by Nordic and Norwegian heritage:
Aune Main Dining, named after the Norwegian ship chandler and polar expedition supplier Tinus Aune.
Fredheim - the ships' informal and social meeting place – named after a 1900s hunting station on Svalbard.
Lindstrøm, a speciality restaurant named after Adolf Lindstrøm, the favorite chef of the Norwegian polar heroes.