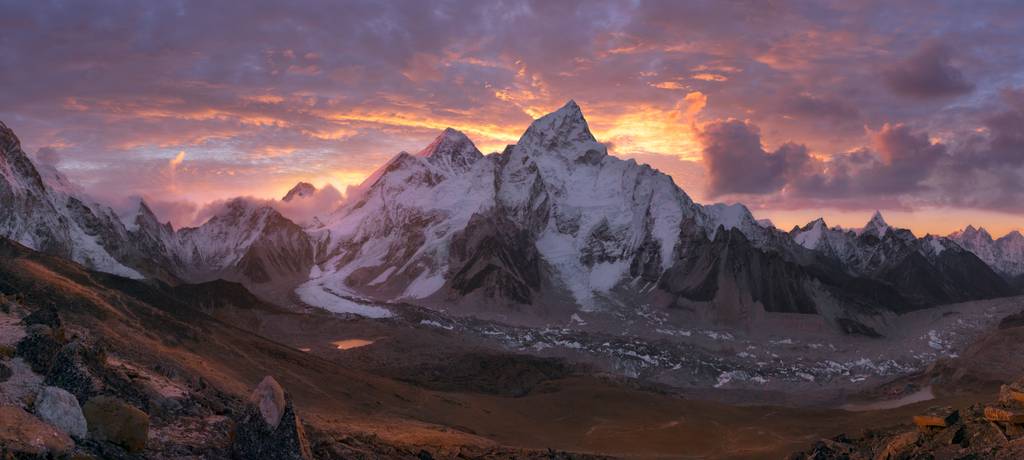 The Nepalese Himalayas
The Nepalese Himalayas, home to many of the Earth's highest peaks, is considered to be the holy grail for trekking enthusiasts. Once reserved solely for intrepid explorers, travellers can now safely venture along the rugged trails to the likes of Everest Base Camp, Poon Hill, or cover the Annapurna Circuit - where words fail to describe just how beautiful it really is. 
See Himalaya Tours
Seasonality & Climbing Requirements
Best Nepalese Himalayas Treks & Routes
Nepalese Himalayas General Facts
The Location

The Nepalese Himalayas are located in the east-central part of the Himalayan mountain range, and cover almost 75% of Nepal.  

Coordinates

The coordinates of Mount Everest are 27.9881° N, 86.9250° E. 

Elevation

The Nepalese Himalayas are home to some of the highest peaks in the world, including Mount Everest, which sits at 8,848 metres above sea level. 

Mountain Range

The Nepalese Himalayas belong to the Himalayan mountain range and are over 2,400 kilometres long. The highest peak is Mount Everest (8,848 m). 

Length

Among the Nepalese Himalayas, there are both short routes and long routes. Depending on what route or tour you choose, you can complete a trek such as Poon Hill in 4-5 days, whereas the Everest Base Camp can be completed in 9-15 days. 

Arrival

In order to reach the Nepalese Himalayas, travellers can fly into Kathmandu – the only international airport in Nepal – and make your way to Lukla, which is a small town that is often used as a starting point for trekking in the area. 
Nepalese Himalayas Weather
JAN
FEB
MAR
APR
MAY
JUN
JUL
AUG
SEP
OCT
NOV
DEC
Average °C
-8
-8
-5
-1
4
8
9
9
7
2
-2
-5
Average °F
17
17
23
30
39
46
48
48
44
35
28
23
High °C
-2
-3
1
4
9
12
12
11
10
6
2
0
High °F
28
26
33
39
48
53
53
51
50
42
35
32
Low °C
-22
-23
-18
-12
-8
-6
-3
-4
-6
-10
-14
-17
Low °F
-7
-9
0
10
17
21
26
24
21
14
6
1
Nepalese Himalayas Tours & Trips
HIKING TRAVEL INSPIRATION BY TOURRADAR