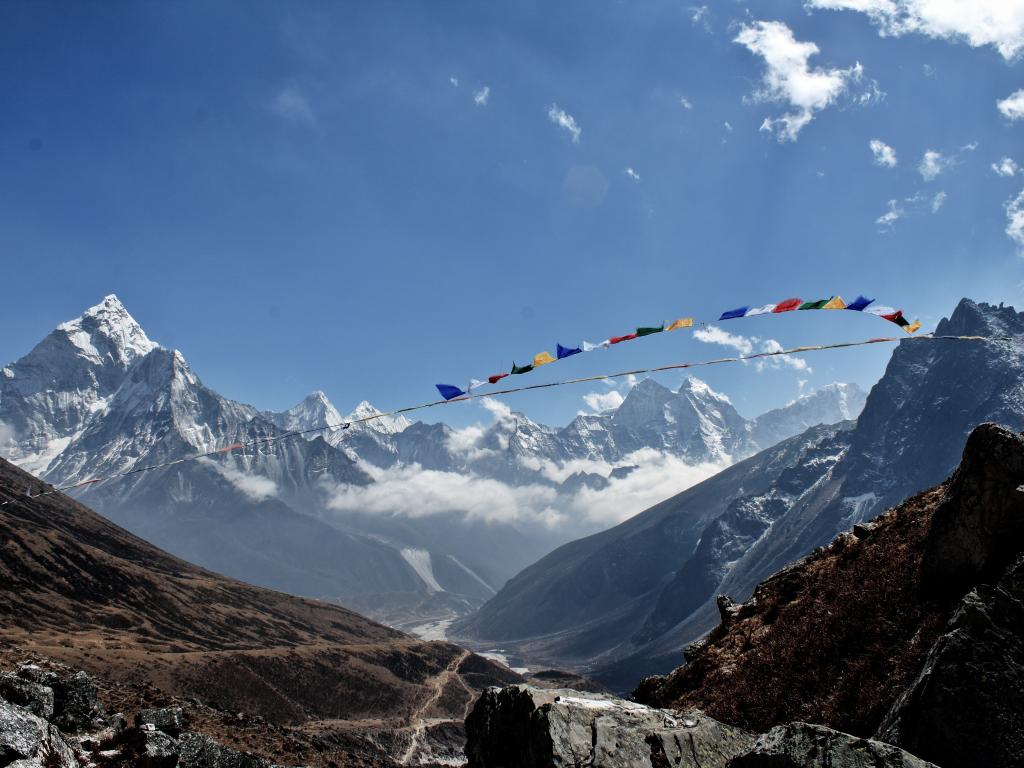 Three Passes Trek
Three Passes Trek
As the name suggests, the Three Passes trek, located in the Khumbu region, crosses three incredibly challenging passes over 5,000m; Renjo La, Cho La, and Kongma La, while travelling in a circular route. Considered by many to be the ultimate trekking adventure, this route is especially challenging, even more so than the Everest Base Camp trek -- without the same crowds that other routes attract. This high altitude trek is not for the faint-hearted, nor should it be completed by beginner hikers. 

The real drawcard of this route is that it travels to Everest Base Camp and offers views of the mighty Everest peak along with the Lhotse and Nuptse peak. But, unlike the Everest Base Camp trek, which exists as an out-and-back route, the circular route that the Three Passes trek takes offers a greater variety of scenery within the Khumbu region. If you're feeling ambitious or looking for the next great challenge, the Three Passes trek might just be your calling. 

The location:

The Three Passes trek is located in the Khumbu region. The starting point is Lukla, which is just a short flight from Kathmandu and is the official starting point, or the trailhead, for the Three Passes Trek. 

Highest point:

The highest point on this route can be found at Kala Patthar, at 5,545m. 

Duration:

One of the longer treks within the Nepalese Himalayas, this route can be completed in 18-20 days. If your time and budget allow, try to select a longer itinerary as this may help reduce the effects of altitude sickness. 

Trail conditions:

Similar to the Everest Base Camp trek, the trails are well marked and maintained. You will be walking across dusty trails, gravel, loose rock trails, snow, or even ice in some parts of your journey. During your trek, you will travel past many small Sherpa villages dotted throughout the valley. 

Difficulty rating: EXTREME 

You'll be required to be seriously fit for this tour as difficult activities are included. For this type of route, it is expected that you have some experience with trekking and climbing at altitude. You'll be subjected to harsh weather conditions and specialist pieces of equipment like ice axes and crampons will be needed. The days will feature 6-9 (or more) hours of hiking and daily ascents will be around 1,200m and you may be hiking at an altitude over 4,500m. If you are confident in your ability to complete a heart-pumping adventure, or are looking for a challenge, then you should consider this type of journey. 

Trekking requirements:

While there are no technical climbing or mountaineering skills needed for this route, such as the use of ice axes or crampons, this is still classified as a challenging and tough trek due to the high altitudes. Hikers who embark on this route should be familiar or have some level of experience with high altitude treks. For this reason, it is suggested that only experienced trekkers make the journey to this specific region. 

Tips:
Don't underestimate the importance of training before you go. Every hour or even minute that you spend completing practice hikes or training in the gym will go a long way, and of course, will make your journey that much more enjoyable.
While physical preparation is important for this route, don't forget the role that mental preparation plays in your journey. Practice hikes will help with the physical preparation, however, they will also help you develop good habits when you are camping.
Investing in a good pair of hiking boots or shoes will help make your experience more enjoyable. Make sure you wear them in beforehand, to ensure blisters do not appear during your hike. 
Take it nice and easy and don't rush each day. This will be a long, strenuous undertaking and your group will be there to support you each step of the way. 
Snacks are essential, and will help to tire you over between meals or when your energy levels are feeling low. 
Your favourite brand of instant coffee or tea bags from home might sound like unnecessary items, but trust us, they're not.