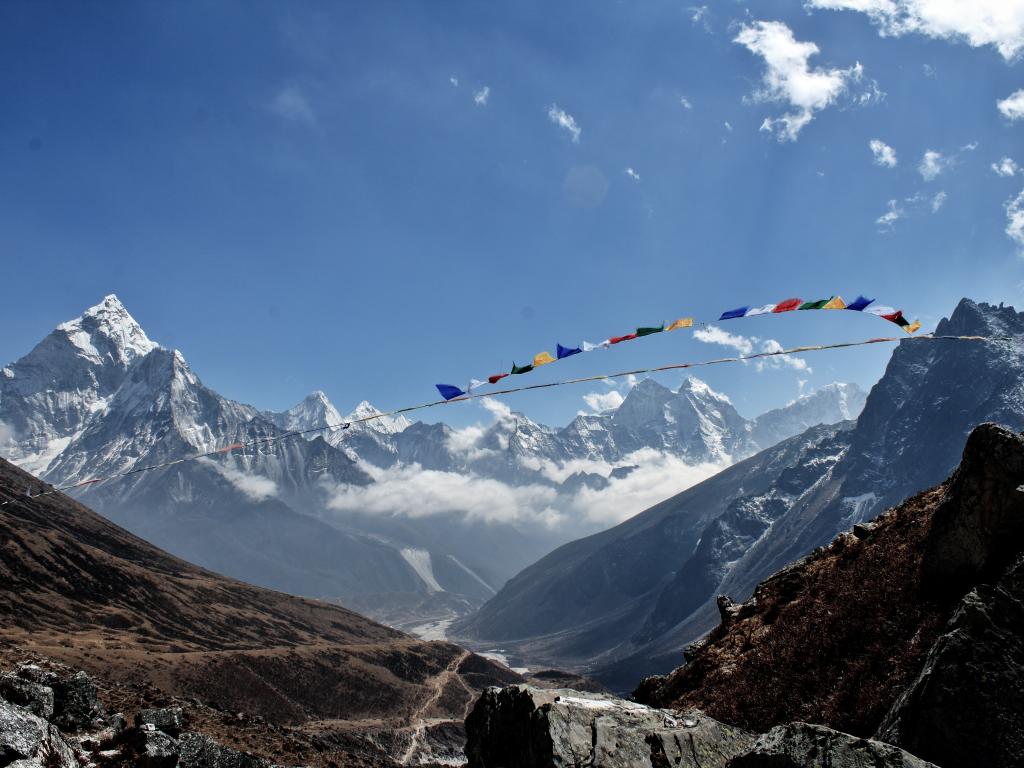 Annapurna Base Camp Trek
Annapurna Base Camp Trek
Presenting travellers with more than just an endless supply of photo opportunities, a trek to the legendary Annapurna Base Camp is a soul-stirring experience. Before you even step foot on the trail you'll be able to to see the distinctive Annapurna range from Pokhara – the hiking and trekking hub – where you will start your adventure. This remote and challenging journey will carry you past imposing mountains set against the rugged Himalayas that stretch as far as the eye can see, and every turn will uncover glacial moraines, vibrant forests, and Sherpa villages filled with cultural experiences.

The location:

The Annapurna Base Camp trek is located in the Annapurna region. Most tours will start in Nayapul, which is just over an hour's drive from Pokhara. 

Highest point:

As you make the journey along the Annapurna Base Camp Trek, you'll pass alongside soaring peaks nearby. The highest point of the trail is 4,130 metres. 

Duration:

Depending on your fitness levels or what tour you choose, the Annapurna trek can be completed in 7-15 days, with the 12-day tour being one of the most popular options. 

Trail conditions:

During the Annapurna Base Camp Trek, this route will have you trekking past a mix of natural forests, farmland, snow-covered mountains, and plenty of local communities. 

Difficulty rating: CHALLENGING

Previous trekking experience is highly recommended, as the days will feature 6-8 hours hiking with daily ascents of 900m to 1,000m, perhaps with the odd day ascending around 1,100m to 1,200m. Depending on the route, you may be trekking at an altitude of over 3,500m. You need complete confidence in your ability to trek for many days over difficult terrain. Extremes of altitude and weather may be encountered, as may the use of ice axes and crampons. A degree of physical and mental stamina will be essential to complete the hike as the days will be tiring. 

Trekking requirements:

For this particular route, there are no technical climbing requirements in order to complete this journey. This trek does require a moderate level of fitness as the route is quite challenging. 

Tips:
As you are training for this journey, keep in mind that there is no such thing as overtraining, and the stronger you are, the more enjoyable the journey is likely to be. 
Do your research before you select a route or tour. Be mindful of your ability level, consider the trail length, and be careful when considering the altitude. 
Don't forget to stay hydrated. This might be the most important thing that you can do on your hike, and it will help to reduce the effects of altitude sickness. 
Make sure your hiking boots are comfortable and well worn before you hit the trail. 
It's a marathon, not a sprint! Make sure you take it nice and slow on the trail to avoid exhausting yourself early in the hike.  
Trekking poles are a wise investment to help support your knees while you're on the trail and to maintain your balance along the uneven terrain.