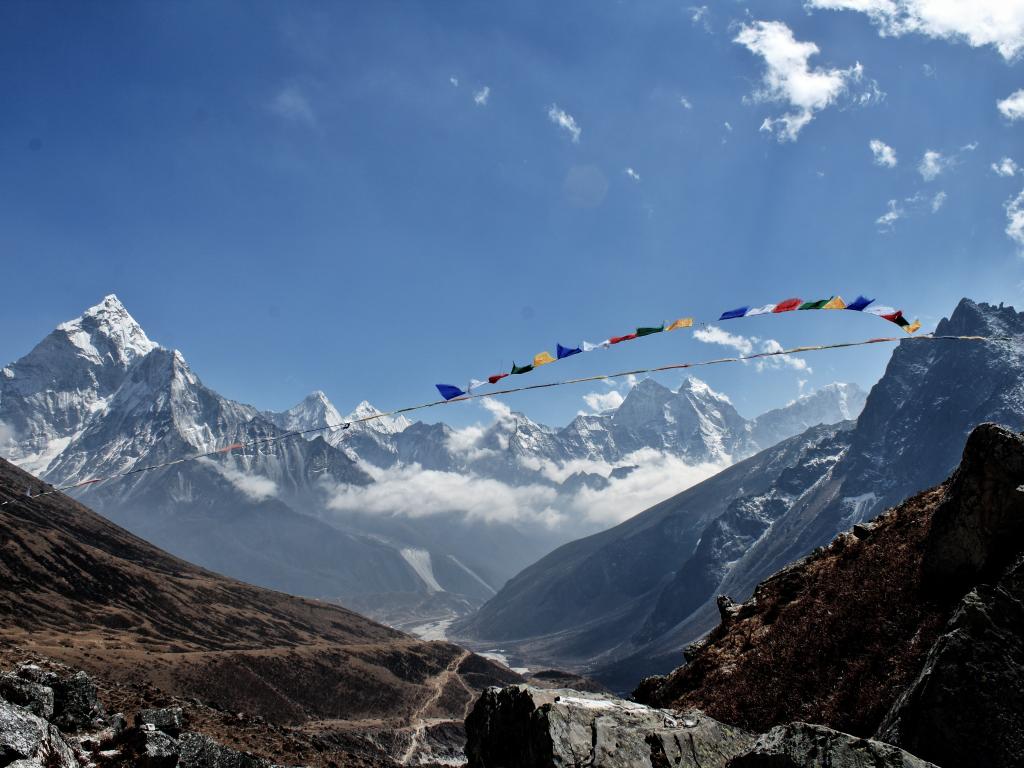 Ghorepani Poon Hill Trek
Ghorepani Poon Hill Trek
As one of the premier trekking destinations in the world, each and every trek in Nepal is nothing short of spectacular, and the Ghorepani Poon Hill trek is no exception. On this short journey, trekkers can get up close to the snow-clad views of the Annapurna Range, which stands at 3,210 metres. In addition to the majestic landscapes and views of this challenging circuit, trekkers can expect to spend ample time at small mountain villages, where you can gain a better understanding of the local culture of the area. If you're looking for a trek filled with many cultural encounters, breathtaking scenery, and a challenge, the Ghorepani Poon Hill trek is a route you might want to consider.

The location:

The Ghorepani Poon Hill trek can be found within central Nepal, specifically in the Annapurna region. The largest town nearby is Pokhara, a popular starting point for this trek. 

Highest point:

The Ghorepani Poon Hill trek will reach a maximum elevation of 3,210 metres. 

Duration:

The Ghorepani Poon Hill trek can be completed in 4-5 days.

Trail conditions:

The trail conditions will vary and will travel past terraced rice paddies, vibrant forest vegetation, Rhododendron forests, and along high alpine areas. 

Difficulty rating: MODERATE

There is no experience required for this type of journey, however, you should be in relatively good shape and able to comfortably walk for 5-7 hours at a time and be prepared to sweat. No physical preparation is required for this type of trip, but the fitter you are, the more you'll enjoy the experience, as most days will be moderately challenging. Each day will feature ascents of around 500m to 800m and some days will ascend from 900m to 1000m. 

Trekking requirements:

There are no trekking requirements for the Ghorepani Poon Hill trek, as it only requires a moderate level of fitness and is considered to be one of the least demanding treks in the Nepalese Himalayas. 

Tips:
Pack your own tea and coffee for the trek. Hot beverages will be available and often supplied by the tour operator, but a small comfort from home (such as your favourite brand of tea) will help with the more challenging parts of the trek. 
 Take each step on the trail nice and slowly. There's no rush, and your hiking group will be there to support you through the challenging parts of the journey. 
Snacks are essential for the journey, so don't forget to pack a few treats. 
If you forget to purchase trekking poles, socks, a sleeping bag liner or anything else that might slip your mind, there are plenty of places for you to purchase these items when you arrive in Kathmandu. 
Invest in sturdy hiking boots but make sure you wear them before you hit the Ghorepani Poon Hill trek. 
Don't forget to pack a book, as there will be plenty of time in the evening for you to relax and read. 
Pack spare batteries or invest in a good portable charger as the cold temperature will drain the power much faster than normal.