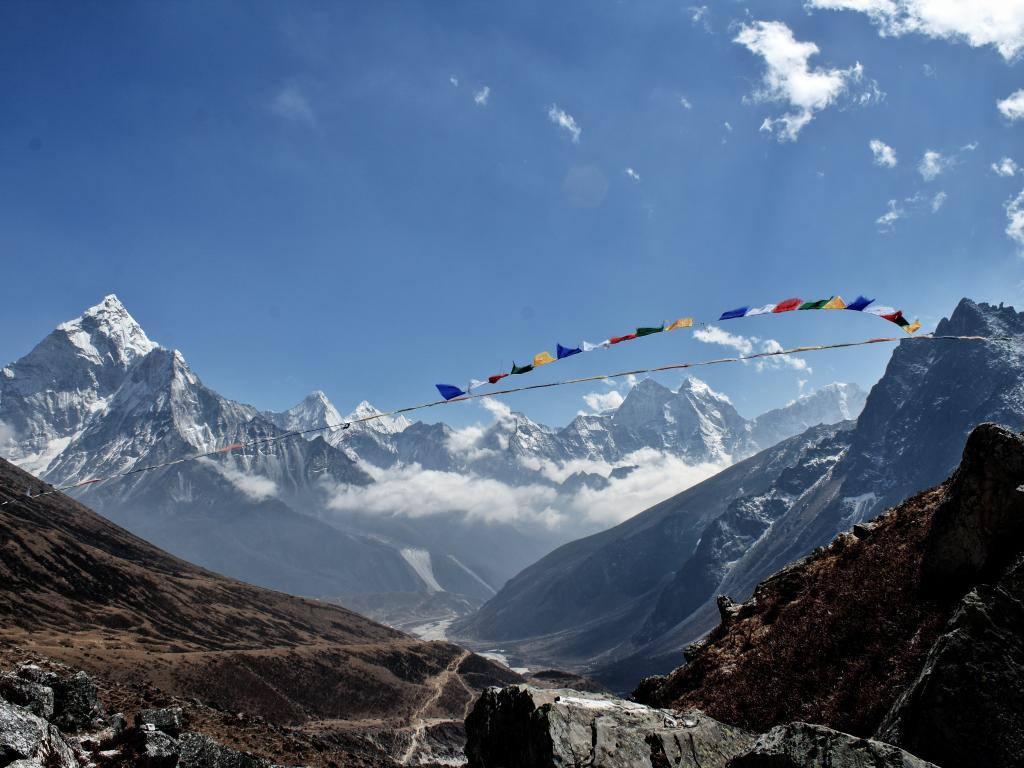 Makalu Base Camp
Makalu Base Camp
Trekking along the Makalu Base Camp trek is about as close you'll get to ever walking alongside giants. And by giants, of course, we're talking about the towering peaks that you'll see during this journey. Makalu is the world's fifth highest mountain, and the daring heights of this trail make it one of the most challenging routes in Nepal. 

If you're looking for an extended journey that will ensure plenty of cultural experiences, guarantee peace and quiet due to the isolated location, showcase the best natural sights along with the opportunity for potential animal sightings of red pandas, the Himalayan wolf, the Asian golden cat, or snow leopards, then the Makalu Base Camp trek should be high on your must-do list. 

The location:

The Makalu peak is located in the eastern region of Nepal. To access the trailhead, you will need to fly from Kathmandu to Tumlingtar and then it involves a short drive to the starting point at Chichila.

Highest point:

The highest point you will reach on this trail is at the site of Makalu Base Camp, which sits at 4,870 metres above sea level. 

Duration:

There are several variations of this trail, and depending on what route routes you best, it can be completed anywhere between 18-22 days. 

Trail conditions:

The trail conditions are varied and diverse and will carry you past remote areas. The route itself is demanding, as, for the most part, you will be walking uphill alongside high glacier terrain past a range of landscapes that include terraced farmlands, rhododendron forests, rivers, and marvellous peaks. 

Difficulty rating: CHALLENGING

Previous trekking experience is highly recommended, as the days will feature 6-8 hours hiking with daily ascents of 900m to 1,000m, perhaps with the odd day ascending around 1,100m to 1,200m. Depending on the route, you may be trekking at an altitude of over 3,500m. You need complete confidence in your ability to trek for many days over difficult terrain. Extremes of altitude and weather may be encountered, as may the use of ice axes and crampons. A degree of physical and mental stamina will be essential to complete the hike as the days will be tiring. 

Trekking requirements:

This is a physically demanding trek that should not be attempted by beginner hikers. For almost all routes within the Nepalese Himalayas, particularly the Makalu Base Camp, there is a risk of altitude sickness, so travellers should be prepared for this risk. While there are no technical climbing requirements, it is expected that you are fit, strong, and confident in your hiking and trekking ability. 

Tips:
Your health is the number one thing you should be concerned with. Do not rush your trek, don't ignore the symptoms of altitude sickness, aim to add as many acclimatization days as possible, and drink plenty of water. 
Spend as much time researching altitude sickness before you travel, especially if you are trekking over the altitude of 2,500 metres. It is recommended that you visit a healthcare professional before you trek as they may be able to prescribe some medication. 
Pack your own tea and coffee for the trek, as this will help keep your taste buds happy and ensure you are hydrated and satisfied. 
Be prepared to forgo a long hot shower, as the facilities are limited along the trails in Nepal. Pack wet wipes and hand sanitiser. 
Don't forget to purchase travel insurance. 
Only drink bottled water or carry water purification tablets to avoid any illness from contaminated water. 
Avoid meat during your trek, as it is unlikely to be fresh and it is very possible you will get food poisoning.