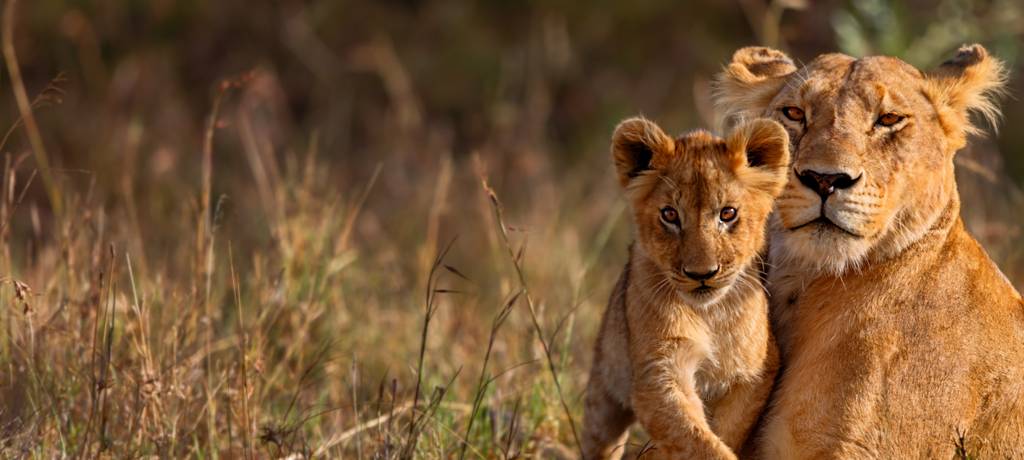 Big Five Safari Tours
If you're planning a safari holiday, you'll no doubt have the Big Five on your bucket list. Whether it's the challenge of spotting them or just the hype surrounding their existence, these fascinating animals provide intriguing facts and stunning pictures. The five fabulous game animals of Africa are guaranteed to make your African Big Five safari tour feel out-of-this-world and totally magical.
See Big Five Tours
How to Spot the Big Five
Going on a safari is an experience like no other, whether you're sitting in a jeep or riding on the back of a horse, getting to see some of the world's most unique animals is a dream come true.
The Big 5: Facts You Need To Know
We have compiled a list of facts about the Big Five and tips for your safari so that you can show off your African wildlife knowledge on your next adventure!
How likely am I going to see all members of the Big Five?

The Big Five are elusive creatures and are generally hard to spot on just one game drive. To maximize your chances of seeing all of the members, we recommend that you book a Big Five tour that contains several game drives at multiple national parks.

How can I increase the chance to spot the Big Five?

To spot all five of these animals in one day is a rare occurrence. To maximise your chances, having a guide that knows how the animals hunt, move, think and where they drink is highly advantageous. Embarking on a professional multi-day tour allows you plenty of time to search for these elusive animals.
 

Why are they called the Big Five?

The term "Big Five" was created as these creatures were chosen as the crème de la crème of African wildlife not because of their size, scarcity, or magnificence, but because they were elected as the five most difficult species to hunt on foot.

Which one is the biggest predator?

Physically, the biggest predator of the Big Five is the elephant. Since elephants form tight herds it is hard for predators to get them alone unless one falls behind the rest. In general, elephants are very healthy so it isn't often that one is able to become a meal for other predators.

Which of the Big Five is most difficult to spot?

The leopard is one of the most alluring, secretive and graceful of the Big Five and is the most difficult to find. After hunting, leopards drag their prey up into the branches of trees to keep scavengers away, which makes spotting them a challenge as they normally sprawl underneath low-hanging trees.

What precautions should I take?

It's no secret that the Big Five are potentially dangerous, but as long as you listen to your guide, there is little to worry about. Always maintain a safe distance from the animals and for extra caution wear neutral clothes. It's also important to note that hippos are more dangerous than any of the Big Five.

What are the Big Seven animals in Africa?

Witnessing the Big Five animals of Africa is a prominent feature on many bucket lists. The southern right whale and the great white shark are the two most sought after ocean species to spot while cruising the African coastline and have therefore been added to the list to create the Big Seven.

What are the Little Five?

The Big Five are impressive, but there is also a wealth of interesting smaller species roaming the plains. In particular, the elephant shrew, ant lion, rhinoceros beetle, buffalo weaver and leopard tortoise form Africa's Little Five. A bush walk is optimal to check these intriguing creatures off of your safari list.
What Are the Big Five Safari Animals?
Making their way onto every traveller wish list, the Big Five of Africa are safari royalty. Snapping pictures of these remarkable animals strolling on dusty desert plains will be a cherished memory.
Elephant

African elephants are one of the most social animals living in groups of up to a hundred individuals. The largest living land mammal presents a truly remarkable sight, especially when you witness them wandering in their impressive herds. 


Conservation status: Vulnerable
Weight: 6,000 kg
Lifespan: 60 to 70 years

Rhino

A black rhinoceros wandering desert plains looks almost prehistoric, a creature from days long ago. Listed as critically endangered due to poaching, only a handful of rhinos remain in the wild. In the midday sun, rhinos are spotted sleeping in the shade or bathing in muddy pools to cool down. 

Conservation status: Critically endangered
Weight: 800 to 1,400 kg
Lifespan: 35 to 50 years

Buffalo

They may be referred to as bush cows, but don't let that fool you. Cape buffalos are powerful, quick and ruthless predators. Their curved horns effectively cover the top of their head, forming a shield that makes them virtually indestructible.


Conservation status: Least concern
Weight: 590 kg
Lifespan: 20 years

Lion

Lions are the kings of the animal kingdom, and it's not hard to see why. You may be lucky enough to see a pride of African lions catching some sunlight on the kopjes that dot the grasses of the Serengeti, scouring the plains, like kings and queens on their thrones.

Conservation status: Vulnerable
Weight: 130 to 190 kg
Lifespan: 10 to 4 years

Leopard

African leopards are cunning, nocturnal animals which makes any sighting a rare treat. Leopards are usually seen lounging on branches of trees. The treetops aren't just a leopard's bed but also a kitchen and they regularly drag their prey up into the branches to keep scavengers away.

Conservation status: Vulnerable
Weight: 17 to 65 kg
Lifespan: 12 to 15 years
Best Places to See the Big 5
Kenya, Tanzania and South Africa are optimal for that up-close and personal encounter with Africa's Big Five and witnessing these amazing creatures in their natural habitat.
Kenya

Exploring the

Masai Mara

will accomplish that quest for a once-in-a-lifetime adventure, gratifying childhood dreams of seeing African wildlife up close and appreciating the magic of an unfamiliar culture.

View Tours

Tanzania

Serengeti

is the reserve you have always dreamt of, an untouched landscape of swaying grasslands, sprinkled with acacia trees and great herds. Remarkable predator sightings here make this place optimal for a Big Five safari.

View Tours

South Africa

Kruger

is a top safari destination and is home to a remarkable diversity of wildlife. With such unspoilt beauty, it's the perfect destination for any nature lover in search of the true beauty of Africa.

View Tours
Choose Your Start City for Your Big Five Safari
Africa is a land full of lively cities, wild coasts and captivating landscapes, a perfect base for any safari tour. Select a departing city for the adventure of a lifetime.
Best Africa Big Five Safari Tours
Book your Safari tour today!
+1 844 311 8331
24/7 Support
Our team of experienced Travel Experts have travelled to hundreds of countries around the globe and have decades of first-hand travel experience to share. Contact us now to have all of your tour-related questions answered!
Big Five Safari Tour Operators
SAFARI TRAVEL INSPIRATION BY TOURRADAR