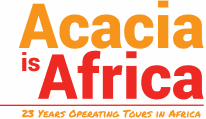 Acacia Adventure Holidays
Headquarters in London, England
View all tours
Number of tours

215
Age Range

18-99
Number of reviews

258
Rating

4.7

/5
Response rate

100%
Response time

12 hours
Renata

Written on March 2nd, 2022

A bit late with the review... The trip was November 2019 and it was the best trip ever!!! Simon best guide, stunning places, welcoming locals and amazing experi…

Read more

Acacia Adventure Holidays commented on this review

Dear Renata, Thank you very much for taking the time to review your tour with us. We are really happy you enjoyed the 14-day Southern African Magic Small Group Safari. We will be sure to pass your compliments to Simon. Kindest regards, The Acacia Team

Written on April 19th, 2020

It was an awesome and fantastic experience, mainly because of our phenomenal guide Papa G! I was very impressed by all his background knowledge, about wild lif…

Read more

Esteban

Written on March 19th, 2020

The tour was everything we were promised. Tour guides were the highlight (thanks Justin!) Acacia was also extremely accommodating and helped our group through e…

Read more

Acacia Adventure Holidays commented on this review

Dear Esteban, Thank you very much for your AMAZING review! We are really happy you enjoyed the African Insight tour highlights and of course with the crew. We will be sure to pass your compliments to Justin. Kindest regards, The Acacia Team

Written on February 3rd, 2020

Absolutely incredible tour!!

Acacia Adventure Holidays commented on this review

Dear VenessaKu's, Thank you very much for sending this review. We are glad you had an incredible time! Kindest Regards, The Acacia Team

Written on January 29th, 2020

Had the best time ever! Gee was the most amazing guide, everything was always so organised and thoroughly thought through! Not just an amazing tour guide but gr…

Read more

Acacia Adventure Holidays commented on this review

Dear Samara, Wow... thank you for your review! Gee will be super happy that you have taken the time to send this and we will be sure to pass this to him. We are glad you had a great time as well :) Kindest regards, The Acacia Team

Written on January 29th, 2020

Excellent tour. Would highly recommend.

Acacia Adventure Holidays commented on this review

Hi Kate, Thank you for taking the time to send this review, much appreciated! We are really happy you had a fabulous adventure on the Kruger to Cape Town Tour. Kindest regards, The Acacia Team

Written on January 27th, 2020

gee was a great guide and the organization was perfect. he gave us a lot of information and his cooking skills are excellent. I had an amazing time =)

Acacia Adventure Holidays commented on this review

Dear Daniela, Thank you for your kind review. Gee will be super happy! We will be sure to pass this to him. We glad you enjoyed your adventure with Acacia as well and we hope to see you back on another adventure soon. Kindest regards, The Acacia Team

Written on January 3rd, 2020

Pappa G was more than just a guide, he was part of the group. Knowledgeable, fun and friendly, he is a pleasure to travel with

Acacia Adventure Holidays commented on this review

Hi David, thank you for your review! Gee is certainly one of our best driver/guides and comes with a wealth of knowledge. We will be sure to pass this to him. Hope to see you on another adventure soon. Kindest regards, The Acacia Team

Written on January 3rd, 2020

Gee is an excellent guide. He is funny, pays attention to everyone, was able to answer all the questions. I really enjoyed the tour with him as a guide.

Acacia Adventure Holidays commented on this review

Hi Alex, thank you for taking the time to write this review. We are really happy you had a great trip with us and we will be sure to pass these compliments to Gee. Kindest regards, The Acacia Team

Written on December 2nd, 2019

I was disappointed about the tour. The accommodation was really below average. I understood one night is in a tent at a camp site; therefore, this one is not an…

Read more

Acacia Adventure Holidays commented on this review

Dear Mr Deng, Our sincere apologies for the late response to your feedback. Our offices were closed over the festive break and I was on leave. Thank you for your feedback following your recent Acacia tour. We do certainly appreciate your taking the time to complete the questionnaire. The accommodations used for the tour are selected either for their location or security or – in some cases – because there is little choice available and they are the best in the area. In some areas facilities (such as Wifi, air conditioning) vary in standard, largely due to varying infrastructure and local conditions throughout. I am sorry you feel the cost of the upgrade was not good value. The fact is you will have been given the best room available and while we will speak each property the difficulty – as I say –is that in sometimes choices are limited. In regard to driving, our tour dossiers/ trip notes give estimates for the number of hours you can expect to drive on each day – but again it varies according to conditions pertaining locally. We will look to see if we can emphasise this more for future clients, however. We will also use your comments regarding the tour leader (Shingi) for training purposes. All tour leaders - whether working alone or in pairs – must communicate fully with group members and this is something they normally enjoy. I have reviewed other client feedbacks, and no one mentions anything about communication but we will speak to Shingi in any event and I sure your comments will be helpful. On a more positive note, I am grateful for the comments on the food and friendliness of the local staff. Thank you again for taking the time to help us with your feedback. Kind regards Michelle Lewis (Sales and Marketing)
Acacia Adventure Holidays Tours
Acacia Adventure Holidays Destinations
Acacia Adventure Holidays Videos
Why Acacia Adventure Holidays
Experience Landscape and Cultures
Traveling with Acacia Adventures means that not only will you get to explore the landscape and experience the local cultures, but also that you will be contributing back to the places that you are visiting. They believe in traveling responsibly, and encourage all their travelers to do the same. They aim to minimise the impact they have on the people, wildlife and environment that surrounds the destinations that are traveled to.

Giving Back
As well as knowing you are giving back to the areas you will visit, Acacia offers a comprehensive travel service, to help you decide when and where you want to go, as well as the style of travel you want and the types of things you would like to experience. When booking you will be provided with all necessary pre-travel information, as well as detailed tour notes.

Quality And Value
Acacia is constantly striving to offer quality adventures at a value for money price. By having a variety of tours and wide range of travel style options, it means that there is an affordable tour for everyone who wants to explore Africa. The local payment system they have has two benefits - funds spent locally are reflective of local prices, and also that the money being spent is kept within the local community.
Acacia Adventure Holidays Benefits
Local Operations Base
Once on tour, sometimes things can happen such as equipment failure or mechanical issues, and to ensure there is minimal impact on your experience, Acacia has it's own operations base in Cape Town. This includes using local operators, vehicles and staff, to ensure that your tour will run smoothly.

Variety Of Travel Styles
By offering the different styles of tours, it means that everyone is catered for, no matter what your choice of holiday. Whether it is camping, trekking, diving, adrenalin activities or just sitting back relaxing, watching the African sunset from the comfort of your lodge or bungalow - no traveler will be left out. The benefits of traveling with Acacia are that there is a travel adventure for everyone, backed by the long reputation that Acacia has in the tour industry.
Acacia Adventure Holidays Guides
Contact our Travel Experts
+1 844 311 8331
24/7 Support
Our team of experienced tour specialists have travelled to hundreds of countries around the globe and have decades of first-hand travel experience to share. Contact us now to have all of your tour-related questions answered!