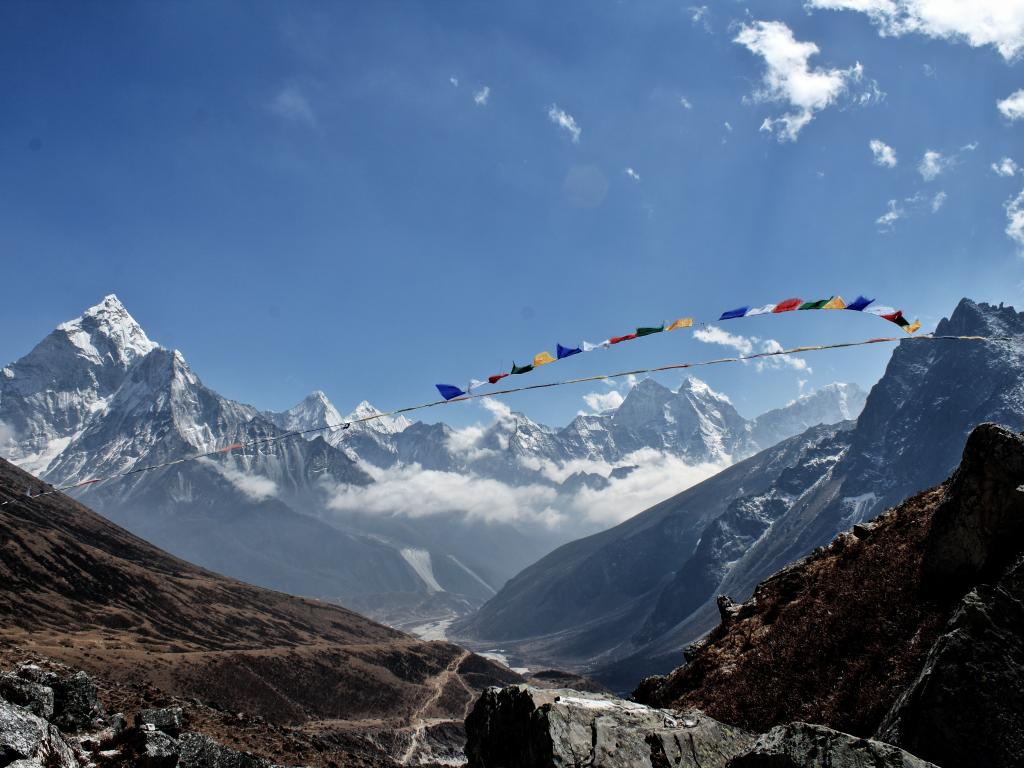 Everest Base Camp
Everest Base Camp
Assemble your hiking boots and gather your trekking poles, as the iconic Everest Base Camp trek is one of the most physically demanding, yet inspiring, routes that you will ever undertake. Tucked away in the centre of Nepal – the most mountainous region in the word – this trek is a challenge like no other. From the infamously dangerous flight from Kathmandu into Lukla, to exploring the Gokyo Lakes region or staying at a Nepalese teahouse and, most importantly, trekking past the tallest peaks in the world is just a few of the life-changing experiences you will find among the Himalayan giants. 

The location:

The Everest Base Camp trek starts in Lukla, located just a short flight from Kathmandu in the Khumba region. The trailhead starts from Lukla with a trek to Phakding. 

Highest point:

The highest point on the Everest Base Camp Trek will be 5,554 metres at the Kala Patthar viewing point, where you can marvel at the surrounding peaks below and just nearby. When trekking at this height, keep in mind there is a risk of altitude sickness. 

Duration:

This trek can be completed in 11-14 days, however, 12 days is the most popular option as this allows for time to acclimate. 

Trail conditions:

The trail conditions will vary, however, they are well marked and maintained. You will be walking across dusty trails, gravel, loose rock trails, snow or even ice. 

Difficulty rating: CHALLENGING

Previous trekking experience is highly recommended, as the days will feature 6-8 hours hiking with daily ascents of 900m to 1,000m, perhaps with the odd day ascending around 1,100m to 1,200m. Depending on the route, you may be trekking at an altitude of over 3,500m. You need complete confidence in your ability to trek for many days over difficult terrain. Extremes of altitude and weather may be encountered, as may the use of ice axes and crampons. A degree of physical and mental stamina will be essential to complete the hike as the days will be tiring. 

Tips:
During your trek, be prepared for basic, carbohydrate-heavy food. Avoid eating any meat during the trek as it will have had to be carried a long way and will not be the freshest. 
Garlic soup is recommended as a cure for altitude sickness. So, while it might sound strange, always trust a local's reccomendation. 
An investment in a quality pair of boots is something you won't regret. 
From 3,000 metres and above, it is likely you will experience some form of altitude sickness, so keep an eye out for symptoms during your trek. 
Don't forget snacks as these will provide an essential boost when needed during your trek.
Make sure all water is treated with purification tablets before you drink it. You can buy bottled water, however, there are limited facilities to recycle the bottles.
Try to consume at least 4 litres of water per day, as this will help to reduce any symptoms of altitude sickness. 
If possible, always aim to book an itinerary with as many extra acclimatization days that your budget and annual leave can allow to reduce the impacts of altitude sickness.