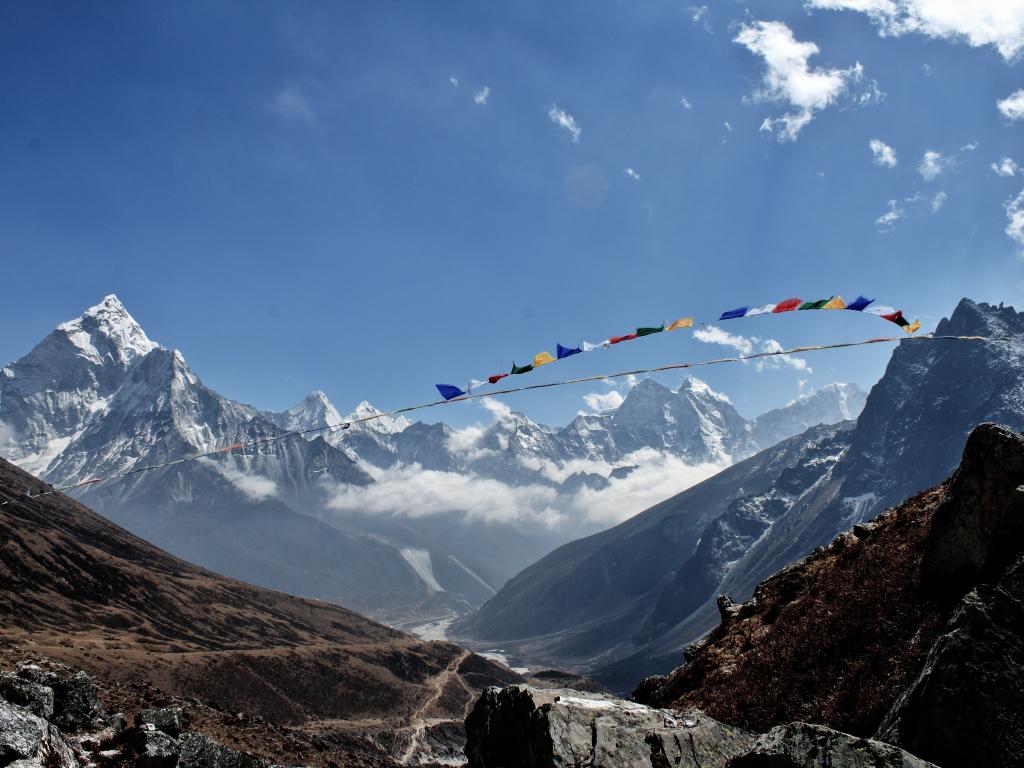 Upper Mustang Trek
Upper Mustang Trek
Tucked away from the hustle and bustle of cosmopolitan cities is the Upper Mustang trek, located in the northern part of the Himalayan range in Nepal. To grace the trails of the Upper Mustang area is a unique and humbling experience, where you can view a way of life that was sheltered from the rest of Nepal for hundreds of years. It was once considered to be its own kingdom, the Buddhist kingdom of Mustang. The route itself is highly restricted, and can only be trekked by obtaining a special permit while being accompanied by a government official. 

This arid river valley trek is filled with harsh, cliff-faced landscapes and will still challenge the most experienced hikers. However, it is known as one of the easier treks in the region, with the highest point found at 3,820m at Lo Manthang. If you're looking for a culturally significant and remote adventure, the Upper Mustang trek might be your calling. 

The location:

The Upper Mustang trek can be accessed from Pokhara, which is just a 25-minute flight from Kathmandu. The trailhead can be found in the northern corner of the Himalayas, just past the upper corner of the Annapurna Circuit. Jomsom is the starting point for this route.

Highest point:

The highest point for the Upper Mustang trek can be found at 3,820m at Lo Manthang, which is where most routes will turn around. 

Duration:

The minimum duration is 10 days, however, some routes will travel for up to 16 days with a 12-day trek being the average. 

Trail conditions:

The Upper Mustang region is a dry valley where you will pass incredible rock formations and walk along dusty, desert mountain trails, similar at times to dirt roads. As you hike along the trail, you will also pass small, Tibetan-like villages and a handful of vibrant green patches between the arid trails. 

Difficulty rating: MODERATE 

There is no experience required for this type of journey, however, you should be in relatively good shape and able to comfortably walk for 5-7 hours at a time and be prepared to sweat. No physical preparation is required for this type of trip, but the fitter you are, the more you'll enjoy the experience, as most days will be moderately challenging. Each day will feature ascents of around 500m to 800m and some days will ascend from 900m to 1,000m. 

Trekking requirements:

For the Upper Mustang trek, there is no technical climbing involved or any essential skills that trekkers need to have before embarking on this trail. Anyone with a moderate level of fitness should be able to complete this trail without any great experience. 

Tips:
Your health is the number one priority during this trek. If you are feeling the effects of altitude sickness make sure you take time to slow down and to move at your own pace. Do not rush the ascent if your body is telling you otherwise.
Altitude sickness can strike even the fittest athletes, so it is best advised to spend as much time researching about the risk of any associated illnesses. Before you depart, consult a medical professional to ensure you are fit to travel. 
A face mask or a bandana is a helpful item to pack, to protect yourself from the pollution in Kathmandu and surrounding areas. 
If your budget and time in Nepal allow, try to add an additional day or two to your trek's itinerary to ensure you have enough time to acclimatise and to enjoy the journey without rushing. 
Avoid meat during your trek, as it is unlikely to be fresh. 
Don't forget to pack a secret stash of toilet paper or hand wipes.
Carry a reusable water bottle and water purification tablets. Bottled water is available, however, a reusable bottle is an eco-friendly option.