Appalachian Trail Tours & Trips
Escape from your nine-to-five and discover "an America that millions of people scarcely know exists" in just a few short days on an Appalachian vacation. Stroll through verdant forests, past blooming wildflowers, scale rewarding summits, and witness black bears in the wild on the world's longest hiking trail. Instead of trekking the 2,189 miles, do it with ease with some of the best day hikes of the Appalachian Trail!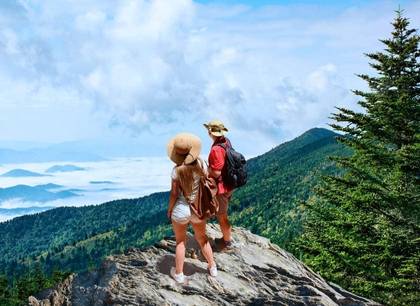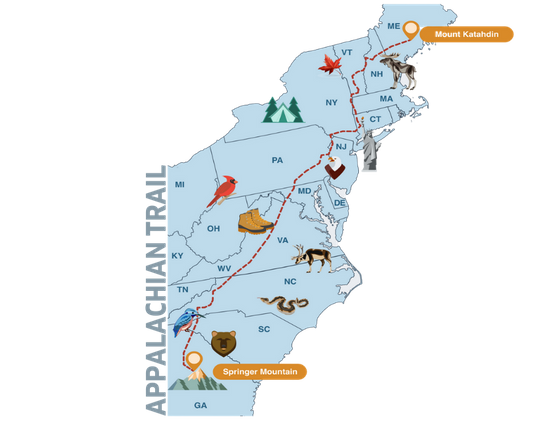 Stretching across 2,189 miles and 14 states, the Appalachian Trail is a world-renowned aspiration for many avid hikers. From the "quit your job" thru-hikers to the "let's go on a vacation" section hikers, the longest trail in the world sits high on many hiking bucket lists and is home to some of the best
day hikes in North America
. 
Thanks to the inspiring stories of Grandma Gatewood and the legend of Bill Bryson, the Appalachian Trail has become a household name within hiking communities all over the world. A great alternative to the grueling adventure are hiking tours which offer shorter, more enjoyable sections of the trail designed for those who have little time on their hands or who want a taste of the trail without the months-long commitment. With hand-picked tours that offer day hikes to the most scenic sections of the trail, it's never been easier to section hike the Appalachian Trail.
QUICK FACTSAppalachian Trail Start:
 Springer Mountain, GA
Appalachian Trail End:
 Mount Katahdin, ME
Easiest Sections:
 Shenandoah National Park, Maryland & Harpers Ferry
Most Challenging Sections: 
Southern Maine & White Mountains National Park
Why choose an Appalachian Trail tour?
Planning to hike the Appalachian Trail can sometimes be overwhelming with much preparation and planning needed - opting for a tour takes that stress away. Whether you want to embrace the wilderness by camping or sleep under the stars in a luxury mountain lodge, hiking tours allow you to create a vacation package that suits your needs - accommodation, transport, food - it's all sorted for you. With hand-picked tour operators and Travel Experts at your beck-and-call, booking a hike on TourRadar is hassle-free so you have more time to focus on what matters most.
Highlights

From the panoramic peak of Blood Mountain to the blue vistas of the Franconian Ridge, many tours of the Appalachian Trail offer convenient daily transfers to the most scenic sections, so you're guaranteed breathtaking views or a true wilderness escape.

Accommodation

From tents and huts to luxury lodges and all-inclusive hotels, accommodation along the trail is varied and depends on your budget. Many tour operators cater to one or all options with upgrades available to suit your style.

Meals

Start the day with a nutritious meal designed to fuel your body for the day ahead, or celebrate your endeavors with a well-deserved feast. Most meals are included on many hiking tours, and where they aren't, the guides have killer recommendations!

Airport Transfers

Most sections of the trail are not near airports or major cities and can be quite difficult to get to with public transport. Many tours have arrival and departure transfers included (or at least available on request) for your convenience.

Guides

Travel with a local who knows the trail like the back of their hand and how to handle the highs and lows of the trail. Having a guide gives you an insight into the thru-hiker experience and trail alternatives that best suit your requirements.

Baggage Transfers

Many tour operators offer the option to transfer your baggage, so you can spend your daily hike carrying only the necessities. This service makes your hike that little bit easier allowing you to make the most of your bucket list adventure.
Best Appalachian Trail Day Hike Packages
Highlights of the Appalachian Trail
The White Mountains

The Appalachian Trail in New Hampshire is both vigorous and impressive, with more miles that kiss the sky than any other state on the trail. Walking up the ridge of the majestic

White Mountains

promises stunning vistas and a unique sense of personal achievement.

Permit:

Not Required

Best Time:

May to October

Physical Rating:

Moderate to Serious

Roan Highlands

The highlands along the border of New Carolina and Tennessee are comparable to a beautiful high-altitude roller coaster. The grandeur of the Roan Highlands, Knob, and Bluff embrace panoramic vistas, thick woodland, and plentiful wildflowers creating a hard-to-beat hiking experience.

Permit: Not Required
Best Time: June to October
Physical Rating: Moderate

Great Smoky Mountains

Featuring the highest point on the Appalachian Trail at Clingman's Dome (6,643 ft) and the rewarding views at Charlies Bunion, the white-blazed trail of the

Smokies

is a true wonder. With pine trees galore, wildflowers in bloom, and challenging ascents, this trail is sure to get your heart pumping.

Permit:

Required

Best Time:

June to August

Physical Rating:

Serious

Baxter State Park

Marking the official end of the Appalachian Trail at Mount Katahdin, this 200,000-acre park is home to some of the best hiking trails on the

East Coast

. With no paved roads or electricity, an adventure amongst the mountains promises a true wilderness escape as well as a chance to see thru-hikers celebrate their achievements.

Permit:

Required

Best Time:

 July to September

Physical Rating:

 Moderate to Serious

Shenandoah National Park

Oh, Shenandoah. From the vibrant foliage and waterfall-dotted trails to the iconic Skyline Drive and even elevation, these lush grounds are often a favorite amongst avid hikers. With its close proximity to many services and a range of trails, hiking

Shenandoah

promises a fun adventure for the whole family. 

Permit:

Required

Best Time:

April to October

Physical Rating:

 Easy to Serious

Harpers Ferry

As one of the most scenic and historic towns in America,

Harpers Ferry

is where history, nature, and adventure come together. Home of the Appalachian Trail Conservancy and midway-point of the trail, this charming village is one of the most photographed spots and where you can grab your official trail souvenirs.
Know Before You Go
Most Loved States on the Appalachian Trail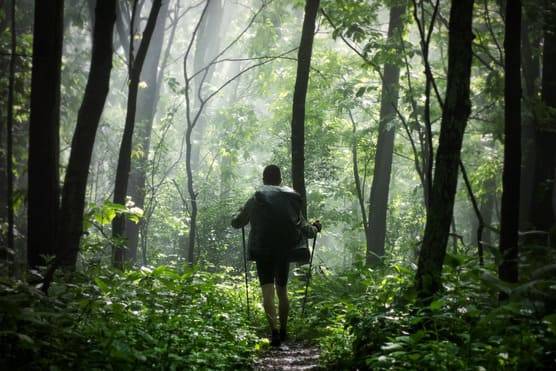 Brush Up on Your Appalachian Trail Facts
If you ever meet a thru-hiker you should familiarise yourself with the terms NoBo (Northbound) and SoBo (Southbound). Most "2000-milers" trek NoBo due to its forgiving landscape in the early stages.
 
You'll probably hear people talk about Benton MacKaye. He was a regional planner who dreamt of the Appalachian Trail back in 1921 whilst sitting in a tree in Vermont.
 
Around 2,500 thru-hikers set out each year to conquer the trail, however nearly three-quarters of them end up dropping out due to fatigue, illness, or injury.
 
One of the most famous people to complete the Appalachian Trail is Grandma (Emma) Gatewood at the ripe old age of 67 - she aspires many thru-hikers today.
 
Nearly everyone uses a nickname. Whether going all 2,189 miles or merely a tiny portion of it, Appalachian hikers never utter their real names, preferring instead to use "trail names" - so get creative, it's your turn!
Best Appalachian Trail Tour Companies
Much loved by our past travelers, these tour operators know how to craft the perfect Appalachian Trail tour suitable for all ages and fitness levels!
Best Appalachian Mountain Adventures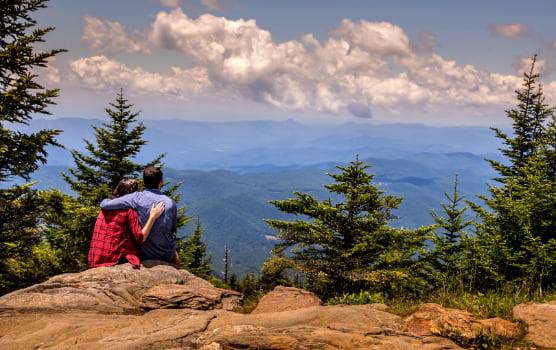 For the Hiker Who Loves Their Creature Comforts
Imagine spending your days hiking the most scenic sections of the Appalachian Trail with little baggage so you can fully enjoy the experience. In just five short days, the 
Great Smoky Mountains & Blue Ridge Parkway
 tour by Bucket List Group Travel knows how to treat you like a VIP. 
With convenient airport transfers from Charlotte, continental breakfasts ready to fuel the day ahead, nights in hand-picked hotels, and free time to explore some of the most scenic sections of North Carolina and Tennessee, you'll truly be spoilt on this Appalachian adventure.
Suited for all ages, all difficulty levels, and assisted by a guide who caters to the needs of every traveler, exploring Shenandoah and the Smokies has never been easier. With a must-see stop at the colorful Linn Cove Viaduct, a summit climb of Craggy Pinnacle, and a visit to the highest point of the trail at Clingman's Dome, you'll leave with an album full of vistas and a heart full of memories.  
See the Tour
Current Deals for Appalachian Mountain Tours
Your Questions, Answered
What is an Appalchian Trail section hike?

A section hike (or highlights hike) is designed for those who want a taste of the Appalachian Trail without quitting their job and becoming a "2000-miler". Section hikes are a great way to walk the section that is most convenient, most scenic, or most easy for you. Appalachian Trail tours make section hiking seamless, allowing you to day hike the highlights of the trail with little preparation required.

How hard is it to hike the Appalachian Trail?

It purely depends on what state you're planning to hike as some states and national parks are more challenging than others. On an Appalachian Trail tour, your guide will offer alternatives based on your fitness levels to ensure everyone has a good time.

Will we see bears in the Appalachian Mountains?

It's not uncommon to see black bears parading about in almost every state along the Appalachian Trail. They are typically shy creatures who keep their distance, so witnessing one can be a rare thrill that many hikers seek. On a hiking tour, it's important that you listen to your guide as they're fully equipped to handle bear encounters and keep your group safe.

Where can I meet thru-hikers on the Appalachian Trail?

One of the best experiences about day hiking the Appalachian Trail is hearing stories from those that are on their journey of a lifetime. Hear their triumphs and tribulations at the mid-way point at Harpers Ferry, WV or at Baxter State Park, ME where their journey ends.

How do I prepare for an Appalachian Trail thru-hike?

For many, thru-hiking the Appalachian Trail is a once-in-a-lifetime experience and requires plenty of preparation in order to complete it successfully. If you're interested in doing a thru-hike we recommend doing your research, embarking on a hiking tour to hear first-hand experiences, and contacting the Appalachian Trail Conservancy to help you prepare.

How do I section hike the Appalachian Trail?

The simplest way to section hike the Appalachian Trail is through various day hikes, perfect for all families and budgets. To find the perfect trips for you, browse through our Appalachian Trail tours until you find one that ticks all of your boxes! Simply choose your dates and fill out your details to secure your trip. If you have any questions along the way, our Travel Experts are standing by 24/7.

What if I don't want to hike?

That's perfectly fine! As it's the longest hiking trail in the world, many people head to the Appalachian Trail just for the day so they can say they've "been there, done that". We offer many tours that stop along the Appalachian Trail, find a tour that suits you.

Can I hike the Appalachian Trail solo?

Of course you can! In fact, you'll often come across many people hiking the Appalachian Trail alone. Most of our Appalachian Mountain tour operators offer the option to either go private or can accommodate to self-guided requests. Just reach out to us and we'll ensure your hike is as seamless as possible!
Other Hiking Trips in North America
From the granite cliffs of

Yosemite

to the twists and turns of the Grand Canyon, the United States is home to some of the most coveted trails in the world. Explore the icy slopes of

Alaska

or the volcanic peaks of

Hawaii

, the world is your oyster on a hiking adventure in the Land of the Free.

View Tours

From the sunlit trails of the

Canadian Rockies

to a hike like no other on the glaciers of Alberta, Canada is full of hiking vacations that allow you to experience a true wilderness escape. Pair your hiking adventure with a stopover in Vancouver or some fun on the fresh-powdered slopes of

Banff...

View Tours

If your favorite part about hiking is to escape the world, then a

Greenland hiking adventure

will astound you. The barren ice caps, the stark white fjords, and glistening glaciers will make you realize how truly remote this ironically named country is. A tour of Greenland creates an experience...

View Tours
HIKING INSPIRATION HAND-PICKED BY OUR TRAVEL EXPERTS