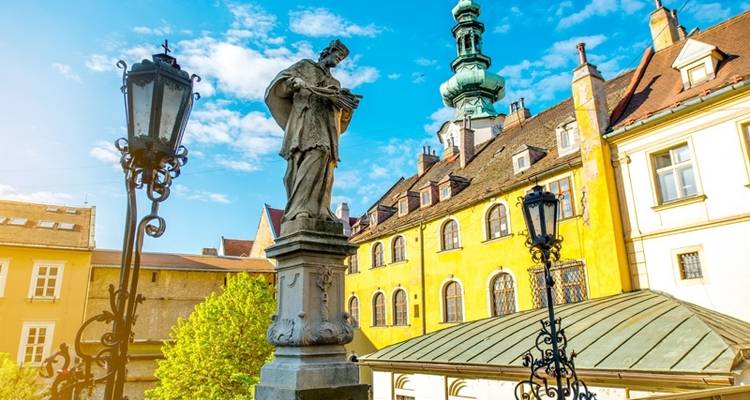 Premraj
"Me and my family took this tour with a wonderful tour director call Kate from Poland. The fellow passengers were of mixed nationalities and age from Australia, India, Singapore, Philippines, USA etc. It was a great value for money trip with lot of added hidden treasures included on the way which came as a very pleasant surprise for all of us. On our own I doubt if any one of us would have managed ..."
Good

5 reviews
Starts

Munich

Destinations

+7

Ends

Munich
Highlights
Explore the highlights of Europe's grandest cities
Seek out a beer hall and grab a stein in Bavarian Munich
Experience the old world charm of fairytale Prague
Opt to dine in style as you sail down the Danube
Sip a coffee on the cobbled sidewalk of Mozart's Vienna
Age range

5 to 80 year olds

Accommodation

Hotel

Max Group Size

52

Transportation

Coach / Bus

Travel style
5 Reviews
Excellent

40%

Good

60%

Average

0%

Rather Poor

0%

Bad

0%
Write a review
Selinda

Written on July 20, 2018

This is a very busy tour. You will not have much free time to explore on your own, especially if you take the optional tours.

Show detailed ratings

Nicole

Written on May 31, 2018

Be warned, this is a REALLY LONG review. When we booked our trip, we based it on the rich history of the area and because many great musicians hailed from this area. However, when looking for reviews for this tour, to include optional events, we couldn't find much other than a few lines summarizing that the trip was "great." So, I kept a day by day log of events in case anyone was interested in this tour. We did all optional tours except the Gypsy night… we needed a break/rest night. We did the Trafalgar Cost Save (cheaper than the other tours) Imperial Europe tour roundtrip from Munich to Czech Republic, Hungary, Austria and back to Munich. FANTASTIC! Forgive any typos... I've read this too many times. Day 1 — Munich Arrived and easily met tour guide, Rob Early, at airport....he immediately began giving us history of the city as we went to the hotel and offered tourist ideas for the day in the event our rooms weren't ready yet (mind you, it was the first 10:00am transfer bus from the airport). Great British accent and easy to listen to! Great weather...approx 70 degrees (May 2018). The Hotel: Holiday Inn Munich South…Rooms we're ready (YAY) which was a pleasant surprise so we could offload bags. To beat jetlag, we walked to the train station around the corner and easily rode into town (Marienplatz square), walked around, grabbed food and enjoyed Munich. We met up later with tour group back at the hotel to get guided through the city. Our travel director, Rob, was excellent! He would say that we should remember this when visiting foreign countries, "it's not better, it's not worse, it's just different"...great perspective, so true and the theme of the trip! Day 2 - Prague Great morning breakfast before leaving Munich! Bags out was an easy process (*tip* use packing cubes to make daily moving easy...keeps your suitcase organized). We were off to Prague, which was approx 6 hours with stops. On the way, we stopped at Regensburg...quaint town...good stop for an hour or so. (*Tip* you can easily get Czech Koruna (Crowns) at an ATM during the stop so no need to get before the trip. Exchange rate is approx $1 USD to 20 Koruna.) I can't say it enough that our tour guide, Rob, is awesome...gives lots of history on drive to next city but also allows for rest/quiet time. He's super funny, too. The Hotel: Hotel Alta Prague… For the optional tour Prague by Night tour, we had a local tour guide, Jan ("Yan")...he was entertaining, knowledgeable, and funny! It included a walking tour through Prague, one free drink, entertainment (a super sweet accordion player) and a stroll to Charles Bridge. The drinks & tips are included in this optional tour but you can't help but want to leave more (tips for the musician). Nice night full of history! The weather was approx 70 degrees. (*Tip* Bring travel lotion, shampoo, etc because the further you get away from Germany, the hotels won't carry these things.) Day 3 — Prague Breakfast at the hotel in Prague is very euro...one of those "it's not good or bad, but different" experiences. If you're not super adventurous, you will at least find bread, meats, coffee, juice and fruit. The further away from Germany, the less "American" or café meal you get. Just different. The entire bus of 40 was feeling the drag today (jetlag) but it's an "on-your-own" night so catching up on sleep is awesome! During the day, we visited castle which is president's quarters. Rob, tour guide, was very patient because there were some folks who never listened and he had to repeat himself constantly. The optional event was a lunch cruise: goulash, smoked ham (so good...think amusement park turkey legs), salad (yes, greens!!), 3 drinks and dessert (pastry and ice cream) — great food and fantastic views. A must!! After eating, we strolled along the Vltava River and got to go up top on the boat to take great photos. Total time was approx 2 hours...definitely worth the option! After the tour, we had the option to head back to the hotel at 3pm or 5pm....several of the tour folks went to a local restaurant to hang out and fellowship together! The evening was an "on your own" which was nice for relaxing...found a hidden jewel 10 minutes (walking distance) from the hotel called SaSaZu...Asian fushion...a little pricey but so good!! Look it up on Yelp! (Note: the restaurant is located in a weird looking place that appears like an abandoned craft fair). Day 4 Budapest This is a long drive day so dress comfy for the bus ride...good time to rest and relax. (*Note* You rotate seats everyday so everyone gets opportunities for the views/sights.) (*Random Thought* We're already thinking of another trafalgar trip to take and it's only day 4! Love this!) We had a short stop at Bratislava...cute market area, good gelato at Arthur ice cream shop; only about 90 minutes to stop so grab lunch and keep moving! The Hotel: Mercure Budapest...lovely and in a more central part of town. There's a grocery store behind the hotel for snacks and incidentals. FYI, some people didn't have working air conditioning but ours worked fine (room 351 was a good one. ☺) We did the optional Danube Dinner Cruise...A MUST! So good! AMAZING Hungarian food (cabbage—which I'm usually not a fan of—and chicken...so good!!) and great views! All monuments are lit up and it just makes you feel grateful to be there! You go back and forth several times so you have lots of opportunities for photos. Day 5 - Budapest We were supposed to go to Parliament this morning, but there were demonstrations so we avoided those shenanigans and did a city tour with our local specialist instead. Everyone had a case of the sleepys right on this morning; luckily, we opted out of the evening event (Gypsy dinner) so we planned to rest! Nice stroll through Buda...(*Note* If on your tour, Parliament doesn't happen this day, this swould be a morning to skip, relax and do your own thing.) We did the Optional Experience at St Andrews Square...saw a goulash demo and got some for lunch with bread, wine and dessert (plum strudel with cream)...dessert didn't sound appealing because I'm not a fruity dessert (pies & pastries) person but it was so delicious! After lunch, we had time for walking and shopping. Lovely handmade crafts. Went to the Retro Tour...cost 5euro per person... not worth the cost but killed time and supported a family business. Skipped the evening optional tour, Gypsy Night (heard from the other guests who went that they enjoyed it and the food was good but we were okay with our decision. ☺) Side note, we went to the Gellert Hotel for the thermal bath on a recommendation of our local guide...ok place, extremely rude staff and not great smelling place. I don't recommend this place. There are much better places to go… like the bathhouse that's near Hero's Square that you'll see on your tour. You'll have to take public transportation to get to these, if interested. Day 6 — Budapest & Vienna Went on the optional tour of the Parliament and Gundel House...the Parliament has beautiful architecture and decor...much like the Library of Congress in DC and the tour was quick (~1 hr). The Gundel was a quaint little restaurant and we ate "pancakes" aka crepes. They were just ok, nothing special at all. If I had to do it again, I'd skip this morning and just do Parliament on my own… though, you get to go through early as a tour group with a guide but it's a gaggle so going on your own isn't a bad thing. On the road to Vienna and stopped in Gyor for a lunch/bathroom break...good cafeteria in the area...make sure you have enough Forint or small euro change. The Hotel: Bellevue Hotel Vienna…very nice hotel, centrally located and the amenities are coming back up (they have lotion! ☺) Attended the Viennese concert...dinner was four courses and decent, not amazing. But, we came for the music since my hubby has a doctorate in conducting and studied all of the greats of this area of the world. Wonderful concert!! Some previous reviews said it wasn't worth the cost and I 100% disagree (keep in mind it's ~$120pp)! You get dinner, unlimited wine, champagne during intermission, a classical concert with approximately 15 songs, a few numbers with ballet dancers and opera singers and we sat in rows 3-5 with a great views. Day 7 — Vienna Took the optional tour at Schobrunn Palace and though it was a little earlier start (0740), it was worth it to get there early...beat the crowds and got a guided tour...beautiful place with interesting history. Had a morning city bus tour with our local guide; ended ~1200 and there was time to do things on your own. It was a decent tour but if could do over, we'd skip and have more time to explore this city on our own with more time. During our free time, we opted to go to Mozart Haus near St Stephen's church (tried some food at one of the vendors in the area...spatzle & schnitzel)...also went to Haydn Haus. Did the optional dinner at Marchfelderhof... great food and very eclectic restaurant...think Cracker Barrel decor on steroids...pictures and knick knacks everywhere! The restrooms were even decorated. This was a unique little place and I'm glad we went but this is another evening you could skip to spend more time in the city. Vienna has a lot to do in the way of museums & churches so you have to narrow down what you want to do & plan to come back! Day 8 — Salzburg This was another bus day...stopped at the Landzit Restaurant where the Sound of Music was filmed in the area. Nice salad bar but super expensive so beware...a salad, drink & pretzel will cost you approximately $45 euro or $50+ in USD. We would've just grabbed a snack when we got to Salzburg if we would've known because we got the salad because we weren't super hungry… not worth it! Arrived in Salzburg and immediately went on a walking tour since it was too early to check in. Got to spend time in the heart of Salzburg where there were shops, restaurants, etc. Went to Mozart's Birthplace Museum...neat place. Early evening tonight with an included dinner at the hotel which was good...a rest evening ☺. The Hotel: Leonardo… and the amenities returned. Day 9 — Salzburg & Munich Last day! ☹ Early morning to get to the Eagle's Nest...beautiful weather!! Blue skies and snow capped mountains. Absolutely gorgeous place! The weather was perfect and the views were amazing at the top. THAT IS A MUST OPTIONAL TOUR. On the way to Munich, got to stop at BMW World! Neat place! Had final dinner with some of the guests and had the opportunity to sit with a few we didn't get to talk with during the week. It was a lovely dinner and what's nice is everything had been taken care of in terms of payment, gratuity, etc. The same goes for hotels...everything is taken care of and that made for a lovely vacation! I cannot wait to do this again… and just hope it'll be just as wonderful. If you get Rob Early, you're in for a treat! Random Tips/Notes: -We brought lots of random over the counter medication just in case...didn't need them but glad we had them because it's hard to get or expensive at local grocery stores. -Pocket tissues are handy so bring them! -Packing cubes are a must since you're moving constantly; hubby and I used one big suitcase and it was easy since trafalgar brings/takes bags to/from the rooms; you may want to do smaller carry on luggage if doing additional tours after this or if you have connecting flights that could result in lost luggage. -Have tip money set aside for the last day… $3 euro per person per day for the driver and $5 euro per person per day for the travel director. We waited until the last minute and had to search for an ATM. I'm usually better at planning than that! -Good to get Euros before going but there are ATMs around to get them early in the trip and likely less charges than the airport and bank. -Inform your bank of your foreign travels so they don't flag you for potential fraud/stolen cards; no issues the whole time!

Show detailed ratings

Written on May 15, 2018

some of the extras should be included in the package like the trip to the Birdsnest. charge more and include things

Show detailed ratings

Written on December 31, 2017

Me and my family took this tour with a wonderful tour director call Kate from Poland. The fellow passengers were of mixed nationalities and age from Australia, India, Singapore, Philippines, USA etc. It was a great value for money trip with lot of added hidden treasures included on the way which came as a very pleasant surprise for all of us. On our own I doubt if any one of us would have managed to see those places. The hotels were decent with relatively good food. Kate made sure that we had ample vegetarian food us as per our choice. The whole trip was never hectic with plenty of time for ourselves to spend with family. All the local specialist guides had good sense of humor and didn't make us feel like we were in a History Class. Over all a great trip and highly recommended to take with family or friends.

Show detailed ratings

Written on May 31, 2017

Transportation was good so was th driver . The tour manager , Andy, was also very good . Hotels were ok and food -so la la (I got what I paid for) It was my first time with Trafalgar ...and what I liked most is - I didn't worry about my luggage!

Show detailed ratings
Itinerary
Download PDF Brochure
Expand all
Introduction
Day 1: Arrive Munich
Day 2: Munich – Regensburg – Prague (2 Nights)
Day 3: Prague Sightseeing and Free Time
Day 4: Prague – Bratislava – Budapest (2 Nights)
Day 5: Budapest Sightseeing and Free Time
Day 6: Budapest – Győr – Vienna (2 Nights)
Day 7: Vienna Sightseeing and Free Time
Day 8: Vienna – Salzburg
Day 9: Salzburg – Munich
Day 10: Depart Munich
What's included
Expand all
Download PDF Brochure
Accommodation

Rated Good by past passengers

Guide

Rated Excellent by past passengers

Meals

Rated Good by past passengers

Transport

Rated Excellent by past passengers

Additional Services
Videos
Western Europe Travel Guide
CostSaver
Questions & Answers
We are there for you! If you have any questions about this tour, then please don't hesitate to contact us 24/7 and we will get back to you latest within 2 hours!
Ask a question
What are people saying about TourRadar?
Availability
NO CREDIT CARD FEES
Imperial Highlights 2019
Select Departure Month
Upcoming departures
April 2019
May 2019
June 2019
July 2019
August 2019
September 2019
October 2019
May 2020
June 2020
July 2020
August 2020
September 2020
START
END
SEATS LEFT
SAVE NOW
PRICE
Friday

Apr 12, 2019

from Munich

Sunday

Apr 21, 2019

to Munich

9

seats left

$40

Friday

Apr 19, 2019

from Munich

Sunday

Apr 28, 2019

to Munich

10+

seats left

$41

Friday

Apr 26, 2019

from Munich

Sunday

May 5, 2019

to Munich

10+

seats left

$45

Friday

May 3, 2019

from Munich

Sunday

May 12, 2019

to Munich

9

seats left

$46

Friday

May 10, 2019

from Munich

Sunday

May 19, 2019

to Munich

10+

seats left

$46

Friday

May 17, 2019

from Munich

Sunday

May 26, 2019

to Munich

10+

seats left

$46

Friday

May 24, 2019

from Munich

Sunday

Jun 2, 2019

to Munich

10+

seats left

$46

Friday

May 31, 2019

from Munich

Sunday

Jun 9, 2019

to Munich

10+

seats left

$46

Friday

Jun 7, 2019

from Munich

Sunday

Jun 16, 2019

to Munich

7

seats left

$46

Friday

Jun 14, 2019

from Munich

Sunday

Jun 23, 2019

to Munich

10+

seats left

$46
Monthly price comparison
About the countries
Useful things to know before you go
---
Currencies
€

Euro

Germany , Slovakia and Austria

Kč

Koruna

Czech Republic

Ft

Forint

Hungary
---
Plugs & Adapters
---
Visa
Here is an indication for which countries you might need a visa. Please contact the local embassy for help applying for visas to these places.
---
Vaccinations
These are only indications, so please visit your doctor before you travel to be 100% sure.
Tick-borne encephalitis

Recommended for Germany, Czech Republic, Slovakia, Hungary and Austria. Ideally 6 months before travel.

Hepatitis A

Recommended for Czech Republic, Slovakia and Hungary. Ideally 2 weeks before travel.

Hepatitis B

Recommended for Czech Republic, Slovakia and Hungary. Ideally 2 months before travel.
---
Policies
Location

Start and end in Munich.

Hold my space

TourRadar can request CostSaver to hold spaces for you for up to 48 hours without any credit card details.

Deposit

TourRadar only requires a deposit of $200 to confirm this CostSaver booking. The remaining balance is then payable 50 days prior to the departure date. For any tour departing before 7 December 2018 the full payment of $1,285 is necessary.

Cancellation policy

No additional cancellation fees! You can cancel the tour up to 50 days prior to the departure date and you will not need to pay the full amount of $1285 for Imperial Highlights 2019, but the deposit of $200 is non-refundable.

Credit Cards

The following cards are accepted for CostSaver tours: Visa - Master Card - American Express
Destinations
Covering a total distance of approx 1,348 km.
Munich (Germany)
105 km
Regensburg (Germany)
206 km
Prague (Czech Republic)
291 km
Bratislava (Slovakia)
161 km
Budapest (Hungary)
107 km
Gyor (Hungary)
111 km
Vienna (Austria)
251 km
Salzburg (Austria)
115 km
Munich (Germany)
Why book with TourRadar
Best Price Guarantee

If you book with TourRadar and within 24 hours you find a better price than $1,285 for the same tour, TourRadar will pay you the difference

Safely book online

All your details are safely protected by a secure connection

9,335 tours in Europe

covered by 259 different operators in Europe

No Cancellation Fee

TourRadar does not charge any additional cancellation fees. You can cancel the tour up to 50 days prior to the departure date.

5 Genuine Reviews

All reviews are verified from travellers who went on Imperial Highlights 2019