Morocco Uncovered (from Casablanca to Marrakesh)
Average

3 reviews
Starts

Casablanca

Destinations

+6

Ends

Marrakesh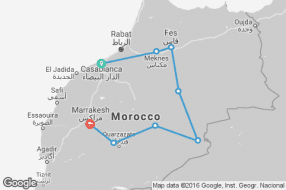 Highlights
Start in
Casablanca
and end in Marrakesh! With the
in-depth cultural
tour Morocco Uncovered (from Casablanca to Marrakesh), you have a
13 day
tour package taking you
from Casablanca to Marrakesh
and through Casablanca, Morocco and 7 other destinations in Morocco. Morocco Uncovered (from Casablanca to Marrakesh) is a
small group tour
that includes accommodation in a hotel as well as an expert guide, meals, transport.
Age range

15 to 99 year olds

Accommodation

Hotel, Camping

Max Group Size

12

Transportation

Local Transport, Mini-coach
3 Reviews
Excellent

33%

Good

0%

Average

33%

Rather Poor

33%

Bad

0%
Write a review
Written on November 15, 2017

Intrepid Travel - Morocco Uncovered 13 days tour (Oct. 2017) I like to read reviews before choosing a tour. Intrepid lists details of the itinerary for "Morocco Uncovered," but doesn't say much about the accommodations and restaurants for this trip. I'll focus mostly on those. I hope it helps those of you who are considering taking this tour. I want to help everyone have a great time when they travel. Day 1: Casablanca Included Activities - Complimentary Airport Arrival Transfer First, be sure to re-confirm your pick-up. Mine worked out fine. But, others in my group had issues. We got together at 6 p.m. for a group meeting. We briefly went over the tour itinerary, filled out forms for travel insurance, next of kin, etc…choosing between local tour guides' tip of 300 dh, or tip plus daily bottled water for 350dh. It was a no brainer, my group all agreed on the 350 dh to save the trouble of having to keep purchasing water. Though, we would still have to purchase water bottles locally if the tour minivan wasn't around or stayed at overnight accommodations. Tip: Plan in advance by bringing a wide-neck 1-liter water bottle that can be re-filled. Dinner: Not part of the regular itinerary so you paid on your own. The group leader took us to "Restaurant des Fleurs" (very close to hotel). We saw several other tour groups eating there also. Accommodation: Hotel Les Saisons Day 2: Casablanca-Rabat- Meknes Included Activities • Casablanca - Guided Tour of Hassan II Mosque • Chellah • Kasbah Les Oudayas Rat Lunch: On your own. Group leader took us to "Pizza Capri". That's a common choice for tour groups Dinner: On your own. Tour leader recommended an obscure restaurant (no name on its glass door). We were told you had to pre-select your meal or wait for 40 minutes for the food to be served. So, 8 people in our group chose the dinner meal while minibus drove us to Meknes. My groupmates were the only customers sitting in the Café Restaurant Camprinoss (I asked for their card after meal). The café substituted goat/lamb tagine for my order of beef tagine without informing me. Since the cafe is so small and empty, I doubt they even had beef in their kitchen. Lesson learned – Write down details of any diet/food restrictions for Intrepid if you have to be certain you're getting what you order for health/allergy reasons. Travel Tip: Meknes is the 6th largest city by population, so there are plenty of restaurant options. You may want to ask the group leader for the name of his suggested restaurant before committing. Accommodation: Hotel Oasis Tafilalet (www.oasistafilalethotel.com) Day 3: Meknes-Volubilis-Chefchaouen Included Activities • Guided walking tour - Meknes • Entrance and guided tour Volubilis Lunch: Own your own. The group leader took us to Columbe Blanche Hotel (going from memory), a family guesthouse with a beautiful Moroccan dining room. The food was very good, among the best on the trip. Dinner: On your own. Try the set menu of Aladdin Restaurant on the roof terrace. Accommodation: Hotel Tarek.(www.hoteltarek.com). My room was dimly lit and small. Tip: if you like to wear Henna (temporary tattoos made from dye), it's best to have that done here. Four of the women on my trip did their Henna on Day 10, but it had almost completely worn off the next day. Day 4: Fes Lunch: On you own in Chefchaouen. Dinner included: Forget to ask for a restaurant card. This restaurant is not in one of the nicer neighborhoods, but the food was good. Accommodation: Hotel Across Fes. The nicest hotel on this trip. Day 5: Fes Included Activities • Fondouk Nejjarine • Mederassa Bou Inania • Medersa Attarine - Entrance - Fes • Guided walking tour Fes (forcus on "Art Naji") Lunch: On your own. The group leader took us to "Dar Hatim". This restaurant was also popular with other tour groups. Dinner: On your own. I suggest any restaurant/café that overlooks Medina. Accommodation: Still at the very nice Hotel Across Fes. Day 6: Midelt (Stop at Ifrane for coffee and visiting a Nomad family) Picnic Lunch: own your own, the group leader took us to a westernized grocery store, and we purchased our lunch. Dinner: included, at the Kasbah Asmaa. Accommodation: Kasbah Asmaa. (www.kasbah-asmaa-midelt.com), a full-of-character kasbah. We got room 101, a decorated junior suite. The living room was so dimly lit my roommate and I never even went in. The shower wasn't designed well. You have to climb over an 18-24 inch tall wall to get in. Day 7: Midelt-Merzouga Lunch: On you own. The group leader took us to "Maison vallee de ziz" for a lunch buffet. Before heading to camp, you left your belongings at the Kasbah Hotel Yasmina. That's also where we showered and had breakfast the next morning. They said wi-fi was "available" at the Yasmina, but it wasn't working when we were there. Dinner: included at the camp on long outdoor picnic tables Accommodation: Desert Camp. Tip: Bring upset stomach/diarrhea medicine to camp. Seven out of 12 in our group already had or started to have problems here. No need to bring sleeping clothes. Since the tent was hot and no air breeze outside, most of us chose to sleep outside the tents. Have blankets nearby because the temperature dose get chilly overnight under the clear sky. Highlights: Definitely the most exciting part of the trip. We rode camels, climbed sand dunes, celebrated a tour mate's birthday, and watched drum show performed by our tour leader and camp workers. I heard drum shows from three other camps while falling asleep under the stars. It was even fun watching the camels go to sleep. Day 8: Todra Gorge-Dades Valley-M'goun Valley Breakast: at Kasbah Hotel Yasmina after shower. Lunch: On your own. Group leader took us to visit a Berber family for Lunch. Dinner: included at the accommodation. Accommodation: Gite d'étape Tamaloute (www.tamaloutte.com, impossible to get WI-FI to work). The Boutaghror town didn't even have electricity until 2006. Day 9: M'goun Valley Included Activities • An easy guided half day trek at M'goun Valley. A local's home served as the midway stopping point. We had tea, then began our return. (Several women activated their exercise APP, which said we walked more 10,000 steps each way). I'd recommend suitable hiking shoes, though the local tour guide and two women in our group were fine with Teva style hiking sandals. Lunch: On your own at the Gite. Dinner: included at the Gite. Accommodation: Gite d'étape Tamaloute (No WI-FI) Day 10: Skoura-Ait Benhaddou Included Activities • Visiting Kasbah Skoura Lunch: On your own. Group leader took us to the "Habous" at Ouarzazate. Dinner: included in the hotel. Nice restaurant, however not enough food to feed the whole group. Accommodation: Hotel La Kashbah (www.hotelkasbah.com). The room we stayed in was darker than the Gite d'étape Tamaloute and shower water came out very weak in 3 streams. So, I skipped the shower. Day 11: Ait Benhaddou-Marrakech (said goodbye to our driver) Included Activities: (The activities were originally scheduled for day 12. But our group leader switched them to the afternoon of day 11. Since we didn't start our activities until 3:30 pm, the local guide was in such a hurry that many of group couldn't keep up with his walking pace. Plus, some of the palaces were closed after 5 pm. This was very disappointing. Ask your group leader to NOT change the itinerary.) • Marrakech - Guided walking tour • Koutoubia Mosque and minaret • Marrakech - Palais Bahia • Photography Museum Lunch: On your own. Dinner: included from a street vendor at the square of Jemaa el Fna. Accommodation: Raid Marrakech by Hivernage. Lesson Learned: Ask your group leader to NOT change the schedule, particularly if you want to see all the palaces and museum. Day 12: Marrakech A free day. Farewell Dinner: My group took the group leader to the "Nomad". We had to sit inside because of the rain. Day 13: Marrakech End of tour. Tips and Warnings: 1. Most accommodations on this tour were basic, some were dingy, except for Across Fes. I had many bug bites from different accommodations. Bring your own small bed sheet or a "Protect-A-Bed" style Mattress Protector to separate your body from the sheets. It's also a good idea to bring a couple of E12 or E27 LED light bulbs to brighten rooms, and a travel power strip. Some locations only had one electric outlet in the room. I think "Kasbah Asmaa" and "Hotel La Kashbah" had nicer rooms for higher end guests, but they gave out lesser, dingy, and non-functioning rooms to group tourists. 2. Transportation times were longer than I expected from what had been listed in Intrepid's itinerary. And, the minivan or minibus seats were not comfortable. Think of a minivan jammed with 16 seats plus back luggage areas. I'm 5'4" 125 lbs, and I felt no space for my legs in the cramped vehicles. A Greyhound bus ride is way better than this minivan. I did like the driver a lot. He was a very nice young man, and his driving was extremely safe and cautious. 3. Always set your price before purchasing anything or travelling in a taxi. Double-check your currency/bills carefully before handing them to vendors. Unfortunately, some will try to scam you. One woman was cheated out of 300 DH by a snake charmer, he claimed she had given him a smaller bill than she had. Also, some of Marrakesh street vendors in the Jemaa el-Fnaa were not friendly toward foreigners. Some of my group mates were yelled at, treated rudely, and talked dirty to when they walked on their own free time. 4. The overall travel route was well-designed. It covered imperial cities, 6 UNESCO sites (Meknes, Volubilis, Rabat, Fes, Marrakech, and Ait-Ben-Haddou), Chefchaouen (which many other tour companies don't have), and the desert. However, the execution was not good due to our tour leader changing the schedule, enforcing a very short visiting time at important sites, but then setting up a very long shopping time at stores. The shopping list included Art Naji(Fes), leather shops at Tanner's quarter(FES), sliver shop, carpet shop, and several aroma shops including one extremely long one in Marrakech. While shopping can be fun. I was more interested in "SEEing" Morocco than "shopping" Morocco. 5. I was concerned that sharing a room with another group mate might cause inconvenience due to jet lag and a shared bathroom. I was very lucky that my roommate was a young sweet Welsh woman named Kerry who made my trip much more enjoyable. I hope all of you reading this are as lucky as I was in this regard. 6. If you have a food allergy or sensitivity to cumin, select your food carefully because cumin is everywhere in Moroccan cooking. I have this sensitivity, but was unaware cumin was so prominent in Moroccan cuisine. My knuckles and the skin on the underside of my fingers became red, broken, scaly, hardened, patchy, and then bloody after 13 days of eating in Morocco. Really, for any food allergy, study in advance to make sure you won't run into trouble. 7. Remember, Morocco is an Islamic country. So, you won't see single women sitting in a coffee shop/restaurant by themselves except in tourist cities. My tour leader said Moroccan women work in the household, while the men make a living. Thinking back, the only female hospitality or food workers encountered were two receptionists in Hotel Les Saisons, and Hotel Across-Fes, and a Baghrir cook at Kasbah Asmaa. SUMMARIZING: Report Card Route/Circuit design – B+ Accommodation – C- Transportation – B Food – B Musuems, site visitations – B (because of schedule changes, we spent too little time at Ait-Ben-Haddou and in the Marreckech tour of palaces, and I would have preferred to spend a lot more time at Todra Gorge. Also, slept two nights at the Boutaghror town (M'goun Valley) isn't necessary when the scenery and hiking is nothing memorable.) Trip Highlights: Hassan II Mosque" at Casablanca, Chefchaouen, and the desert. Overall, a nice option for people who don't speak Arabic and don't want to travel alone. Our group leader said the female to male ratio on his tours are about 80% women to 20% men. And most of the men come with their wives or girlfriends. My group consisted of 10 women and 2 men, same as the tour that departed one day earlier than us. Research your Morocco destination lists, and know your travel style before selecting a group tour. It is possible to create your own tour in a less expensive way using public transportation (train or bus) and nicer accommodations than on the Intrepid trip. Plus, the same pre-trip and post-trip accommodation are cheaper to book directly through the hotel than through Intrepid. If I were going to do a similar trip again, I'd start from Spain taking the Algeciras -Tangier ferry across the Gibraltar Strait to Tangier. Then, I'd take a CTM or Nejme Chamal buses to Chefchaouen, a bus to Casablanca, visit Hassan II Mosque, take a train to Marrakech, then stay in a hotel near Erg Chebbi. I hope you have a wonderful time in Morocco!

Show detailed ratings

Written on July 18, 2017

Horrible Company to travel with - We went on their Morocco trip. It was terrible. Hotels were broken down, locks on doors didn't work, one bed had worms (i'm not kidding!), out of control mold in the rooms, the guide was so uncaring that he left people in the desert without water...the list goes on. Travel with someone else!

Intrepid Travel commented on this review

Dear George, Thank you for taking the time to share your comments with us. We were disappointed to read that your Morocco trip did not meet your expectations. We would love an opportunity to more fully understand your experience as feedback from our passengers is essential towards improving all that we do. Please feel free to contact our Customer Relations team who will be happy to further address your concerns: customerrelations@intrepidtravel.com Thanks again and we look forward to hearing from you. Kind regards, Intrepid Travel

Show detailed ratings

Written on June 4, 2017

I was really dubious about a group tour, but I won an Intrepid trip to Morocco, so I went. It was absolutely wonderful...completely exceeded my expectations! Our trip leader was fun, knowledgable, kind, and organized. We used a variety of transportation modes and stayed in small and family owned accomodations. So many of the activity options allowed us to meet locals and see "the real Morocco". I met lovely, curious travelers who were also on the trip. I highly recommend traveling with Intrepid!

Show detailed ratings
Itinerary
Download PDF Brochure
Introduction

Expand all
Day 1: Casablanca
Day 2: Casablanca-Rabat- Meknes
Day 3: Meknes-Volubilis-Chefchaouen
Day 4: Fes
Day 5: Fes
Day 6: Midelt
Day 7: Midelt-Merzouga
Day 8: Todra Gorge-Dades Valley-M'goun Valley
Day 9: M'goun Valley
Day 10: Skoura-Ait Benhaddou
Day 11: Ait Benhaddou-Marrakech
Day 12: Marrakech
Day 13: Marrakech
What's included
Expand all
Accommodation

Rated Average by past passengers

Guide

Rated Average by past passengers

Meals

Rated Rather poor by past passengers

Transport

Rated Good by past passengers
Download PDF Brochure
Questions & Answers
Here we have collected and answered the most frequently asked questions about this tour.
March 16, 2015

Will TourRadar be participating in the new Intrepid sale?

We can definitely apply any promo Intrepid currently has to your booking through TourRadar.
Ask a question
What are people saying about TourRadar?
Availability
NO CREDIT CARD FEES
Morocco Uncovered (from Casablanca to Marrakesh)
Select Departure Month
Upcoming departures
March 2018
April 2018
May 2018
June 2018
July 2018
August 2018
September 2018
October 2018
November 2018
December 2018
January 2019
February 2019
March 2019
April 2019
May 2019
June 2019
July 2019
August 2019
September 2019
October 2019
November 2019
December 2019
START
END
SEATS LEFT
SAVE NOW
PRICE
Wednesday

Mar 28, 2018

from Casablanca

Monday

Apr 9, 2018

to Marrakesh

0

seats left

$65

Friday

Mar 30, 2018

from Casablanca

Wednesday

Apr 11, 2018

to Marrakesh

0

seats left

$64

Saturday

Mar 31, 2018

from Casablanca

Thursday

Apr 12, 2018

to Marrakesh

0

seats left

$65

Monday

Apr 2, 2018

from Casablanca

Saturday

Apr 14, 2018

to Marrakesh

0

seats left

$65

Wednesday

Apr 4, 2018

from Casablanca

Monday

Apr 16, 2018

to Marrakesh

0

seats left

$65

Friday

Apr 6, 2018

from Casablanca

Wednesday

Apr 18, 2018

to Marrakesh

0

seats left

$65

Saturday

Apr 7, 2018

from Casablanca

Thursday

Apr 19, 2018

to Marrakesh

0

seats left

$65

Monday

Apr 9, 2018

from Casablanca

Saturday

Apr 21, 2018

to Marrakesh

0

seats left

$63

Wednesday

Apr 11, 2018

from Casablanca

Monday

Apr 23, 2018

to Marrakesh

0

seats left

$65

Saturday

Apr 14, 2018

from Casablanca

Thursday

Apr 26, 2018

to Marrakesh

0

seats left

$65
Monthly price comparison
About the countries
Useful things to know before you go
---
Currencies
---
Plugs & Adapters
---
Visa
Here is an indication for which countries you might need a visa. Please contact the local embassy for help applying for visas to these places.
---
Vaccinations
These are only indications, so please visit your doctor before you travel to be 100% sure.
Typhoid

Recommended for Morocco. Ideally 2 weeks before travel.

Hepatitis A

Recommended for Morocco. Ideally 2 weeks before travel.

Tuberculosis

Recommended for Morocco. Ideally 3 months before travel.

Hepatitis B

Recommended for Morocco. Ideally 2 months before travel.

Rabies

Recommended for Morocco. Ideally 1 month before travel.
---
Policies
Location

Casablanca is the starting point and Marrakesh is the endpoint.

Hold my space

TourRadar can request Intrepid Travel to hold spaces for you for up to 48 hours without any credit card details.

Deposit

TourRadar only requires a deposit of $400 to confirm this Intrepid Travel booking. The remaining balance is then payable 60 days prior to the departure date. For any tour departing before 23 May 2018 the full payment of $1,114 is necessary.

Cancellation policy

No additional cancellation fees! You can cancel the tour up to 60 days prior to the departure date and you will not need to pay the full amount of $1114 for Morocco Uncovered (from Casablanca to Marrakesh), but the deposit of $400 is non-refundable.

Credit Cards

The following cards are accepted for Intrepid Travel tours: Visa - Master Card - American Express
Destinations
Covering a total distance of approx 1,012 km.
Casablanca (Morocco)
192 km
Meknes (Morocco)
53 km
Fes (Morocco)
153 km
Midelt (Morocco)
190 km
Merzouga (Morocco)
161 km
Todra Gorge (Morocco)
158 km
Ait Benhaddou (Morocco)
105 km
Marrakesh (Morocco)
Why book with TourRadar
Best Price Guarantee

If you book with TourRadar and within 24 hours you find a better price than $1,114 for the same tour, TourRadar will pay you the difference

Safely book online

All your details are safely protected by a secure connection

2,080 tours in Africa

covered by 103 different operators in Africa

No Cancellation Fee

TourRadar does not charge any additional cancellation fees. You can cancel the tour up to 60 days prior to the departure date.

3 Genuine Reviews

All reviews are verified from travellers who went on Morocco Uncovered (from Casablanca to Marrakesh)
Trip Details
Last modified (date)

Validity

Introduction

Style

Themes

Physical Rating

Physical preparation

Joining point

Joining point description

Joining point instructions

Finish point

Finish point instructions

Alternate Finish point

Alternate Finish point

Alternate Finish point description

Alternate Finish point

Alternate Finish point
Alternate Finish point

Safety

Visas

Why we love it

Is this trip right for you

Health

Food and dietary requirements

Money matters

What to take

Climate and seasonal

A couple of rules

Emergency contact

Responsible travel

Travel insurance

Your fellow travellers

Itinerary disclaimer