Mont Blanc to the Matterhorn

Save up to 75%
across the globe
ends on 26 Sep 2018
Excellent

28 reviews
Starts

Geneva

+13 Destinations

Ends

London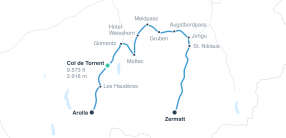 Highlights
Start in
Geneva
and end in London! With the
hiking & trekking
tour Mont Blanc to the Matterhorn, you have a
15 day
tour package taking you through Geneva, Switzerland and 12 other destinations in Europe. Mont Blanc to the Matterhorn is a
small group tour
that includes accommodation in a campsites as well as an expert guide, meals, transport and more.
Age range

18 to 80 year olds

Accommodation

Camping

Max Group Size

14

Physical Rating

Travel style

28 Reviews
Write a review
Anonymous

Written on October 7, 2013

excellent guide (Mike Rhodes) - right out of the top drawer.  Would have enjoyed it more and would have been happy to pay more if the trek focused on Auberge accommodation.  Under canvas is not the best way to prepare oneself for a daily slog.What was the most inspirational moment of your trip?First sight of the Matterhorn from a colWhat did you think of your group leader?Warm, accomplished, highly experienced, confident with an easy relaxed style - but we still all knew who was in charge.  Right out of the top drawer.Do you have any advice for potential travellers?Despite the bulk, try to take a substantial mat for sleeping on the hard ground.  Self-inflating but with a 5cm height would be preferable.

Anonymous

Written on August 14, 2013

An outstanding and challenging trip. The mix of day walking and light backpacking, and the slow transition from France, French Switzerland to German Switzerland meant every day was subtly different and interesting. The reward of the Matterhorn on the last day was mesmerising. What was the most inspirational moment of your trip?For me, there were several. Finally getting to see the Matterhorn was superb. I don't know who Exodus pays to do the weather, but they pay well - it was bathed in shining sun and was a worthy end to the trip. The challenge of getting up the Fenetre d'Arpette, Col du Reidmatten and Col du Torrent was immense. It was hard work, no doubt, but the views and feeling of elation was worth it. The best of all was chatting to a fellow tripper Mike, an engineer, experienced alpiniste, mountain walker and an inspiration. More of one of life's adventurers really, who had some amazing tales, like pushing a pram from London to Leicester in under 12 hours! It goes to show that the group really make the holiday and in this case, ours was excellent.What did you think of your group leader?I felt Simon was an excellent guide. His hands off style really suited me as I felt I could try and walk on his (very fit) heels if I wanted to push myself, but equally, I could stroll at the back in my own time and not feel under pressure to be in sight at all times. It was quite refreshing to be "off the leash" a little as some Exodus trip-notes describe how a leader might allow everyone to walk at their own pace, but I'd yet to experience it. Again, it underlines how having a sensible, fit and smart group can really be the making of the holiday. Simon dealt well with the variable walking styles in the group too. Some wanted to walk and stop, have a paddle or take photos, others just wanted to push on, so it was nice to see trust from him to allow people to come on in their own time while he steered the diesel engines who just ploughed on relentlessly up front. I suffered with an ongoing injury that mean I had to sit out two days of walking (hence the ish), but I communicated with Simon each night as required to get an idea of what was coming, how I was feeling and so on and always felt looked after. In the end it came down to this for me - I had total faith that if there was a problem, Simon would deal with it perfectly.Do you have any advice for potential travellers?Go for it. It's a great route, and don't be put off by it sharing some of the TMB route at the start, if you've done that before. Even a month apart, the hillsides are totally different. If you're new to alpine dorms be aware, you might get a bunk bed, but equally, you might end up in an eight person wide mega-bunk. There's plenty of room and your own pillow and duvet (plus your liner) but private it ain't. It pays to get in early and bag a tidy spot, preferably next to a good friend. Earplugs and something to cover your eyes, like a Buff, really help too. Eat many rostis. With cheese, egg, bacon, ham, whatever. They're such good fuel and super tasty. If you're thinking of saving money by bringing your own chocolate bars in, this works really well, until they all melt horribly and you have to put them in a stream to make them solid again. Maybe muesli bars are the way to go? Is there anything else you would like to add?The only minor grumble in a five star trip is the lunch rations were a little meagre. Not even the fillings - there was always plenty of filling, just never quite enough bread. It got better in the second half of the trip, but no one wants to be a hungry little soldier! Otherwise, in my deeply biased view, this is an excellent trip. Some of this is based on luck - I got great weather, a great guide and best of all, a fit, fun and great group - but much is simply due to the stunning terrain over which you walk each day, from high alpage, hot valley floor, picturesque Swiss villages, past clanking cattle, up thigh-screamingly steep cols with chains to pull you skywards and glacial streams to cool your feet (and more) off.  Book it. Now. It's worth it. 

Anonymous

Written on July 23, 2013

Fantastic trip, somewhat challenging but that's all part of the fun. Great sense of achievement at the end. Brilliant scenery, and we were lucky with the weather too. Very well organised trip, with an extremely competent mountain guide, who was happy for people to walk at their own pace whether that was fast or slow. The camping was very civilised - the only campsite chores that had to be done were taking down your own tent and helping out with the washing up now and then. This made changing campsites each day hassle free. Laundry facilities were available en route - I didn't need to take as much stuff as I did. The food surpassed all my expectations, and I am a fussy eater. Three courses every night of the best food I have ever had whilst camping. Overall one of the best trips I have done - recommended!

Anonymous

Written on July 20, 2013

The 'Haute Route' through the mountains of France and Switzerland is a fantastic two weeks of spectacular scenery, some good old fashioned hard work and an indescribable sense of accomplishment. This part of the Alps has some of the best hiking I have ever experienced, with photos to last a lifetime. With an extremely competent and knowledgeable leader, and great hearty food every evening, you would be hard pressed to find yourself getting bored or going hungry on this trip. A brilliant holiday, which left many of my friends extremely envious, of both my pictures and my achievements.

Anonymous

Written on July 20, 2013

The

Anonymous

Written on January 4, 2013

The walking and the scenery were breath taking.  Every day yielded new views. It was a challenge to ascend each pass but the rewards were fantastic.  The trip was challenging but within my capabilities.What was the most inspirational moment of your trip?A moment I remember was setting off in the morning at 7am from the first of the mountain huts and making our way up to the first of the three passes of the day.  We climbed on snowy patches of hillside and the slippery conditions stretched us all; we received excellent guidance from our group leader. I recall the sense of pure exhilaration on reaching the pass.  We had got off to a great start, the views were wonderful and a whole day of high mountain walking lay ahead.....What did you think of your group leader?Confident and relaxed, comfortable, competent and knowledgeable in the mountains, and able to accommodate all levels of walker, Mike inspired confidence.  An ideal leader for a mountain trek of this nature.Do you have any advice for potential travellers?Love the mountains!  Love pushing and extending yourself!Is there anything else you would like to add?I enjoyed the supported camping, appreciated the support team's welcome, the endless cups of tea, the delicious food and the hot showers on several of the camping sites!!

Anonymous

Written on September 22, 2012

A beautiful & challenging trek. Not at all to be underestimated, but acheivable for any fit hiker who will be rewarded with stunning views at the end of every climb. We experienced all possible weather, from arriving at the refuge in heavy snow to glorious sunshine on many trails, which only added to the scenery and experience.What was the most inspirational moment of your trip?The nature of the trek in camping low and climbing out of the valleys over the cols meant an opportunity to 'reach the top' virtually every day, with a new spectacular view to discover.What did you think of your group leader?Mike was a fantastic leader, really knew his stuff and was able to add lots of value through his own experience and knowledge, and kept the group motivated and moving well. The support crew of Jane & John were second to none also with delicious catering and ensuring the welcome sight of biscuits & a cuppa awaited post a tough days trek! Is there anything else you would like to add?Highly recommend an ascent of the Breithorn on the final free day in Zermatt - a wonderful way to end the trip on a high at 4164m.

Anonymous

Written on September 16, 2012

A challenging walk through fantastic scenery, with excellent support from the Exodus Team.Like the Tour du Mont Blanc this is an excellent journey through magnificant scenery in the heart of the alps, the days on Mont Blanc to the Matterhorn are however more demanding. What was the most inspirational moment of your trip?Two stand-out; the first is the spectacular vistas of the Matterhorn when it finally comes into view on the final day's walking into Zermatt, until then the mountain remains hidden except for the odd fleeting distant glance.The second was the optional ascent of the Breithorn some of us completed on the free day in Zermatt, completing my first European 4000m peak and the stunning views right across the Alps and the Bernese Oberland, with both Mont Blanc and the Matterhorn visible.What did you think of your group leader?Mike (a new leader for Exodus this year) was an excellent group leader/ mountain guide, his knowledge and experience in the mountains was very impressive. Mike always gave you confidence he was in control however demanding the situation, including when we got snowed off the mountain at the Cabane Mont Fort!Jayne & John the support crew/chefs were also excellent, the tents were always up and tea ready for us when we arrived in camp, even when we arrived at Les Hauderes a day early. The food in camp was impressive, first time I've had duck whilst camping.Do you have any advice for potential travellers?Mont Blanc to the Matterhorn is a fantastic route with amazing scenery and the Exodus trip is very well organised, so if you are looking for a fantastic journey through the Alps with all the hassles sorted this could be the trip for you.The walking is demanding so you do need a good fitness level for the trip, the days are harder than the Tour du Mont Blanc.Remember the weather can do anything in the Alps especially at the start/end of the season so be prepared for that, we had most things from 30 degress and sunshine to heavy snow over the two weeks (that much snow is not normal for the end of August though).Is there anything else you would like to add?Most of the campsites used along the way are excellent with very good facilities, however note two are basic (Grimentz & Trient), we had a great night a Grimentz so don't let that put you off. Sadly Exodus have not been able to find a good alternative at Trient which scores as the worst on the trip (I raised this last year as it is a common site with the Tour du Mont Blanc). This year two sites are in use, one at the top of the village which is quite small but quieter and a larger one at the bottom end of the village that is between the main road and a rock crushing plant. We were at the larger site, on the plus side it has a very good covered area to eat/relax under avoiding the thunder storms which has lighting and power however when we were there there was building work going on at the rock crushing plant adding to the noise of the road and the water supply failed during the evening. Our support team did what they could to get drinking water from the other site, but we had to improvise with rain water and buckets from the river for the toilets etc. You are only there for one night so don't let it put you off though.

Anonymous

Written on September 14, 2012

Excellent trip, great guide, good food and wonderful scenery!  And a good challengeWhat did you think of your group leader?Mike is an exceptional leader.   He clearly has a passion for the outdoors and his knowledge was impressive.    Mike did an excellent job for the 2 weeks!  :)Do you have any advice for potential travellers?Book it!  you will not regret it.   Its a good physical challenge

Anonymous

Written on August 21, 2012

This was a very challenging walk which at the conclusion prooved to be very rewarding. The torrain is rugged and combined with high temperatures makes it a lot tougher than the grade in the magazine emplies. What was the most inspirational moment of your trip?The reward is when you get your first view of the Matterhorn as you come around the Europaweg. You know that you have arrived at your destination and all has been worthwhile.What did you think of your group leader?A very experienced guide who has been there, done it and got the T shirt.Do you have any advice for potential travellers?Make sure that you have plenty of spending money. Switzerland  is not cheap and there are a lot of other expenses that you would not exspect.Is there anything else you would like to add?Make sure that your equipment is up to the challenge. The torrain will rip your boots apart and when it rains, it absolutely bungs it down.
Itinerary
Download PDF Brochure
Introduction

Expand all
Day 1: Start at Les Bossons, near Chamonix
Day 2: Free day in the Chamonix Valley
Day 3: The trail contours high in the valley before descending to Les Frasserands
Day 4: Cross Col de Balme to Switzerland.
Day 5: Over Fenetre d'Arpette to Champex
Day 6: From Champex the trail leads to Verbier and on to Cabane Mont Fort
Day 7: Cross the highest pass of the route, Col Prafleuri (2965m). Views of Rhone Valley, Mont Blanc, the Grand Combin and the Matterhorn
Day 8: Long walking day with two passes to cross; overnight at Les Hauderes.
Day 9: Rest day
Day 10: Past Lac Moiry to the picture-postcard village of Grimentz
Day 11: Longest walking day with excellent views of the Weisshorn
Day 12: Join Zermatt Valley; descend to Jungu and St Niklaus, short transfer to Randa.
Day 13: Follow a high-level balcony path that contours along the valley towards Zermatt.
Day 14: Optional trip to Zermatt
Day 15: End Randa
What's included
Expand all
Accommodation

Guide

Meals

Transport

Additional Services
Insurance

Additional Services
Download PDF Brochure
Video
Questions & Answers
We are there for you! If you have any questions about this tour, then please don't hesitate to contact us 24/7 and we will get back to you latest within 2 hours!
Ask a question
What are people saying about TourRadar?
Availability
NO CREDIT CARD FEES
Mont Blanc to the Matterhorn
START
END
SEATS LEFT
SAVE NOW
PRICE
Sunday

Jun 30, 2019

from Geneva

Sunday

Jul 14, 2019

to London

8

seats left

$219

Sunday

Jul 28, 2019

from Geneva

Sunday

Aug 11, 2019

to London

8

seats left

$219

Sunday

Aug 25, 2019

from Geneva

Sunday

Sep 8, 2019

to London

8

seats left

$219
Monthly price comparison
About the countries
Useful things to know before you go
---
Currencies
CHF

Franc

Switzerland

€

Euro

France

£

Pound sterling

England
---
Plugs & Adapters
---
Visa
Here is an indication for which countries you might need a visa. Please contact the local embassy for help applying for visas to these places.
---
Vaccinations
These are only indications, so please visit your doctor before you travel to be 100% sure.
Tick-borne encephalitis

Recommended for Switzerland. Ideally 6 months before travel.
---
Policies
Location

Geneva is the starting point and London is the endpoint.

Hold my space

TourRadar can request Exodus Travels to hold spaces for you for up to 48 hours without any credit card details.

Deposit

TourRadar only requires a deposit of 20% to confirm this Exodus Travels booking. The remaining balance is then payable 60 days prior to the departure date. For any tour departing before 21 November 2018 the full payment of $2,846 is necessary.

Cancellation policy

No additional cancellation fees! You can cancel the tour up to 60 days prior to the departure date and you will not need to pay the full amount of $2846 for Mont Blanc to the Matterhorn, but the deposit of 20% is non-refundable.

Credit Cards

The following cards are accepted for Exodus Travels tours: Visa - Master Card - American Express
Destinations
Covering a total distance of approx 1,061 km.
Geneva (Switzerland)
68 km
Aiguille du Midi (France)
5 km
Les Bossons (France)
3 km
Chamonix (France)
9 km
Les Frasserands (France)
15 km
Champex (Switzerland)
11 km
Verbier (Switzerland)
22 km
Les Haudères (Switzerland)
26 km
Jungu (Switzerland)
2 km
St Niklaus (Switzerland)
Show all destinations
Why book with TourRadar
Best Price Guarantee

If you book with TourRadar and within 24 hours you find a better price than $2,846 for the same tour, TourRadar will pay you the difference

Safely book online

All your details are safely protected by a secure connection

9,841 tours in Europe

covered by 255 different operators in Europe

No Cancellation Fee

TourRadar does not charge any additional cancellation fees. You can cancel the tour up to 60 days prior to the departure date.

21,972 Genuine Reviews

All reviews are verified from travellers who went on Europe tours