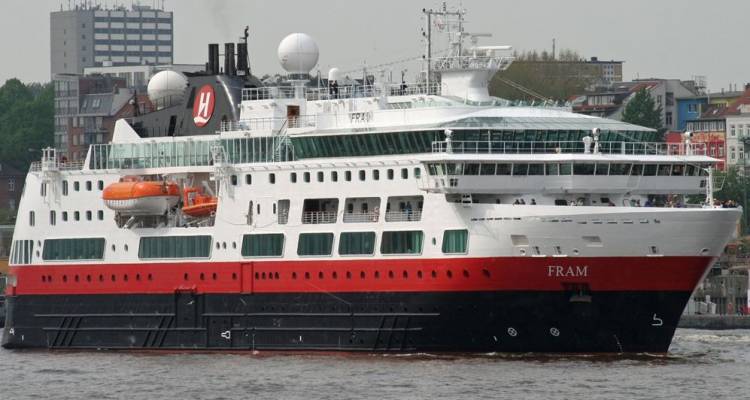 Built

2007 (refurbished in 2020)

Guests

318
Length

114 m / 374 ft

Gross Tonnage

11647 gt
Beam

20.2 m / 66 ft

Cruising Speed

13 kn
Islandss

Country Regions
Ship Overview
The original Fram was the most famous explorer ship of its time, and the achievements of her expeditions are unparalleled. MS Fram honors the heritage of the original Fram, using the most advanced technology and making her exceptionally well suited for expedition voyages in polar regions.
Fram means 'forward' – lifting expectations of the voyage at hand. MS Fram was built in 2007 with one mission in mind – to bring her guests closer to nature, wildlife and unforgettable experiences. The spacious outside decks include access to the very front of the ship – a great place to observe marine wildlife.
Built for polar expeditions
The ship is purpose built as an expedition vessel with a higher ice-class, chart drawing tools, ship depth sounding database, extractable forward sounding sonar, iceberg search lights, autonomous tracking system, oversized oil retention system for self-sufficiency, and a full 'expedition tools-deck' equivalent to a car-deck that holds 25 vehicles. We believe that as an explorer you need an 'expedition base-camp' that is comfortable – something that combines 'all oceans capabilities' with safety, flexibility and environmental friendliness. That's Fram – simply the best expedition ship imaginable.
Facilities on board
The observation lounge, with comfortable sitting areas at the top of the ship and large panoramic windows, gives you incredible views of nature. A pair of binoculars is installed for spotting wildlife and details of the ever changing landscape.
In the restaurant on deck 5, you can enjoy the finest cuisine. The floor has different levels, so no matter where your table is placed; there are views to the outdoors. The restaurant is located in the aft of the ship, on your way there you walk through an exhibition of original artefacts from the historic expeditions of Amundsen and Nansen. At the far end of the restaurant there is a balcony for taking pictures when wildlife show up during a meal. On deck 7 you will find a well-equipped fitness room, with its panoramic ocean view there is no better place to exercise. On top of the ship you can get warm and cosy in the sauna or bathe in one of the outdoor hot tubs. Let the warm water surround you while the icebergs float silently past the side of the ship.
Cabins and art
With 127 cabins on Fram, you have a choice of comfortable cabins and a number of superior suites to choose from. Our suites are named after Norwegian polar heroes, MS Fram travels in the wake of these great explorers. We are very proud of the art commissioned for MS Fram – local artists from the Arctic have contributed to making her a modern masterpiece. The 'tender pit' is where we embark, fully dressed in suitable expedition and excursion gear, on our sturdy Polarcirkel boats to take you safely from ship to shore. The original Fram was a ship for broadening the understanding of the world – let the new MS Fram do the same for you.
To be refurbished in 2020
After a decade of exploring some of the most spectacular waters on our planet, Hurtigruten's MS Fram will receive a total makeover – and reemerge as a brand-new expedition ship.
Leading up the 2020 season, MS Fram will be completely upgraded with new suites, new cabins, more environmentally friendly engines and a total makeover of all public areas – including new restaurants and Hurtigruten's signature, high-tech Science Center.
Sun Deck
Bars
Lounge
Restaurant
Conference Facilities
Reception
Internet Café
Fitness Room
Sauna
Shop
Jacuzzi
Staterooms / Suites
Expedition Suite Grand Suite (MG)
Expedition Suite Upper Deck (M2)
Arctic Superior Middle Deck (F2)
Arctic Superior Upper Deck (U2)
Polar Inside Middle Deck (I2)
Polar Inside Middle Deck (I4)
Polar Outside Middle Deck (N2)
Polar Outside Middle Deck (N4)
Polar Outside Upper Deck (FJ)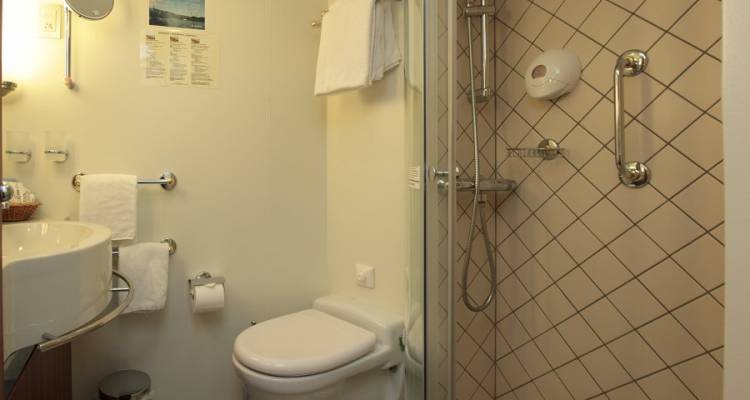 Features
Ensuite Bathroom
Television
Air-conditioning
Large windows
In-room phone
Double bed
Twin beds
In-room safe
Storage space
Writing desk
Mini-fridge
Balcony
Sofa
Lounge area
Amazing view
Bath tub
Entertainment system
Towels
Coffee maker
Power Outlets
Dining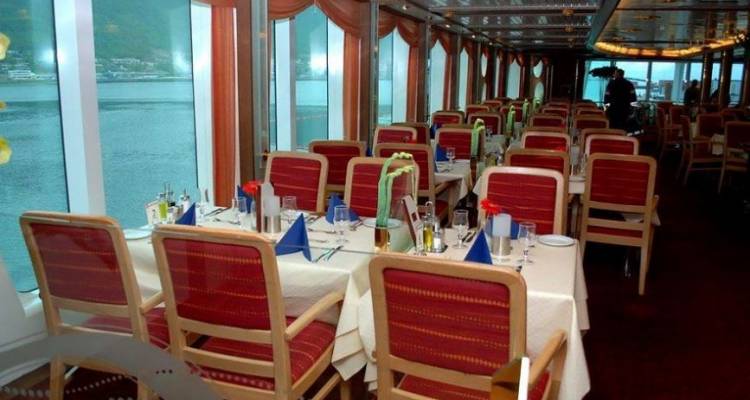 Enjoy fine cuisine in the restaurant. The floor has different levels, so no matter where your table is placed, there are views to the outdoors. On your walk to the restaurant you will see an exhibition of original artefacts from the historic expeditions of Amundsen and Nansen, the great Norwegian explorers of the original Fram. A balcony at the far end of the restaurant ensures you will not miss a thing when wildlife appears during your meal.