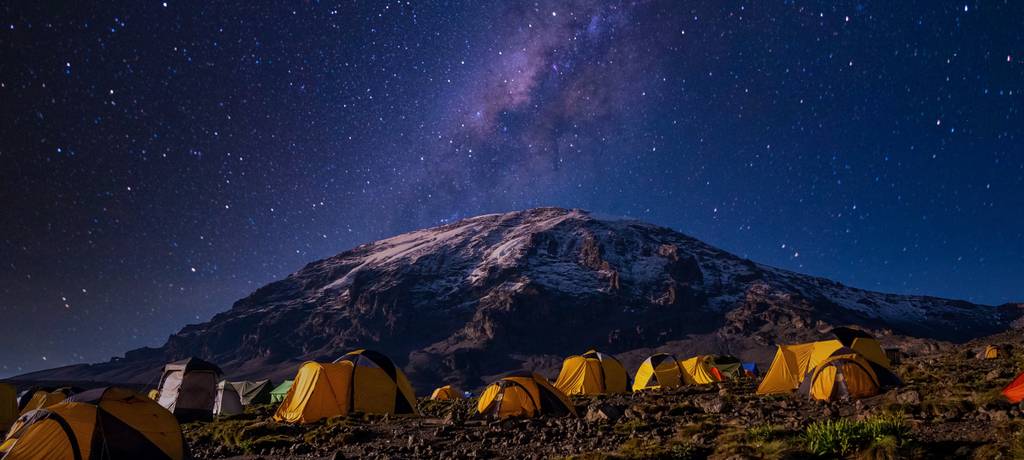 Climbing Mount Kilimanjaro
Standing at a height of 5,895m, Mount Kilimanjaro is one of the most coveted hiking destinations in the world, and holds the title as Africa's highest freestanding mountain. Whether you're mastering the basic techniques, or if you've been scrambling across mountains from the moment you could walk, this dormant volcano offers a variety of routes for all skill levels and mountaineering prowess.
 
See Kilimanjaro Tours
How to Climb Mount Kilimanjaro
How do I prepare for Mount Kilimanjaro?

Any physical activity you participate in before you embark on the trek of a lifetime will only help to make your ascent more enjoyable. As for how hard you train, this will depend on whether you're aiming for the Uhuru Peak, or embarking on a shorter journey and this will be different for everyone.
Learn more.

When should I climb Mount Kilimanjaro?

You can climb Mount Kilimanjaro year-round, but it may be wet and cold which means you should be equipped with the correct waterproof gear. Consider climbing between January–March and June–October. Note that April, May and November are the wettest months. 
Learn more.

What permits do I need?

Each visitor will be required to pay a fee per day for the conservation fee to help manage the national park. Most tours, however, will cover the permits and entry fees included in the price. 
Learn more.

Do I need a guide to climb?

Yes. All hikes and treks on Mount Kilimanjaro can only be completed with a licensed guide. Depending on what route you take, the assistance of porters is likely to be included in your tour price. 

How much does it cost to climb Mount Kilimanjaro?

The cost of climbing Kilimanjaro may vary depending on a season, the route you choose and the length of the journey. Usually, the prices start at $1,000 USD and above, however, this may vary if you need to purchase any extra equipment, accommodation or add any additional transportation. 

What should I pack and what equipment do I need?

While trekking tour operators might supply some of the gear you'll need, there are a few non-negotiables that you will need including waterproof clothing, a headlamp, sunglasses, appropriate hiking boots, personal medication, a non-disposable water bottle, and a beanie for example. Learn more.
Mount Kilimanjaro Maps & Routes
Mount Kilimanjaro Facts
Location

Mount Kilimanjaro can be found in East Africa, and is located in the northern part of Tanzania. Mount Kilimanjaro National Park is located128 km from Arusha, or just a one hour drive from Kilimanjaro airport, and it covers an area of 1,668 sq km.  
 

Coordinates

The Mount Kilimanjaro latitude is 3.0674° S, while the longitude is 37.3556° E.  
 

Elevation

The elevation for Mount Kilimanjaro is 5,895m (19,341 ft).  
 

Prominence

In topography, prominence refers to and characterizes the height of a mountain's summit by the vertical distance between it and the lowest contour line encircling it but containing no higher summit within it. The prominence for Mount Kilimanjaro is 5,885m (19,308 ft).

Parent range

When looking at a mountain range, many have sub-ranges within them and is best described as a parent-child relationship. Kilimanjaro is a freestanding mountain range, however, the East Rift mountains are considered to be the parent range. 

Peak

Mount Kilimanjaro is composed of three volcanic cones: Kibo, Mawenzi and Shira. Uhuru Peak is the highest summit on Kibo's crater rim and is listed at a height of 5,895m (19,341 ft).  
 

Length

The shortest hiking route on Mount Kilimanjaro is 53 km in length, and the longest route is 98 km.   
 
 

Arrival

Mount Kilimanjaro can be accessed from the town of Moshi or Arusha, and is just an hour's drive from Kilimanjaro Airport.  
 

Success rate

Success rates for Mount Kilimanjaro can vary from 50% to 95%, depending on the chosen route and length of the hike. On average, the Northern Circuit Route gives the highest chances of reaching the top with success rate of almost 95%, while the title of the least successful route belongs to Marangu Route, with a success rate of 50%.
Best Time to Climb Kilimanjaro
Kilimanjaro temperatures
JAN
FEB
MAR
APR
MAY
JUN
JUL
AUG
SEP
OCT
NOV
DEC
Average °F
81
81
79
77
73
72
70
72
73
77
77
79
Average °C
27
27
26
25
23
22
21
22
23
25
25
26
High °F
91
91
88
84
81
79
79
81
84
88
88
90
High °C
33
33
31
29
27
26
26
27
29
31
31
32
Low °F
68
68
70
68
68
66
63
61
61
63
64
66
Low °C
20
20
21
20
19
17
16
16
17
18
18
19
Kilimanjaro Trips & Reviews
HIKING & TREKKING TRAVEL INSPIRATION BY TOURRADAR