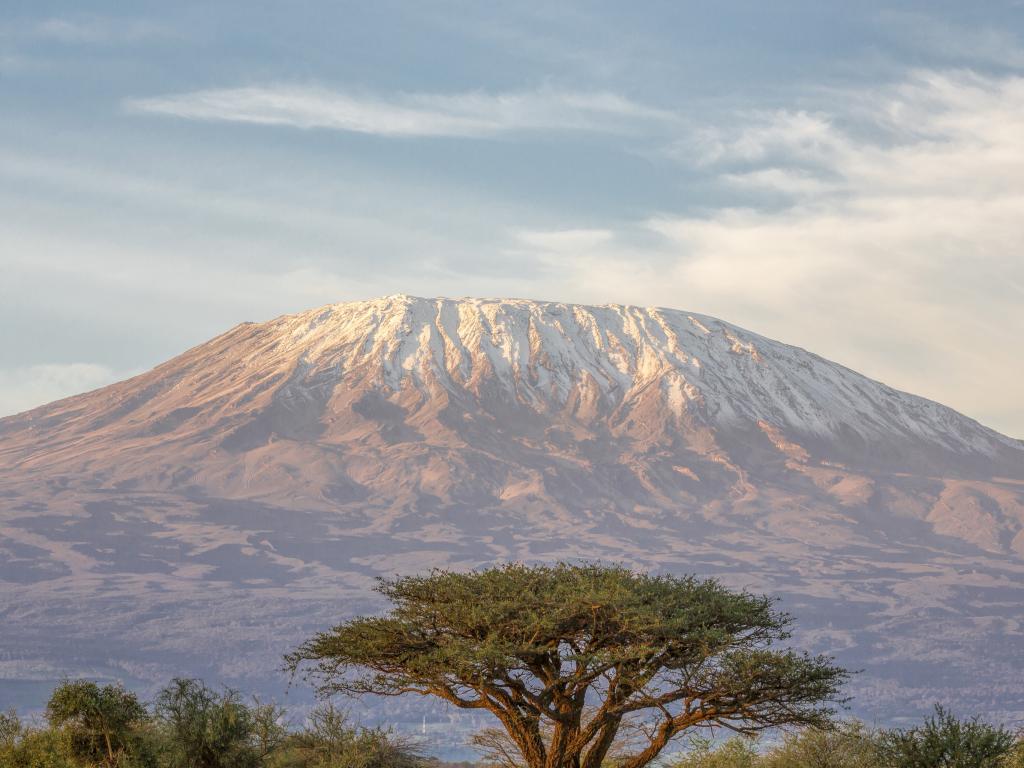 Umbwe route location
Location: Getting to the start of the Umbwe trail is uncomplicated. Starting from the south of Mount Kilimanjaro, the route is easily accessible. 
Difficulty rating: Challenging. 
Height: The Umbwe route travels to the summit and reaches the Uhuru peak and a height of 5,895 metres (19,341 feet). 
Duration: The Umbwe route can be completed in 5 days, however, this is not advised as there are no acclimatisation days and success rates are low. Most itineraries will travel for 6 or 7 days which allows time for acclimatisation.
Trail conditions: The trail itself is steep, and you will find yourself trekking through rocky outcrops, and in places, you'll be holding on to tree routes as you haul yourself up to the slope. As you travel to the high alpine zone you will encounter strong winds and will be exposed to the elements. 
 
Commonly referred to as the hardest trail on the mountain, the Umbwe trail involves a tough vertical climb through the jungle and in some places, tree roots that act as a natural ladder.

The trek is shorter and much more direct than the other trails, however, should not be attempted by novice climbers. And while it is not a technical climb, it's both a physically and mentally challenging journey. 

Aside from the physically taxing journey, the scenery is the ultimate reward. Your eyes will be treated to jaw-dropping views along each stage of the journey.

As for the route itself, Umbwe starts from the southern part of Kilimanjaro and presents trekkers with a steep climb and travels below the Southern Ice Field before eventually summiting from Barafu. 

Previous trekking experience is highly recommended, as the days will feature 6-8 hours hiking with daily ascents of 900m to 1,000m, perhaps with the odd day ascending around 1,100m to 1,200m.

Depending on the route, you may be trekking at an altitude of over 3,500m. You need complete confidence in your ability to trek for many days over difficult terrain.

Extremes of altitude and weather may be encountered, as may the use of ice axes and crampons for some routes. A degree of physical and mental stamina will be essential to complete the hike as the days will be tiring. 
Umbwe route success rate
Considered to be the most difficult route on Kilimanjaro, the Umbwe route should be attempted only by experienced climbers. The success rate of the route is between 60% and 70%, with higher chances of reaching the summit if you give yourself extra time for acclimatization.
Umbwe route 6-days itinerary
Day
Start
Altitude (m/ft)
Finish
Altitude (m/ft)
Time (hrs)
Distance (km/mi)
1
Umbwe Gate
1,600m/ 5,249ft
Umbwe Camp
2940m/ 9514ft
5-7
11km/ 7mi
2
Umbwe Camp
2,940m/ 9,514ft
Barranco Camp
3,976m/ 13,044ft
4-5
6km/ 4mi
3
Barranco Camp
3,976m/ 13,044ft
Karanga Camp
3,995m/ 13,106ft
4-5
5km/ 3mi
4
Karanga Camp
3,995m/ 13,106ft
Barafu Camp
4,673m/ 15,331ft
4-5
4km/ 2mi
5
Barafu Camp
4,673m/ 15,331ft
Uhuru Peak
5,895m/ 19,341ft
7-8
5km/ 3mi
Uhuru Peak
5,895m/ 19,341ft
Mweka Camp
3,068m/ 10,065ft
4-6
12km/ 7mi
6
Mweka Camp
3,068m/ 10,065ft
Mweka Gate
1,640m/ 5,380ft
3-4
10km/ 6mi
Umbwe route tips
Altitude sickness often appears on the third day of your hike, so it's best to allow extra time in your itinerary where possible. 
Before your Kilimanjaro adventure, make sure your shoes are worn in to prevent blisters on your feet. Insoles are a great addition to your packing list, as are proper socks. 
Trekking poles will become your best friend. Some operators might provide these in your tour price however it is suggested that you enjoy a few hikes beforehand to practice using your poles. 
Make a packing list and triple check you have everything you need before you go. Rentals will be available through some operators however you'd hate to be missing any essential items. 
Consume as much water as physically possible as this will help reduce the symptoms of altitude sickness. 
Most importantly, have fun and don't forget to enjoy the view. 
How to climb the Umbwe route
Kilimanjaro routes
Machame Route. Distance: 62 km, average duration: 6-7 days, success rate: 75%-85%
Marangu Route. Distance: 72 km, average duration: 5-6 days, success rate: 50%
Lemosho Route. Distance: 70 km, average duration: 7-8 days, success rate: 65%-90%
Rongai Route. Distance: 73 km, average duration: 6-7 days, success rate: 65%-80%
Shira Plateau Route. Distance: 56 km, average duration: 7-8 days
Umbwe Route. Distance: 53 km, average duration: 5-6 days, success rate: 60%-70%
Northern Circuit Route. Distance: 98 km, average duration: 8-9 days, success rate: 95%
Kilimanjaro tours & reviews
A TRAVEL MAGAZINE BY TOURRADAR