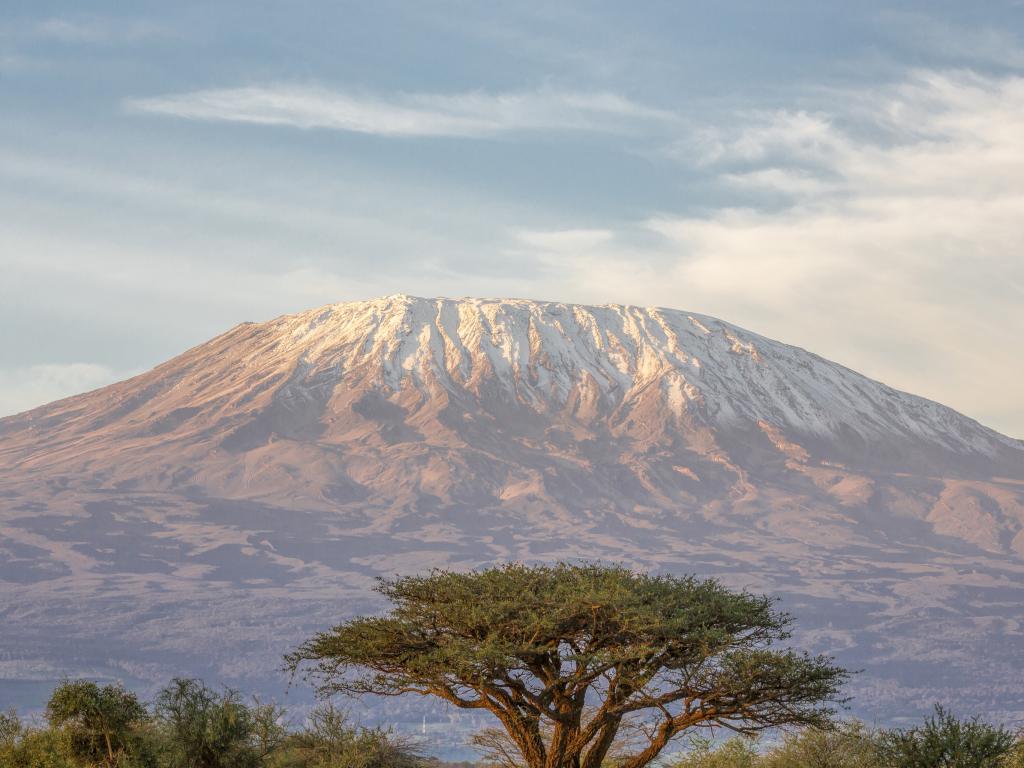 Rongai route distance
Distance: The Rongai route is 72 kilometres (44 miles).
Location: The Rongai route ascents Kilimanjaro from the northeastern side of the mountain, along the border between Tanzania and Kenya.
Height: The Rongai route reaches the summit of Kilimanjaro at the Uhuru peak, reaching a height of 5,895 metres (19,341 feet).
Trail conditions: The northeast side of the mountain gets significantly less moisture than the southern slopes which means that trekkers are less likely to encounter rain.

As the only route that approaches from the northern side of the mountain, the Rongai route offers a gentle approach to reaching the summit. Rongai is a moderately difficult route but is highly recommended for those with less backpacking or hiking experience.

The most important thing to note with the Rongai route is that it flatter than the other Kilimanjaro routes, and does not offer trekkers good options to climb high and sleep low.

Hikers generally suffer more from altitude sickness on the Rongai route compared to other routes, and an additional acclimatisation day is definitely recommended.

During the journey itself, you will travel through forests, moorlands, grassy slopes, the desertlike environment of the Saddle, and tropical rainforests on the route down to Marangu gate.

Given that it's the only trail to start from the Kenyan side of Kilimanjaro, Rongai is generally less crowded, and you might even be lucky enough to spot antelope, elephants, and buffalo at the start of your journey through the wilderness.
Rongai route 6-day and 7-day itinerary
A trek to the summit of Mount Kilimanjaro can take anywhere between 6-or 7-days. The main difference between the 6-day and 7-day routes is the additional acclimatization day at Mwenzi Tarn.

Previous trekking experience is highly recommended, as the days will feature 6-8 hours hiking with daily ascents of 900m to 1,000m, perhaps with the odd day ascending around 1,100m to 1,200m.

Depending on the route, you may be trekking at an altitude of over 3,500m. You need complete confidence in your ability to trek for many days over difficult terrain.

Extremes of altitude and weather may be encountered, as may the use of ice axes and crampons. A degree of physical and mental stamina will be essential to complete the hike as the days will be tiring. 
DAY
START
ALTITUDE (M/FT)
FINISH
ALTITUDE (M/FT)
TIME (HRS)
DISTANCE (KM/MI)
1
Rongai Gate
1,950m/ 6,398ft
Rongai Cave
2,830m/ 9,300ft
4
7km/ 4mi
2
Rongai Cave
2,830m/ 9,300ft
Second Cave
3,450m/ 11,300ft
3-4
6km/ 4mi
Second Cave
3,450m/ 11,300ft
Kikelewa Cave
3,600m/ 11,811ft
3-4
3km/ 2mi
3
Kikelewa Cave
3,600m/ 11,811ft
Mawenzi Tarn
4,315m/ 14,160ft
4
6km/ 6mi
4
Mawenzi Tarn
4,315m/ 14,160ft
Mawenzi Ridge
4,389m/ 14,400ft
1-2
2km/ 1mi
Mawenzi Ridge
4,389m/ 14,400ft
Mawenzi Tarn
4,315m/ 14,160ft
1-2
2km/ 1mi
5
Mawenzi Tarn
4,315m/ 14,160ft
Kibo Hut
4,703m/ 15,430ft
5-6
9km/ 6mi
6
Kibo Hut
4,703m/ 15,430ft
Uhuru Peak
5,895m/ 19,341ft
6-8
6km/ 4mi
Uhuru Peak
5,895m/ 19,341ft
Horombo Hut
3,720m/ 12,205ft
4-5
16km/ 10mi
7
Horombo Hut
3,720m/ 12,205ft
Marangu Gate
1,843m/ 6,046ft
5-7
20km/ 12mi
Rongai route success rate
To ensure a higher success rate it is highly recommended to aim for the 7-day itinerary with one day dedicated to acclimatization. This itinerary has on average a decent 80% summit success rate, while for the 6-day itinerary, the success rate drops down to 65%.
Rongai route tips
Be prepared not to shower for a week, and make sure to pack a generous supply of wet wipes.
Climbing can be physically and mentally challenging, but try to stay positive when the journey seems impossible.
A perfectly curated playlist for you to listen to can make a challenging climb much more enjoyable; particularly during the summit night.
Mentally prepare yourself for altitude sickness. Even experienced hikers will suffer from some symptoms at times. Remember that it affects everyone differently.
If time and budget allow, aim to add an extra night to your journey to reduce the impact of altitude sickness.
To mentally prepare for the Rongai route, try to spend a few weekends camping to get familiar with using limited facilities, and to overcome any small barriers you might encounter.
Be sure to wear your hiking boots before your hike to avoid blisters, as this could potentially stop you from reaching the summit if you're not careful.
Travel at your own pace, and remember that it is not a race. Most importantly, don't forget to take in the incredible views.
How to climb the Rongai route
Mount Kilimanjaro routes
Machame Route. Distance: 62 km, average duration: 6-7 days, success rate: 75%-85%
Marangu Route. Distance: 72 km, average duration: 5-6 days, success rate: 50%
Lemosho Route. Distance: 70 km, average duration: 7-8 days, success rate: 65%-90%
Rongai Route. Distance: 73 km, average duration: 6-7 days, success rate: 65%-80%
Shira Plateau Route. Distance: 56 km, average duration: 7-8 days
Umbwe Route. Distance: 53 km, average duration: 5-6 days, success rate: 60%-70%
Northern Circuit Route. Distance: 98 km, average duration: 8-9 days, success rate: 95%
Rongai route tours & reviews
A TRAVEL MAGAZINE BY TOURRADAR