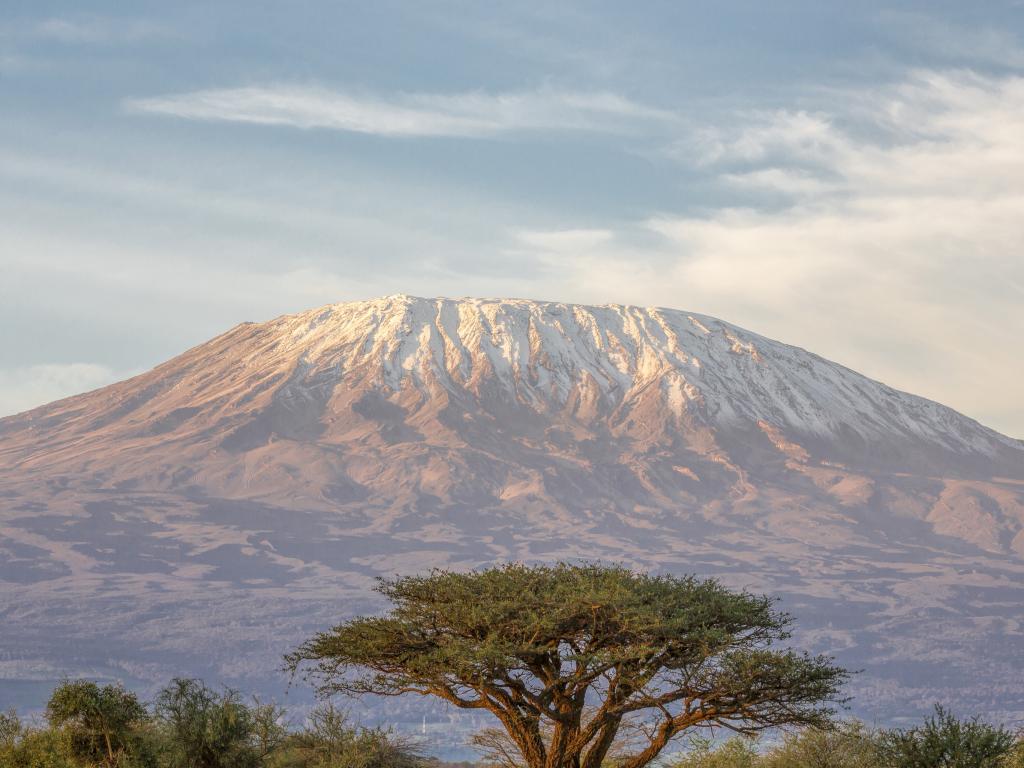 Lemosho route distance
Distance: The Lemosho route is 70 kilometres (42 miles). 
Location: Access to the trail begins with a long drive from Moshi or Arusha to Londorossi Gate, and can take three to four hours. Londorossi Gate is located in the western base of the mountain.
Height: The Lemosho route reaches the summit of Kilimanjaro at the Uhuru peak, reaching a height of 5,895 metres (19,341 feet). 
Trail conditions: The first part of the trail makes its way through the verdant rainforest to reach the Shira Plateau, and later travels through icefields and high alpine deserts. 
 
The Lemosho route is known as one of the most beautiful routes, offering sweeping vistas from the mountain. Travelling in a similar direction as the Shira route from the western base, climbers are likely to encounter lower traffic until the route meets with the Machame Route, and it's one of the newer routes on the mountain, which makes Lemosho a great choice for your climb. 

As you travel along the western side of Kilimanjaro, you might be fortunate enough to spot antelope, buffalo, and maybe even a few elephants.
Lemosho route 7-day and 8-day itinerary
The Lemosho route can be completed in as little as 6 days on the mountain. However, it is ideally tackled over 8 days as this offers a better altitude acclimatisation schedule. 
The first two days are spent trekking through the rainforest to Shira Ridge and leads into a relatively flat hike, moving from west to east.
From this point, you're unlikely to encounter many other hikers. Crowds will be few and far between until the route joins the Machame route near the Lava Tower. 
The route traverses underneath Kilimanjaro's icefields on a path known as the Southern Circuit, before summiting from Barafu.
To complete the journey, the descent is made via the Mweka route. 

Previous trekking experience is highly recommended, as the days will feature 6-8 hours hiking with daily ascents of 900m to 1,000m, perhaps with the odd day ascending around 1,100m to 1,200m.

Depending on the route, you may be trekking at an altitude of over 3,500m. You need complete confidence in your ability to trek for many days over difficult terrain.

Extremes of altitude and weather may be encountered, as may the use of ice axes and crampons. A degree of physical and mental stamina will be essential to complete the hike as the days will be tiring. 
DAY
START
ALTITUDE (M/FT)
FINISH
ALTITUDE (M/FT)
TIME (HRS)
DISTANCE (KM/MI)
1
Londorossi Gate
2,360m/ 7,742ft
Mti Mkubwa
2,895m/ 9,498ft
3-4
6km/ 4mi
2
Mti Mkubwa
2,895m/ 9,498ft
Shira 1 Camp
3,505m/ 11,500ft
5-6
8km/ 5mi
3
Shira 1 Camp
3,505m/ 11,500ft
Moir Hut
4,200m/ 13,800ft
5-7
11km/ 7mi
4
Moir Hut
4,200m/ 13,800ft
Lava Tower
4,630m/ 15,190ft
4-5
7km/ 4mi
Lava Tower
4,630m/ 15,190ft
Barranco Camp
3,976m/ 13,044ft
2-3
3km/ 2mi
5
Barranco Camp
3,976m/ 13,044ft
Karanga Camp
3,995m/ 13,106ft
4-5
5km/ 3mi
6
Karanga Camp
3,995m/ 13,106ft
Barafu Camp
4,673m/ 15,331ft
4-5
4km/ 2mi
7
Barafu Camp
4,673m/ 15,331ft
Uhuru Peak
5,895m/ 19,341ft
7-8
5km/ 3mi
Uhuru Peak
5,895m/ 19,341ft
Mweka Camp
3,068m/ 10,065ft
4-6
12km/ 7mi
8
Mweka Camp
3,068m/ 10,065ft
Mweka Gate
1,640m/ 5,380ft
3-4
10km/ 6mi
Lemosho route success rate
Lemosho route has a very good success rate with high chances of reaching the summit when you take your time. With 8 days on the mountain, your chances of reaching the top are as high as 90%. It is still very probable you'll reach the top with the 7-day hike, with a success rate of 85%. However, with the 6-day hike the success rate drops to approximately 65%.
Lemosho route tips
Slow and steady wins the race. During the majority of the trek, you should only be walking at a pace that you can carry on a conversation with others. 
Snacks will be essential to help break up the journey, and to provide a small boost of energy when you're feeling drained.
Make sure you stay hydrated, as this is essential to reduce the symptoms of altitude sickness. 
Where possible, aim to complete short treks before your Kilimanjaro adventure, as a fit hiker is more likely to enjoy the experience. 
How to climb the Lemosho route
Mount Kilimanjaro routes
Machame Route. Distance: 62 km, average duration: 6-7 days, success rate: 75%-85%
Marangu Route. Distance: 72 km, average duration: 5-6 days, success rate: 50%
Lemosho Route. Distance: 70 km, average duration: 7-8 days, success rate: 65%-90%
Rongai Route. Distance: 73 km, average duration: 6-7 days, success rate: 65%-80%
Shira Plateau Route. Distance: 56 km, average duration: 7-8 days
Umbwe Route. Distance: 53 km, average duration: 5-6 days, success rate: 60%-70%
Northern Circuit Route. Distance: 98 km, average duration: 8-9 days, success rate: 95%
​​​​​​
Lemosho route tours & reviews
A TRAVEL MAGAZINE BY TOURRADAR