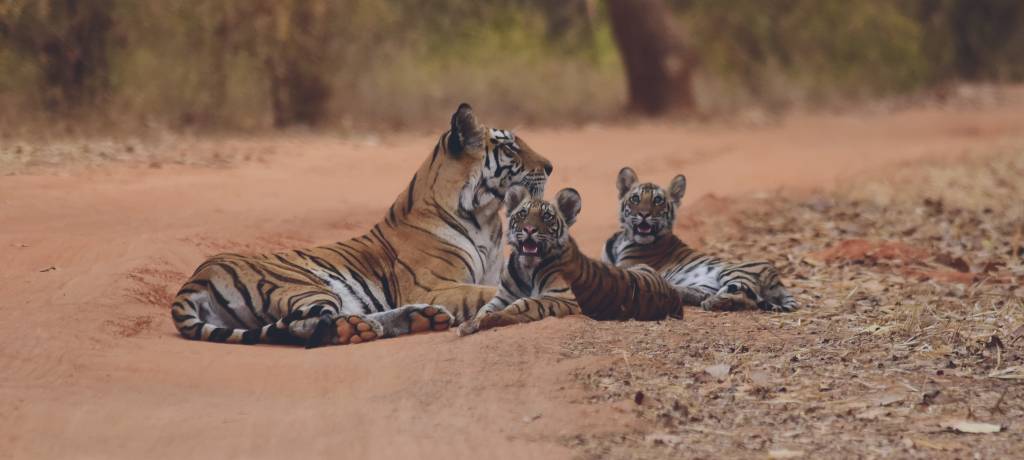 Things to do in and around Ranthambore
This huge reserve is filled with wildlife, birds, and reptiles. The tigers in Ranthambore are renowned, and this region is a popular place in India to see these creatures in the jungle. Along with members of the animal kingdom, the park offers cultural activities like exploring the ancient temples and the Ranthambore Fort. Find out more about the sights and attractions in Ranthambore National Park. 
See all Ranthambore safaris
Things to do in the park
Ranthambore Fort

This impressive ancient fort is a remnant of royal days gone by. It sits upon a hill, overlooking the jungle shrub of Ranthambore National Park. A Chauhan ruler built it, although in which era and by what ruler is the stuff of legends and some dispute. Its days as a royal fort are no longer, but it continues to be a distinguishing feature among the animal kingdom.

Trinetra Ganesha Temple

The story of this temple tells of gods stepping in to take control of matters during a war that lasted many years. For those reasons, Trinetra Ganesha Temple is an important site in the park. The temple is located in front of the Ranthambore Fort, so visitors can easily explore both landmarks over the course of an afternoon or day. 
 

Padam Lake

Padam Lake is the largest lake in the Ranthambore Park, and got its moniker from the lotus flowers that blossom in the area in large numbers. On one side of the lake, the old royal hunting lodge of Jogi Mahal is visible. There are also ample wildlife spotting opportunities around the lake; in the early hours of the morning, it's not uncommon to see deer quenching their thirst with the lake's waters. 
 

Kachida Valley

The valley's beauty lies in the hues of the landscape. Patches of green and burnt orange fuse together, forming a terrain for panthers to prowl through. The majority of the park's panthers can be found in Kachida Valley, as the animals avoid the main jungle in order to avoid run-ins with tigers.  
 

Jogi Mahal

Explore the cultural heritage of the Ranthambore by visiting Jogi Mahal. It was built as a hunting lodge by the royal family of Jaipur and used by many Maharajas in the subsequent years. While it's no longer possible to stay here, it's possible to visit Jogi Mahal. The view of Padam Lake from the lodge and the rich architecture of the landmark make it a worthwhile stop.

Raj Bagh Ruins

These ruins surrounded by nature and lake waters are a beautiful sight. Raj Bagh's ancient stone structures are a reminder of the park's rich past. If you're lucky, you'll see colourful birds perched upon the arches, domes, and steps - imagine vibrant feathers against the pale colour of the ruins? From time to time, tigers have been known to take refuge within the dwelling. 
 

Bakula

Bakula is densely covered with forest and vegetation. The area contains various pools and watering holes, making it a honey pot for wildlife looking to find respite and quench their thirst. For this reason, Bakula offers some of the best wildlife viewing opportunities. There's a chance you'll see some beautiful tigresses with their young ones looking for a spot to kick back during the day. 
 

Akaula

Like Bakula, this is another densely forested area of Ranthambore which is also abundant with watering holes. The rich and varied plantation is a beacon for nearby wildlife, drawing them below hanging branches in search of food or a cooler environment. The trees are home to birds, squirrels, and monkeys, and of course, mothering tigers are also prone to wander through these parts with their cubs.

Lakarda and Anantpura

Lakarda and Anantpura are situated in the north-western and northern territories of Ranthambore National Park. This region is known for being inhabited by sloth bears, due to the availability of food sources like honeycombs and fresh fruits. The climate of Lakarda and Anantpura suits sloth bears much better. There are also other animals such as monkey species, striped hyenas, and porcupines in these parts.
Most popular Ranthambore safaris
FAQ
What are the opening hours of Ranthambore?

The opening hours of Ranthambore National Park vary based on the season. In February, March, and October, morning trips start at 6:30 am and continue until 10:00 am, and afternoon trips take place from 2:30 pm until 6:00 pm. Between April and June, morning trips start at 6:00 am and continue until 9:30 am, and afternoon trips are from 3:00 pm until 6:30 pm. From November until the end of January, the park is open from 7:00 am until 10:30 am, and from 2:00 pm until 5:30 pm.

Is it safe to visit Ranthambore?

Yes, Ranthambore National Park is safe to visit. However, as with any other destination involving wild animals, precautions must be taken. To make sure your experience is smooth, always follow the park's rules, don't disturb the animals, respect the signs inside the park, and do not enter areas that are forbidden.

How big is Ranthambore National Park?

The two sanctuaries that make up Ranthambore National Park, Mansingh Sanctuary and the Kaila Devi Sanctuary, cover an area of 392 square kilometres (151 square miles). The park consists of 10 zones and a buffer area. Ranthambore National Park is one of the biggest national parks in Northern India, and also one of the most popular.

Are there any vaccinations required for India?

Yes, most travellers need vaccinations before entering India. The most common vaccinations are for Hepatitis A and Typhoid, however, the extensive list is long and varies based on the traveller's country of origin. Make sure you visit a travel doctor before heading off in order to be 100% sure.
Contact our Travel Experts
+1 844 311 8331
24/7 Support
Our team of experienced tour specialists have travelled to hundreds of countries around the globe and have decades of first-hand travel experience to share. Contact us now to have all of your tour-related questions answered!
Ranthambore safari reviews
Tour operators and travel companies in Ranthambore
A TRAVEL MAGAZINE BY TOURRADAR