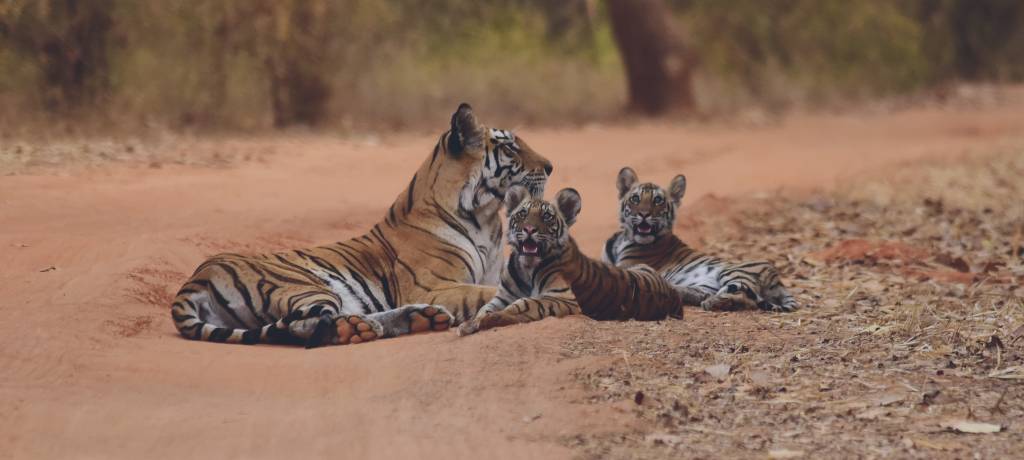 Wildlife of Ranthambore National Park
As one of India's iconic animal reserves, it's no surprise that Ranthambore National Park is teeming with wildlife. From tigers prowling through the jungle and monkeys playfully hanging from trees to crocodile-filled lakes and valleys where sloth bears pick at honeycomb, discover the creatures of this revered sanctuary.
See all Ranthambore safaris
Wildlife of Ranthambore National Park
Royal Bengal tigers

Ranthambore's fiercest predator is also one of the national park's most majestic beasts. The Bengal tiger is considered to be among the biggest wild cats alive today, but sadly this beautiful animal is threatened by poaching and has been listed as endangered since 2008. The jungle terrain of Ranthambore in northern India is a great opportunity to see this endangered species in their natural habitat. 

Best time to spot: April to May (It's hot but the chances of seeing tigers increase in the summer) 

Sloth bears

This animal loves to inhabit areas with forest cover and low hills. Due to habitat destruction, sloth bears are a vulnerable species. The sloth bear's distinguishing features are its long shaggy coat and mane around the face and long-clawed paws. They breed during spring and early summer and give birth around the beginning of winter, so if you time your safari during the colder months, you maybe get to see sloth bears with their little ones.

Best time to spot: During an evening safari 

Leopards

Ranthambore may be famous for tiger population, but growling leopards are also a rare feature amid the unruly shrub. Like other creatures found in the reserve and because of threats to their habitat, leopards are also listed as a vulnerable species. They inhabit forested areas that are tropical or dry, and Ranthambore offers plenty of spaces that appeal to this wild cat.

Best time to spot: Leopard sightings are rare but occur throughout the year 

Snub-nosed marsh crocodiles

One of the highlights of Ranthambore National Park is the crocodile-filled lakes. These snub-nosed crocodiles occupy the marshes and water bodies located in this vast wildlife reserve. While spotting crocodiles may seem like an unusual thing to do, how often do you get to encounter this animal in person? Ranthambore is a great place to take advantage of this once in a lifetime opportunity.

Best time to spot: You're more likely to see crocodiles along the Chambal River 

Striped hyenas

Striped hyenas are native to the Indian subcontinent and tend to live alone or in pairs. As nocturnal creatures, they can be hard to spot, but among the animals that occupy Ranthambore National Park, hyenas are a highlight for visitors coming to experience a safari in the region. Sadly, as a near-threatened species, their population is in decline.

Best time to spot: Hyenas come out when it is dark and return to their homes before sunrise 

Indian wild boar

A subspecies of wild boar native to India, Nepal, Burma, western Thailand and Sri Lanka, the Indian wild boar is also known as the Andamanese pig or Maupin pig. These impressive creatures are hunted by many of the predators found in the region and offer sustenance to the tigers and leopards known to inhabit the area.

Best time to spot: They can be found in open spaces and wild riverine areas 

Gray langur

These adorable (looking) monkeys are one of the most widespread species of langurs throughout the Indian subcontinent. They are Old World monkeys initially thought to be one species, and they have since been divided into seven different species. These furry creatures have a sacred place in Hinduism and are sometimes referred to as the Hanuman Langur, after the Hindu monkey-god Hanuman. They spend half their time on the ground and the rest of the time, hanging from trees.

Best time to spot: During the day 

Sambar deer

The pastures and plains of Ranthambore National Park are also home to sambar, a large deer native to the Indian subcontinent. Human hunting of sambar has led to them becoming a vulnerable species. They can be seen roaming around the dense forests of the reserve close to water and are a food source for leopards and tigers which makes sambar an essential part of the local ecosystem.

Best time to spot: Most active at dusk and night 

Indian peafowl

In a national park that was once the hunting ground of royalty, it only makes sense that the Indian peafowl is among the creatures from the animal kingdom found here. The brightly coloured peafowl (or peacock) is the national bird of India. During the day peafowls like to avoid the heat and seek cover, but they enjoy wandering at dusk towards water, as a group or in single file. At night they can be found roosting on tall trees.

Best time to spot: Early morning in open areas 
Most popular Ranthambore safaris
FAQ
Are there any vaccinations required for India?

Yes, most travellers need vaccinations before entering India. The most common vaccinations are Hepatitis A and Typhoid, however, the whole list is long and varies based on the traveller's country of origin. Make sure you visit your doctor before you travel to be 100% sure.

How big is Ranthambore National Park?

The two sanctuaries that make up Ranthambore National Park, Mansingh Sanctuary and the Kaila Devi Sanctuary, cover an area of 392 square kilometres (151 square miles). The park consists of ten zones and a buffer area. Ranthambore National Park is one of the biggest national parks in northern India, and also one of the most popular.

What are the opening hours of Ranthambore?

Opening hours of Ranthambore National Park vary based on a season. In February, March & October morning trips start at 6.30 am till 10.00 am, afternoon trips take place between  2.30 pm until 6.00 pm. Between April and June morning trips start at 6.00 am till 9.30 am, afternoon trips are from 3.00 pm to 6.30 pm. From November until the end of January the park is open from 7.00 am to 10.30 am and 2.00 pm to 5.30 pm.

How much does a Ranthambore safari cost?

Price for entering Ranthambore National Park is different for foreigners and local, who enjoy lower rates. Prices change based on the chosen vehicle, for example, an open-topped jeep for six is more expensive. For a relaxing and hassle-free experience book a safari tour organised by an operator. Tours usually include pickups, safari excursions and accommodation. Price will change based on the duration of your stay, choice accommodation and preferred amenities.
Contact our Travel Experts
+1 844 311 8331
24/7 Support
Our team of experienced tour specialists have travelled to hundreds of countries around the globe and have decades of first-hand travel experience to share. Contact us now to have all of your tour-related questions answered!
Ranthambore safari reviews
Tour operators and travel companies in Ranthambore
A TRAVEL MAGAZINE BY TOURRADAR