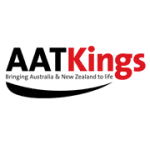 Number of tours

169
Age Range

5-99
Number of reviews

56
Rating

4.4

/5
Response rate

92%
Response time

within 2 days
Sandra

Written on July 8th, 2022

Booked through Touradar and no passenger information was sent across to AATKING. tour director Christin, and driver, Tom were amazing.their knowledge and inform…

Read more

Written on June 16th, 2022

I feel that everything that was worth seeing & doing was included on this tour. Dave & Phil were a wealth of information & did a great job at rearranging the it…

Read more

Written on April 28th, 2022

Certainly saw the highlights on what is really a quick look/see altho the time at Yulara was good. Initial background organising by AAT was poor (staff shortage…

Read more

Lynda

Written on January 4th, 2022

Had a good time. Saw and learnt lots. Had some fun. Met some lovely people. Eat some great food. Drank too much. lol

David

Uluru & Kings Canyon Explorer (Short Break, 3 Days) (1 destination)

Written on September 2nd, 2021

We all realise that numerous companies (including tour group AAT Kings) have had a terrible time financially during the Covid pandemic. Notwithstanding, the ac…

Read more

AAT Kings commented on this review

Dear David, Thanks for your review and we would like to investigate this with you further. Would you be able to contact guestrelations@ttc.com with your name, your booking details and your intended date of travel. Thanks so much, AAT Kings Guest Relations

Ann

Written on July 31st, 2021

DO NOT TRAVEL WITH AAT KING They leave their travellers in the lurch when things get difficult l! Darwin went into lockdown one hour before our trip was due to…

Read more

AAT Kings commented on this review

Dear Ann, Thanks for your review and regrettably, Darwin and surrounds were put into an immediate lockdown with very minimal warning. When these things happen we have to follow government directions and for the safety of our guests, our crew and the public our trips were cancelled as were all travel operators. If you would like to discuss further then please contact guestrelations@ttc.com with your name, your booking details and your intended date of travel. Thanks so much, AAT Kings Guest Relations

Written on June 23rd, 2021

The content was as expected. The presentation was a little disappointing. The guide seemed to be in catch up mode some of the time - checking up on the next pa…

Read more

AAT Kings commented on this review

Dear Kath, Thanks for taking the time to review our tour and we are glad that you enjoyed the content although although we are disappointed that other aspects did not meet your expectations. We would like to investigate this further for you as your comments are important to us, and if you could email us at guestrelations@ttc.com with your name, booking reference and date of travel. We hope to hear from you soon. Thanks, The Team at AAT Kings

Written on June 19th, 2021

Bridget our guide was fantastic , a wealth of knowledge and could not do enough to help make our trip a lasting fond memory

AAT Kings commented on this review

Dear Rob, Thanks very much for your review and it sounds like you really enjoyed exploring Cooktown with us. We will pass along your comments to Bridget and our guides really enjoy sharing their vast array of knowledge with our guests. We hope you enjoyed the rest of your time in Tropical North Queensland and thanks for choosing to travel with AAT Kings. Thanks, The Team at AAT Kings

Written on June 3rd, 2021

Recently my husband and I went on an AATKings tour from Darwin to Broome. We have travelled extensively overseas and within Australia. However, this was the BES…

Read more

AAT Kings commented on this review

Dear Barbara, Thanks for your wonderful review and it sounds like you had an amazing time exploring the Kimberley's with AAT Kings and it is a very special part of our country. We will pass on your amazing feedback to Carolyn and she really does enjoy sharing her knowledge with our guests. Thanks for sharing your photos as well and you have really captured the true wilderness of the area. Hopefully see you soon on another AAT Kings tour. Thanks, The Team at AAT Kings

My wife & I did the Katherine gorge tour on 5/5/21 the coach was 40mins late then drove past our motel while 8 of us watched it drive by. Only to have the Kaka…

Read more

AAT Kings commented on this review

Dear Paul, Thanks for taking the time to review our tour although we are disappointed that some aspects did not meet your expectations. We would like to investigate this further for you as your comments are important to us, and if you could email us at guestrelations@ttc.com with your name, booking reference and date of travel. We hope to hear from you soon. Thanks, The Team at AAT Kings
AAT Kings Videos
Enhanced Hygiene Protocols
We Are Committed To Your Wellbeing

We have all adapted to this new world, where it's imperative for us to take additional measures to stay healthy. That's why you can travel with us reassured that we have put numerous new measures in place to elevate our hygiene standards and protocols. The health and wellbeing of our guests and team has always been, and always will be, our primary concern. In this new, fast changing Covid-19 era, we are doing all we can to adapt to new requirements and expectations. Here are some important new steps and procedures that we have implemented to enhance hygiene protocols, to comply with physical distancing requirements by relevant government authorities and to give you the needed peace of mind during your travels in these new times.
Trained Travel Directors
Our Travel Directors have been newly trained in new and enhanced hygiene and physical distancing procedures. During your trip, they will operate with a duty of care and monitor the hygiene etiquette of our guests, reacting and advising as needed, to ensure high standards are maintained. We will also look to you being well informed before you travel about new protocols required in these areas, and that you cooperate with and heed the advice and direction of our Travel Directors while on your trip. Our Travel Directors have preventative measures in place to ensure your wellbeing and in the event that any unexpected issues arise on trip, they will activate additional protocols.
A Full Team of Support - 24/7
It's not just your Travel Director and Driver who will be taking care of you. Behind the scenes, our operations and guest support teams are in contact with them and on call 24/7, so you can rest assured that you're in good hands.
Stringent On The Road Protocols
Our customised luxury coaches are sanitised before the start of your trip and have always been kept to very high standards. Following the outbreak of COVID-19, we have taken additional measures to elevate our hygiene and sanitary practices in accordance with guidance from the World Health Organisation (WHO) and as required, applicable government regulations. Our drivers are trained with the latest hygiene protocols and will clean and disinfect all surfaces including handrails, door handles, tables, seats, air-conditioning filters and overhead lockers on a daily basis. All our guests are asked to follow hygiene practices recommended by the World Health Organisation including the thorough and regular washing of hands and sanitising when required. Hand sanitiser is freely available on board for our guests to use throughout the day. Please bring your own washable face mask and gloves with you, and additional hand sanitiser to make you feel comfortable. Should an unexpected situation arise, additional face masks, rubber gloves, antiviral sprays and wipes are available for guest distribution on all trips.
Trusted Partners, Exceptional Standards
We are very selective in who we work with and choose to only use hotels, restaurants, suppliers and venues that take the health and wellbeing of our guests as seriously as we do and agree to meet expected guidelines and specifications. We only work with establishments that we are confident will consistently adhere to our standards.
Smaller Groups, More Personal Space
Thanks to our perfect-sized smaller groups you will find more personal space on board. Smaller groups also mean less queuing whilst embarking and disembarking, as well as at hotels and attractions, so it's easier to maintain a comfortable physical distance. Group sizes will be continuously reviewed to align with government recommended protocols.
Air Conditioning
Our coaches with more than 32 seats will be equipped with high efficiency MERV 9 rated filters that will work in conjunction with the standard primary and secondary filters installed from new. We have changed how the fresh air system works on all our coaches ensuring that the air is completely exchanged in the cabin in less than 15 minutes.
Always In The Know
As part of The Travel Corporation (TTC), AAT Kings is kept up to date with all government advisories and travel alerts on a daily basis and is continually in touch with all of our partners on the ground in each destination. Also, rest assured that during your trip, our teams work to ensure our supplier partners (hotels, restaurants, museums and other venues) are also applying the same standard to these new hygiene and distancing protocols, to the extent possible.
Questions & Answers
Do you have a seat rotation policy?

AAT Kings has a seat rotation policy to allow you the opportunity to enjoy seats at the front of the coach. This means that everyone changes seats daily during the course of the tour and gives you the opportunity to meet new people too.

What are the coaches like to travel on?

AAT Kings use modern and luxurious Scania coaches which are equipped with air conditioning, reclining seats, seatbelts, restrooms, two door access, ample legroom and large panoramic windows, so you won't miss a thing. Many of the coaches are also equipped with phone chargers and offer complimentary WiFi so you can keep in touch with friends and family.

Are your tours suited to elderly passengers?

AAT Kings offers such a diverse range of tours, there are sightseeing options to suit everyone. However, it's important to read the itinerary in full before booking as some tours will require more walking or a higher fitness level than others. If you are unsure or would like to know more details you can always contact our team of travel experts who are available 24/7.

What are Optional Experiences?

AAT Kings includes the must-see and must-do experiences in all of their tours but you also get the opportunity to customise your tour with a selection of Optional Experiences for an additional cost. The details of the optional experiences will be sent with your final travel documents approximately four weeks before departure as they can vary depending on the tour you select.

Is smoking allowed on your tours?

Australian government regulations prohibit smoking onboard all tourist coaches whilst in Australia. Smoking is also not permitted in hotels, restaurants and certain public spaces. However, there will be plenty of stops on the tour for you to have a quick break, use the bathroom or take some tourist photos.

Do I need travel insurance?

It is strongly recommended for all travellers to take out travel insurance to cover any unforeseen circumstances whilst they are travelling.

Are children able to travel on your tours?

Accommodating children on the tours is not a problem however it is important to note that all children are required to be a minimum age of 5 years or older and all children under 18 years of age must be accompanied by an adult. It is recommended that people travelling with children consider whether the itinerary is suitable, in particular, the activities involved and the duration of the tour to ensure the best comfort for small children.

What type of passengers travels on an AAT Kings tour?

Due to the diverse range of destinations and touring styles that AAT Kings offers, there is no set age or type of traveller who travels with them, you can, however, expect a wide range of like-minded travellers. As AAT Kings is known around the globe you will also find that there are people from all over the world travelling on the tours.

Do you provide past passenger discounts?

If you have travelled with AAT Kings before you will have access to their past guest program which entitles you to a discount next time you book a tour with AAT Kings weather it is one of their Guided Holidays or an Inspiring Journeys holiday.

How reliable is AAT Kings to travel with?

AAT Kings are a multi-award winning tour company with more than 30 years' experience in Australian sightseeing and Day Tours. They continue to place the highest value on quality and service and boast a 96% satisfaction rating from past travellers, many of whom are past travellers. They are also a bonded global member of Tour Operator Associations, with a worldwide reputation for reliability, all of which adds up to complete peace of mind when booking a tour with them.

What does 'AAT' in AAT Kings stand for?

The 'AAT' in AAT Kings stand for 'Australian Accommodated Tours'
Contact our Travel Experts
+1 844 311 8331
24/7 Support
Our team of experienced tour specialists have travelled to hundreds of countries around the globe and have decades of first-hand travel experience to share. Contact us now to have all of your tour-related questions answered!