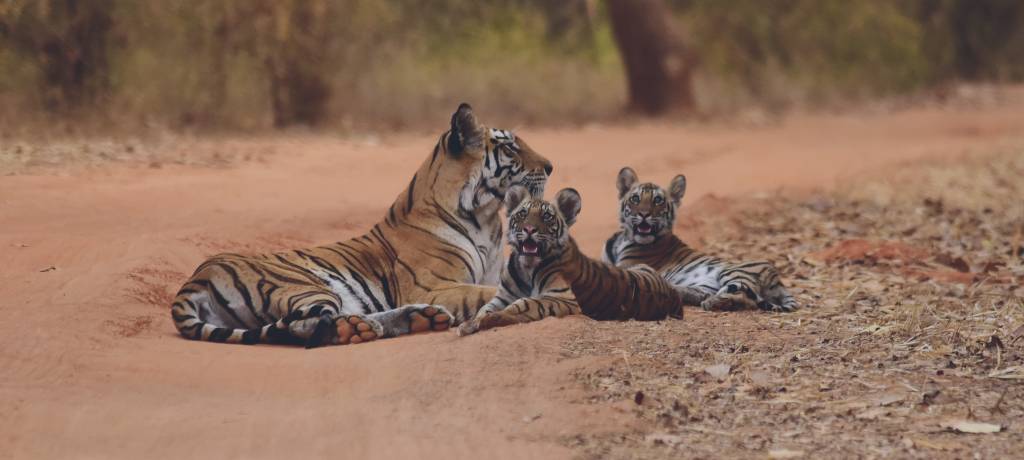 Maps of Ranthambore National Park
This famous national park is made up of 1334 square kilometres of jungle terrain. Majestic tigers, crocodile-filled lakes, the 10th-century Ranthambore Fort, a splattering of temples and mosques, and memorials and remnants of royalty make this park one of the best places to experience a safari. The following maps will show you some of the highlights!
See all Ranthambore safaris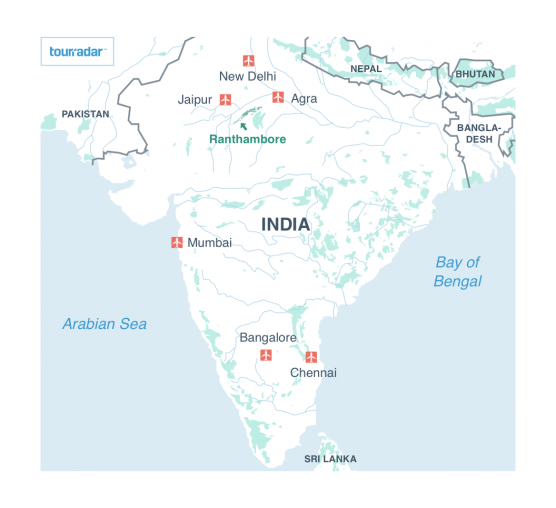 Ranthambore location map
Ranthambore is a huge wildlife reserve located in Rajasthan, northern India, near a town called Sawai Madhopur. Cities close to the park are
Jaipur
(155 kilometres) and
Agra
(260 kilometres). Visitors going on a safari in the area often fly into Jaipur National Airport. There are also regular flights available to Jaipur from New Delhi, Mumbai, Bangalore, Jodhpur, and Chennai. Learn more on
how to get to Ranthambore
.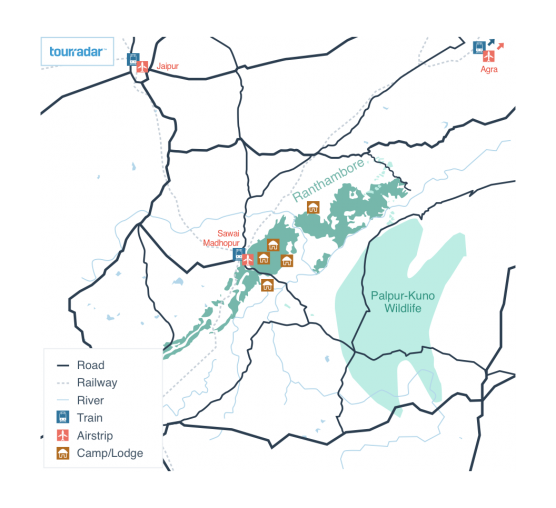 Ranthambore road map
Formerly a royal hunting ground, Ranthambore is now a sanctuary that's home to tigers, crocodiles, and leopards. Along with main roads from Jaipur and Agra to the park, there are train options. The nearest train stop is Sawai Madhopur Railway Station, a short distance from the park. There are many lodges dotted around the park where visitors can stay during their safari.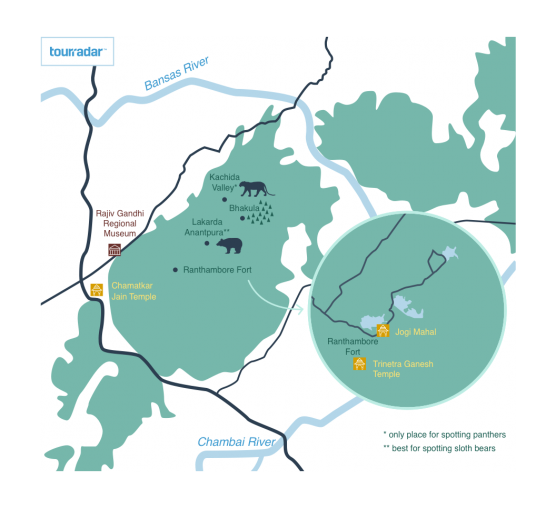 Ranthambore attraction map
Along with being home to tigers, there are other iconic beasts within the park. In Kachida Valley visitors can watch
panthers
, and in Lakarda Anantpura, there are
sloth bears
. Wildlife is not the only feature of Ranthambore: the royal family have left behind many monuments. The ancient
Ranthambore Fort
is a must see along with a stop at
Jogi Mahal
, an old hunting lodge of the royal family. You can visit the
Chamatkar Jain Temple
and explore one of Rajasthan's most renowned and oldest temples,
Trinetra Ganesh Temple
, or learn about natural history at the
Rajiv Gandhi Regional Museum
. See all
attractions in Ranthambore
.
Most popular Ranthambore safaris
FAQ
What are the opening hours of Ranthambore?

Opening hours of Ranthambore vary during different seasons. In February, March and October, morning trips start at 6.30 am till 10.00 am; afternoon trips take place from 2.30 pm till 6.00 pm. Between April and June morning trips begin at 6.00 am till 9.30 AM, afternoon trips are from 3.00 pm to 6.30 pm. From November till the end of January the park is open from 7.00 am to 10.30 am and 2.00 pm to 5.30 pm. While we make every effort to provide up-to-date information, times may change.

Is it safe to visit Ranthambore?

Yes, Ranthambore National Park is safe to visit. However, as with any other destination involving wild animals, precautions must be taken. To make sure your experience is smooth, always follow the park's rules, don't disturb the animals, respect the signs inside the park, and do not enter areas that are forbidden.

How big is Ranthambore National Park?

The two sanctuaries that make up Ranthambore National Park, Mansingh Sanctuary and the Kaila Devi Sanctuary, covers an area of 392 square kilometres (151 square miles). The park consists of 10 zones and a buffer area. Ranthambore National Park is one of the biggest national parks in Northern India, and also one of the most popular.

Are there any vaccinations required for India?

Yes, most travellers need vaccinations before entering India. The most common vaccinations are for Hepatitis A and Typhoid. However, the extensive list is long and varies based on the traveller's country of origin. Make sure you visit your doctor before you travel to be 100% sure.
Contact our Travel Experts
+1 844 311 8331
24/7 Support
Our team of experienced tour specialists have travelled to hundreds of countries around the globe and have decades of first-hand travel experience to share. Contact us now to have all of your tour-related questions answered!
Ranthambore safari reviews
Tour operators and travel companies in Ranthambore
A TRAVEL MAGAZINE BY TOURRADAR