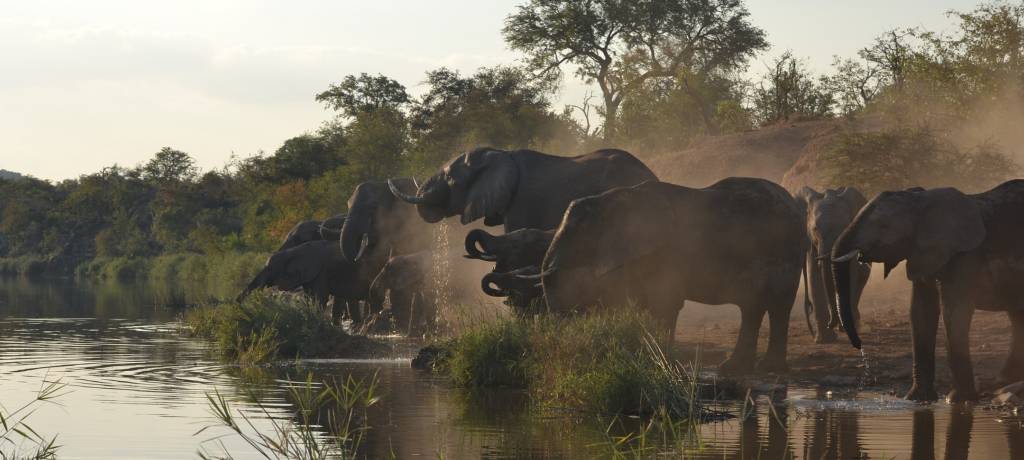 Animals and Wildlife in Kruger National Park
Africa has many incredible places to go on a safari, and Kruger National Park is one of its greatest wildlife destinations. It may get crowded, but as soon as you set foot in the park's rolling plains, you'll understand why. Learn all about about Kruger's animal kingdom below. 
See all Kruger safaris
Animals to spot in Kruger National Park
With approximately 145 mammal species, Kruger National Park is one heck of a safari destination. Discover some of the other iconic animals that can be seen roaming in the wild among the grasslands and open plains. 
Lions

One of Kruger's most unforgettable experiences is hearing the roar of a lion at night! Kruger has an estimated 1500 lions, and they can be found stalking prey in the grasslands, as this is where zebras and wildebeest, their prime food source, tends to congregate. Lions can be seen throughout Kruger, but the southern and central sections are the most populated. The open terrain around Satara rest camp is famous for spotting lions, and there's a pride that likes to hang around the S100. Other areas to see lions include Nsemani Dam and along the H7 to Orpen Gate.

Leopards

The Sabie Sand River basin is renowned for some of the highest leopards sightings in Africa. Maximise your chances of seeing this big shy cat as much as possible by taking the H4-1 either in the early morning or late afternoon, between Skukuza and Lower Sabie, while keeping your eyes peeled at the various trees native to the region. Leopards love to take shade in thick trees during the day but have also been known to walk across the roads, reeds and rocks along rivers.
 

Rhinos

Kruger National Park is one of the few places in Africa where it's still possible to see these remarkable animals in the wild. Rhinos have suffered terribly at the hands of poachers, their numbers have dwindled drastically, and they are now an extremely endangered species. Which is why seeing a rhino in the wild is such a precious occurrence, and Kruger is probably one of the best places for it to happen. In 2017, it was estimated that around 5000 rhinos were residing within the park. Tip: During the day they like to laze in the shade or at a mud wallow and an expert guide can help you find these kinds of areas in increase your chances of spotting them! 

Elephants

Kruger National Park offers elephant viewing throughout the year, but some of the best times to visit are during the dry months, because this is when thirsty animals flock to watering holes, making it much easier to spot elephants. Kruger's thriving population of elephants can be found all over the national park, often in groups of around 30.

Buffalo

Like elephants, Kruger National Park is abundant with buffalo, and they can be seen all over the park in herds of up to 200. They like to live in woodland savannas, and can often be found grazing in grassy pastures. They are the most dangerous Big Five creature, so pay attention to your safari guide when encountering these powerful horned beasts.
 

Cheetahs

Expert research suggests that cheetahs like knobthorn and marula woodland. Kruger's southern and central areas like Lower Sabie, Satara and Orpen are best for this kind of vegetation. To spot cheetahs, visitors should drive along Nhlowa Road from Lower Sabie towards Crocodile Bridge Rest Camp, paying particular notice to the area around Nthandanyathi Hide, as well as Duke's and Mac's waterholes. You could also try the roads to Mlondozi Dam. Visitors in the central regions should not leave without journeying along the famous S100 road or the H7 between Satara and Orpen, as cheetahs are frequently sighted in both these locations.

 

Giraffes

Kruger National Park is one of the best places to see vast herds of giraffe in Africa. The main reason for this is the park has used tourism to help their conservations efforts and so, giraffe numbers have increased! Herds are widespread around the park, but visitors tend to sight these long-necked creatures in the Satara area, Olifants River, and Lower Sabie. For a truly majestic sight, try to catch a herd of giraffes quenching their thirst in a river or watering hole.

Impalas

One of the things that Kruger National Park is famed for is its numerous species of antelope. Of these the impala number around 120,000. You'll find these graceful creatures all over the park, and in fact, visitors see them almost as soon as they set off on a safari. The most substantial herd numbers can be found in open areas lined with trees or denser forests, as these are their favoured living quarters.

Hippopotamus

There are plenty of hippos to be seen in Kruger National Park. Visitors can catch this large animal wallowing in rivers and dams throughout the national park, and they are also a common sight at most watering holes. As they are semi-aquatic, hippos also spend time on land and leave their watery base around dusk to graze on grass. If you set out on a sunset or night game drive, you might be lucky enough to see one wandering along the road. At some rest camps in the park like Lower Sabie, visitors have even heard hippos laughing in the rivers at night.
Unique wildlife safaris in Kruger
Contact our Travel Experts
+1 844 311 8331
24/7 Support
Our team of experienced tour specialists have travelled to hundreds of countries around the globe and have decades of first-hand travel experience to share. Contact us now to have all of your tour-related questions answered!
Tour operators and travel companies in Kruger
A TRAVEL MAGAZINE BY TOURRADAR