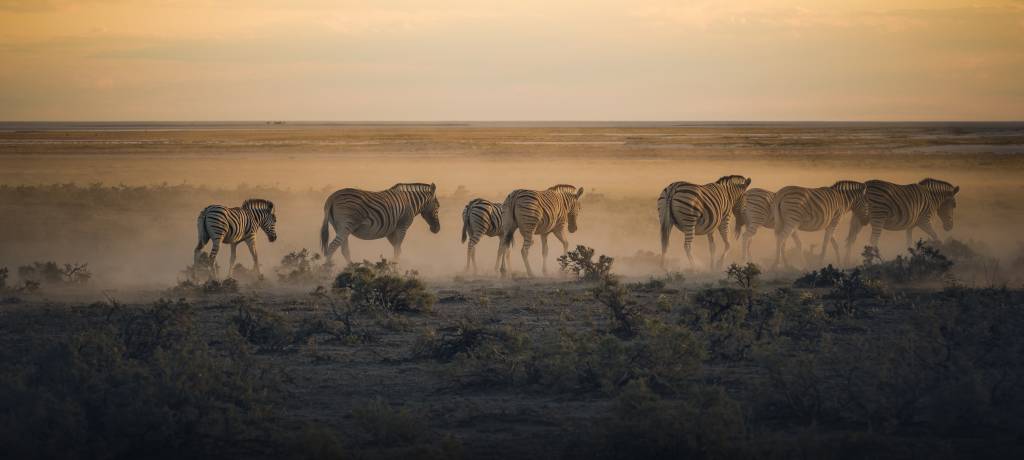 Costs and Fees for Etosha National Park
Etosha National Park is one of Namibia's animal kingdoms. Hear a lion roar, see elephants march, and look on as springboks, zebras and giraffes move gracefully across the open plains. Curious to know how much it's going to cost to discover Namibia's wildlife on a safari? The information on this page breaks down the fees associated with a visit to Etosha National Park.
See all Etosha safaris
Fees for Etosha National Park
Below you'll find the entrance fees for Etosha National Park in USD and local Namibian Dollar. Please note that the exchange rate is an estimation and will fluctuate over time.
 
Foreign Nationals
SADC Resident
Namibian Resident
Adults (17 years old or over)
$80 NAD ≈ $6 USD
$60 NAD ≈ $4 USD
$30 NAD ≈ $2 USD
Children (16 and less)
Free
Free
Free
Vehicle: 10 seats or less
$10 NAD ≈ $1 USD
$10 NAD ≈ $1 USD
$10 NAD ≈ $1 USD
Vehicle: 11-25 seats
$40 NAD ≈ $3 USD
$40 NAD ≈ $3 USD
$40 NAD ≈ $3 USD
Vehicle: 26-50 seats
$300 NAD ≈ $22 USD
$300 NAD ≈ $22 USD
$300 NAD ≈ $22 USD
Price factors to consider when going to Etosha National Park
Below you'll find some information as to what elements may impact the cost of your safari. The best way to experience a safari in Etosha is to book a tour that covers most of the things outlined below. You can find the most reasonably-priced safaris on TourRadar.
Accommodation

Accommodation is among the things that will impact the cost of your safari in Etosha National Park. Depending on your budget, you'll find a selection of places to stay within the park and just outside it, from rest camps to luxury lodges and guesthouses. Staying within the park at one of the rest camps is the best way to make the most of your time, but bear in mind that accommodation within Etosha is popular, so book well in advance to avoid disappointment.

Transportation

If you're visiting Etosha National Park, you have the option of a self-drive safari or a safari with a local guide. Driving yourself around is a great way to explore Etosha because it's an excellent park for a self-drive safari. The cost of renting a 4x4 is about $150 USD per day. But it's also worth considering a guided safari, as they're very experienced with the terrain and local ecosystem, meaning they will know the best places to spot wildlife!

Tipping

Tipping is expected on a safari. You should factor this into the cost of your trip, as you'll need totip at your lodge and also to your guides and drivers of safari vehicles. Most safari companies recommend $10 USD per day for guides and drivers, $10 USD per day for camp or lodge staff, and $3 USD per day for transfer drivers and porters.

Low vs high season

During the park's peak season (July to September), Etosha gets crowded, and you can expect to pay more for accommodation and other elements of your trip. In comparison, the low season is less crowded, and while the weather can be hotter, you'll enjoy lower rates. Wildlife can be trickier to spot, but not impossible, and if you're on a budget, this might be a good option! For more information on the best time to visit, see here.

Cash and card

Credit and debit cards are accepted in most shops, restaurants and hotels, but it's a good idea to always carry cash in the local currency on you, as smaller venues probably won't take your card. There may be a transaction fee so check the charges with the institution you bank with. Also, Visa and Mastercard are generally preferred over American Express, Diners Card, etc.

Currency

The local currency is the Namibian dollar (N$). It's divided into 100 cents and similar to the South African rand, which can also be used in Namibia at a 1:1 rate. If you need to exchange cash, you can do so at banks and exchange offices. You'll get the best exchange rates at a bank, but don't forget you can also use credit and debit cards at ATMs that accept them to obtain the local currency.
Best Etosha safari deals
A TRAVEL MAGAZINE BY TOURRADAR