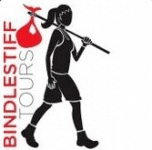 Number of tours

31
Age Range

7-99
Number of reviews

1,053
Rating

4.9

/5
Response rate

100%
Response time

3 hours
Written on May 13th, 2022

This tour, that my husband and my brother and his wife took with with us, was amazing! Our guide, Chris P, was knowledgeable, flexible and engaging and he ensu…

Read more

Bindlestiff Tours commented on this review

Thank you so very much Renee!

The route, arrangements, hotel everything was great. Special thanks to our tour guide Chase, he was very helpful and accommodating!

Bindlestiff Tours commented on this review

Thanks so much Seleha!

Our experience of this tour was more than expected! Our guide Indy was well organized, informative and funny. We had good tour companions, too. The schedule was…

Read more

Bindlestiff Tours commented on this review

Thank you so much Nemu!

Written on April 21st, 2022

My client was very pleased with his tour. He did mention multiple times that the guide was friendly and knowledgeable. He also made note that there was many tim…

Read more

Bindlestiff Tours commented on this review

Thanks for your review.

Written on April 18th, 2022

Well organized and all of the logistics were taken care of so you can just relax and enjoy the trip. Chris was an awesome guide...knowledgeable, funny, charisma…

Read more

Bindlestiff Tours commented on this review

Thank you so much for your wonderful review! Chris is a great guide, and we are happy to hear you had such a great Southwest Adventure with him.

Written on April 18th, 2022

The parks were awesome. Our guide was excellent. The food dictation, not so much. I communicated my concerns with the trip company and they said they would l…

Read more

Written on March 20th, 2022

I loved every minute of this trip and everything went flawlessly. Thanks to tourradar and bindlestiff for making it unforgettable!

Written on March 19th, 2022

Great experience. Our guide Indy was great

Bindlestiff Tours commented on this review

Thanks so much Brenda!

Written on March 18th, 2022

Excellent tour. Indy is a very knowledgeable and eloquent tour guide.

Written on February 11th, 2022

It was an incredible 3-day Wild West trip! Our guide Joel was amazing! As it's now still winter season, there were only two tourists (including me). He took us …

Read more

Bindlestiff Tours commented on this review

Thank you so much for your review Fei!
Health & Safety Guidelines
Travel Safely With Bindlestiff Tours

At Bindlestiff Tours we are closely monitoring government policy changes, Centers for Disease Control (CDC) guidelines, government mandates, and public health advancements and will continue to make changes as deemed necessary and appropriate to our protocols and procedures. Therefore, the information contained in this document is subject to change at any time. Compliance with all posted and below Bindlestiff Tours policies and protocols will be required to participate in a tour and applies to all guests.
Employee & Guest Health
The health and safety of our employees and guests is our number one priority. We are pleased to announce our reopening plan beginning with phase one detailed below. Phase one will continue until further advice from the CDC and other relevant guidelines laid out by local authorities.
Employee & Guest Health Concerns
Our employees have been given clear instructions on how to respond swiftly and report all presumed cases of COVID-19. We will be ready to provide support to our guests. Employees are instructed to stay home if they do not feel well and are instructed to contact management if a guest has a cough, shortness of breath, or other known symptoms of COVID-19. Guests who are exhibiting any of the symptoms of COVID-19 while on tour are instructed to immediately notify their tour guide.
Physical Distancing
Guests will be advised to practice physical distancing by standing at least six feet away from other groups of people. Employees and guests will be reminded to refrain from touching their faces and to practice physical distancing whenever possible. Tour guides have been instructed to not handle guest's cameras. Tour vehicles will have all center seats blocked in order to provide physical distancing while in the vehicle. We are limiting the number of people onboard each vehicle to provide our customers more personal space so there will be no need for the middle seat to be occupied (this is in effect until further notice). But if you're traveling together, you can still sit together.
Before the Tour Begins
At the beginning of each tour all guests  and guide will have their temperature checked using a non contact forehead thermometer. Any guest showing symptoms of COVID-19 or have a temperature exceeding 100.0 Fahrenheit (ca. 38 °C) will not be permitted on tour.  Guests who are aware that they have a condition that causes a fever should bring a letter from a doctor stating that the guest's fever is caused by said condition and the guest should have no other symptoms of COVID-19.
Camping Equipment (for camping tours only)
All camping equipment will be sanitized using a hospital grade fogger and sanitizer before the tour. Guests will be assigned the same camping equipment for the duration of the tour.
Vehicles
All tour vehicles will be sanitized before the tour using state-of-the-art UVA lamps. In addition, all community spaces on the tour vehicle will be additionally sanitized by the tour guide before the tour begins and during the tour whenever possible.
Disposable Face Masks
It is highly encouraged to bring your own hand sanitizer and face covering, and to wear your face covering while traveling. If you forget your mask, one may be available for you while stocks last. All guests will be assigned (1) disposable facemask per day on tour while stocks last. Guests will be instructed to wear their face mask whenever they are in the tour vehicle. Please note that some parks and states are mandating that members of the public wear face coverings at all times when in public. Since these mandates are continuously being updated we encourage you to reach out to us close to your tour date for the latest mandates in each area of your tour.
Hand Sanitizer
Hand sanitizer will be readily available and free for guests to use throughout their tour.
Camping and Lodging Accommodations
All hotels and campgrounds used by Bindlestiff Tours are following sanitization protocols and procedures. Please contact us for information on how to access each facility's procedures.
Food Kitty and Communal Meals Where Applicable
Any tours that offer communally cooked/prepared meals will be altered in the short term. Included breakfasts and lunches will continue where applicable by providing individually wrapped items and disposable environmentally friendly cutlery. Any camping evening meals may be replaced with restaurant service at the guest's expense. Due to these circumstances, local food kitty payments will be reduced and guests will be notified on a per tour basis.
Solo Tents and Solo Guest Rooms
All solo travelers will be provided with their own solo tent if camping. Private hotel rooms are available for additional fees.
New tour offerings
We know guests are anxious to return to the great outdoors. Many guests might be more comfortable primarily traveling with those they know rather than being a part of  large tour groups. Due to these circumstances, we are happy to announce we have launched a series of new Self Drive and Private Tours.
What can you do to keep yourself and other guests safe?
Wash your hands! This is your best defense to avoid sickness. When washing your hands, use hot water and soap. Be sure to wash your hands for 20 seconds or longer to efficiently get rid of any bacteria.
 If you are feeling sick, please let your tour guide know immediately for the safety of yourself and others.
 Cover your cough/sneeze with a tissue or your inner elbow. Do not cover your sneeze with your hands!
 Be sure not to touch your eyes, nose, mouth with your hands if they are not clean.
Sustainability
We work hard to support environmental causes close to both our homes and our hearts. Our consistent focus is to lessen our impact and reduce, reuse, and recycle, to leave the areas we visit in better condition than when we found them. We know that our adventures will only be possible if we preserve the places we love! We are proud to be a member of Tourism Cares.

This op has the following sustainability certifications:
Tourism Cares
Leave No Trace

These are the initiatives that this operator has in place to make your adventure more sustainable:

Sustainability Programs
- Invests a percentage of revenue back into community projects or sustainability projects 
- We host community-building or sustainability projects for tour goers to partake in

Supporting Destinations and Local Communities
- Hires local guides
- Brings our passengers to locally run restaurants & businesses
- We consciously try to reduce over-tourism by taking travellers outside of the main visitor hubs

Reducing Waste
- Does not offer any single use plastic on tour
- Has a recycling program for our guests on tour

Animal Welfare
- Does not offer any tours that include elephant riding
- Does not offer any tours that use animals for entertainment
- We avoid places that sell/eat parts of endangered animals on tour

Transportation
- Uses local transportation while on tour

Accommodation
- Tours stay in locally run hotels/accommodations
- Selects accommodation providers that have sustainability programs in place
- Most/all of our suppliers have sustainability programs in place

Company Culture
- Hosts community-building or sustainability projects for staff to partake in
- Educates passengers about sustainability while on tour
- Educates people about sustainability through our marketing
- We are a paper free company
 
 
Bindlestiff Tours Destinations
Bindlestiff Tours Videos
Contact our Travel Experts
+1 844 311 8331
24/7 Support
Our team of experienced tour specialists have travelled to hundreds of countries around the globe and have decades of first-hand travel experience to share. Contact us now to have all of your tour-related questions answered!