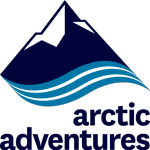 Number of tours

22
Age Range

6-99
Number of reviews

886
Rating

4.4

/5
Response rate

96%
Response time

within 1 day
Written on May 15th, 2022

I Absolutely loved my tour :) everyone was lovely, the scenery was beautiful and i got to see some many amazing things i would have otherwise missed out on, i w…

Read more

Arctic Adventures commented on this review

Hey, Holly, We're glad to hear that you enjoyed our adventure! We hope to see you on our tours again in the future. Kind regards, Arctic Adventures team

Written on May 14th, 2022

The entire tour was great. Our tour leader Sandrin was great. We enjoyed the Iceberg, glaciers, hiking etc. Will recommend.

Written on May 13th, 2022

Well organized tour, made more pleasant by our guide and driver, Adolf. He was very helpful and accommodating

Naveen

Organised very well. Accommodation are superb. My personal idea is 1st,2nd and last days are the best as rest of the days are mostly travelling in eastern side …

Read more

jay

The whole experience from the point of booking to the end of the trip was amazing. Our guide biggi was the best, he went out of his way to show us such amazin…

Read more

Written on April 25th, 2022

The best feature of our tour was the involvement of our guide Hjalti Bjorsson whose knowledge of and passion for the history, culture and natural features of Ic…

Read more

Lorena

Written on April 24th, 2022

The 6 Days around Iceland tour is perfect for people who want to see it all. This tour was very complete taking us all around the country giving us the opportun…

Read more

Written on April 20th, 2022

the 6 day guidet tour throug Island was absolutly perfect. Adolf was a good and safe driver, expolaned al ot about we saw and was very kind en organised. The tw…

Read more

Arctic Adventures commented on this review

Dear Evelyne, Thank you so much for your feedback! We are really glad you enjoyed the tour. A special thank you for mentioning and complimenting our amazing guide. We are sure Adolf will be very happy to read your review. Looking forward to your next visit. Let's explore more of Iceland together! Warm wishes from Iceland.

Maggie

3 Day - Golden Circle, Secret Lagoon, South Coast, Ice Cave and Jökulsárlón - shared bathroom

Written on April 18th, 2022

This tour exceeded our expectations! All of the guides were so accommodating, friendly, helpful, and funny, and we saw/did way more than we expected to, and muc…

Read more

Arctic Adventures commented on this review

Thanks a lot for taking the time to share your feedback. We are glad to know you had a great time with us. We hope to have you back soon for more memorable adventures! Greetings from Iceland

Written on April 10th, 2022

our party wants to give Ditty a high five! Everyone had a fabulous time. The hikes were top of the line! Dining experience was fantastic. Lovely enchanting …

Read more

Arctic Adventures commented on this review

Dear Darlene, Thank you so much for your feedback! We are really glad you enjoyed the tour. A special thank you for mentioning and complimenting our amazing guide. We are sure Diddi will be very happy to read your review. Looking forward to your next visit. Let's explore more of Iceland together! Warm wishes from Iceland.
Arctic Adventures Destinations
Arctic Adventures Videos
Health Measures
WHAT MEASURES IS ARCTIC ADVENTURES TAKING AGAINST THE VIRUS?

In response to the Covid-19 outbreak, Arctic Adventures has put into place various safety measures to protect our adventurers. All safety procedures are based on the guidelines provided by the Icelandic Directorate of Health. Our tour guides and staff have been prepared according to these standards. If there is a high chance of infection, health officials will be contacted and the appropriate measures taken by guides and staff.
We want our clients to know their safety and welfare is always our top concern, whether you're climbing a glacier or avoiding infection. The best way to protect yourself from getting sick is through good hygiene, so every Arctic Adventure vehicle has been equipped with hand sanitizer. Additionally, both vehicles and operational bases have printed out instructions on how to avoid infection.
While we are in the midst of a serious situation, this is not the first time we have seen a health crisis cause widespread panic (i.e Zika, SARS, and Ebola). We hope that as we see more recovered patients and learn more about this particular virus, the fear will subside. In times like these, it is important to manage misinformation and follow the advice of official health organizations. 
DOES ARCTIC ADVENTURES ROUTINELY DISINFECT BUSES?
Yes. The health and safety of our adventurers is our top priority, so our cars are cleaned after all tours. Due to the outbreak, we will also disinfect our buses if we suspect there is a chance of infection. 
WHAT ABOUT HIKING HUTS AND CAMPSITES?
Huts and campsites used in our trekking tours have implemented enhanced cleaning and social distancing procedures due to the COVID-19 pandemic.
Huts:
Hand sanitizer and sanitizing sprays will be accessible inside all huts, with instructions on how to use them. Only one person from each group is allowed to cook in the kitchen at a time. Common contact surfaces should be sanitized before and after food preparations. After cooking, all equipment (dishes and cutleries) should be thoroughly cleaned with hot water and soap. 
There is a limitation on how many people can use the toilet facilities at the same time, and people are encouraged to sanitize contact surface areas, like door handles and tables, afterward.
Campsites:
Each campsite will be divided into sections, and each section will accommodate 200 people max according to recommendations from the Directorate of Health. Groups are encouraged to keep a distance of 2 meters from each other. 
There is a limitation on how many people can use the toilet facilities at a time, and people are encouraged to sanitize contact surface areas afterward. 
ARE THE TRAVELERS REQUIRED TO TAKE ANY MEDICAL PRECAUTIONS
Travelers are not asked to take any medical precautions. We believe that all adventurers traveling with us are sensible and can make an informed decision based on their own health. To reduce the risk to a minimum, we advise all of our tour participants to frequently wash your hands, avoid touching your face, and cover your mouth when sneezing and coughing.
Sustainability
As Iceland's largest tour operator, we recognize our responsibility and are committed to operating more sustainably and promoting responsible travel. We do this not only among our guests but also among everyone who comes across our websites and social media pages, encouraging travelers to behave respectfully, non-invasively, and to make meaningful decisions. As a successful market player, we're aware that our potential guests are well-informed and demand quality service. When choosing from the wide array of Icelandic tour operators, our potential guests always prefer the more responsible service provider. We expect the number of eco-conscious travelers to grow rapidly in the future.

Arctic Adventures carried out a customer survey to find out about attitudes towards the environment, climate change, and tourism's effects on Iceland. The results showed that not only are the majority of tourists concerned about the environment, but their worries grow after seeing Iceland firsthand.

To satisfy our potential customers' needs and ease their concerns about the negative impact of their travels, it's essential for us to maintain high-quality service and work towards sustainable operations. This not only brings great rewards for our business but also offers benefits to the environment, the communities living in the destinations, and, of course, to our customers. A more eco-friendly holiday is always a better holiday.

The roots of our company lie in our passion for Icelandic nature. It provides the adventure itself, as the environment is our beloved playground. There are only a few inhabited places in the world where the natural environment remains as untouched as it is in Iceland. This is something we take great pride in and are focused on preserving.

THE PRINCIPLES OF OUR SUSTAINABILITY POLICY
Ensuring that future generations can experience the same things that we can experience today requires careful planning. During everyday operations, it can be easy to lose track of our long-term goals. A good sustainability policy is like a business plan; it controls the processes from the lowest level of operation up to the systematic regulations, starting small but thinking big. We're confident that the target that we've set for ourselves is realistic, achievable, and efficient.

COMMITMENT
We're committed to protecting the natural environment, wildlife, and natural resources when developing and managing our tourism activities.

FORWARD-THINKING
Thinking about the long-term, we're always looking for new and better ways to make our operations more sustainable and aren't afraid to swim against the current to do so.

ADAPTION
We're constantly monitoring, re-focusing, re-thinking, and adapting to changes – both environmentally and culturally – to ensure the balance between limits and usage.

RESPECT
To show respect to our guests, we aim to maintain a high standard and provide travelers with quality service and authentic tourist experiences that celebrate and conserve Icelandic nature, heritage, and culture. We respect and support our locals by creating socio-economic benefits for their communities.

COOPERATION
We work closely with relevant Icelandic associations, participating in research and undertaking voluntary work with local communities and landowners in the areas where tours are operated. We make regular donations to organizations and support their efforts in various ways.

PRACTICE AND PROMOTE A LEAVE NO TRACE ATTITUDE
"Take nothing but pictures. Leave nothing but footprints. Kill nothing but time." So goes the shortened principle that we follow and promote. Every member of the Arctic Adventures family is committed to sharing their love for Icelandic nature and promoting environmental awareness in each of our guests.

PRACTICE
Our tour guides are the most dedicated nature lovers in our company. It was true passion that led them to choose Icelandic nature as their daily workplace and they're naturally committed to protecting it. Our guides are trained to share their outstanding knowledge with our guests in an entertaining way and to encourage them to behave responsibly so that they leave no trace in Iceland's fragile environment.

PROMOTE
Sustainable tourism isn't exclusively dependent on tour operators. It requires the determination of travelers as well. But tour operators play a great role in educating and engaging visitors to behave more cautiously and become more responsible tourists. We put great effort into marketing and promoting our principles to a broad audience. We not only promote them to our guests but also to the hundreds of thousands of readers that visit our websites and social media channels searching for valuable information about Iceland. We truly believe that our words have a great impact.

PRACTICAL STEPS WE ARE TAKING TO BECOME MORE SUSTAINABLE
Our plan to become more sustainable is future-oriented but also based on real, everyday actions. Just like in any business, great achievements in environmental protection can be accomplished by making an effort every single day. Here are some of the practical steps we are taking to support our sustainability policy.

TO REDUCE OUR EMISSIONS
In 2019, we extended our vehicle fleet with three 100% electric, zero-emission cars, lowering our emissions by 50.8 tons of CO2 per year. We aim to purchase more eco-friendly vehicles in the future. We've created strict regulations to lessen Arctic Adventures' idling times. We've also installed trackers in our vehicles that send alerts when they're idling or regularly leaving the engine on. This regulation resulted in a 40% drop in idling times. We avoid long-distance procurement when purchasing products and equipment. We make it possible for our customers to use public transport systems instead of minibusses to get to specific hiking areas where our guided hikes are operated such as Skógar and Þórsmörk, the trailheads of the Laugavegur Trail. We've made a deal with Strætó (the official Icelandic public transport company) so that our team members can purchase yearly passes at a better rate to encourage the use of public transport. We've made showers available at the office to encourage people to walk, run, or bike to work and back.

TO REDUCE OUR WASTE
We carry out what we carry in. Our guides remove all waste from the tour areas we operate in and dispose of any waste found in the area, even when that waste isn't connected to the operation of our tours.

We organize clean-up projects in multiple locations around Iceland at least once a year. The team members of Arctic Adventures – which include hundreds of people – regularly participate in such projects organized by others.

We recycle all waste at the office, including paper, plastic, cans, bottles, and compostable waste. We encourage our team to do so out in the field as well. We make sure to properly dispose of all waste including batteries and hazardous waste. This applies to the field of operation as well as at Arctic Adventures facilities and offices.

We've eliminated the use of disposable or individually-packaged products where possible. We use multipurpose culinary items on our tours and are extra careful to not use disposable cups for hot chocolate and coffee when served on our tours.

We bring ziplock bags on all of our Highland expeditions to make sure nothing gets left behind, including food, waste, or even toilet paper.

We inform clients of our "Leave No Trace" policy and explain how it applies to them. We ensure no contaminants enter water sources or systems. Our guides carefully inspect campsites and rest areas to ensure they are left in the same condition as they were found, if not better.

TO MINIMIZE THE IMPACT OF OUR OPERATIONS ON WILDLIFE
We're committed to responsible whale watching and making sure that our actions don't damage marine wildlife in any way. On our whale watching tours, we strictly follow the Code of Conduct developed by marine biologist experts at IceWhale (the Icelandic Whale Watching Association). This is a set of careful regulations that aim to minimize the impact of whale watching vessels on cetaceans and to increase the sustainability of whale watching operations in Iceland, both for animal welfare and passenger enjoyment.

We support the Orca Guardians, a new organization that helps promote sustainable killer whale watching in Iceland and has developed an orca-specific code of conduct for Icelandic killer whale watching boats.

TO SUPPORT LOCAL BUSINESSES
On our multi-day tours, we regularly visit remote farms and small communities where our guests can purchase handmade souvenirs and try authentic local food. On our tours where meals are included, we use local products to support local farmers and producers. We've abolished the use of goods made by companies who fail to recognize environmental guidelines or their workers' rights. TO

REDUCE PAPER USE
We've decided to quit printing brochures or buying advertising in printed mediums. This step was taken to decrease the use of the toxic chemicals used to break down ingredients for paper production and in ink, as the inks used in industrial printing affect the environment in various harmful ways. On our tours, we always accept e-vouchers; no printing needed. We use online documents for all contracts and file keeping. We recycle all the paper at our offices.

TO PROMOTE RESPONSIBLE TRAVEL
We work in close collaboration with Safetravel Iceland, a project from the Icelandic Association for Search and Rescue (ICE-SAR), which promotes safe and responsible travel in Iceland. We support the "The Icelandic Pledge" campaign, which is a project from Promote Iceland, a public-private partnership established to promote Iceland as a tourism destination. The Icelandic Pledge is an online agreement designed to advocate responsible traveling. It offers tourists the ability to sign and take a pledge where they promise to respect nature when traveling in the country. We are members of IceWhale (the Icelandic Whale Watching Association), whose aim is to inform and educate tourists about whale meat consumption in Iceland. The purpose of the campaign "Meet Us Don't Eat Us" is to gain visitor's support to end commercial whaling instead of contributing to it by ordering whale in Reykjavík restaurants. During our tours, we discourage travelers from taking natural souvenirs and encourage them to take only photographs instead. Our guides educate all participants on how they can minimize their environmental impact by, for example, staying on marked paths and trails whenever possible.

PLANTING ENTIRE FORESTS IN ICELAND
Arctic Adventures has recently signed a contract with the Iceland Carbon Fund (Kolviður) to plant 10,000 trees in their forests. The fund was started by two non-profit organizations, the Icelandic Forestry Association (Skógræktarfélag Íslands) and the Icelandic Environment Association (Landvernd). Together, they make it possible for companies to offset their unavoidable emissions through donations. The donation will be spent planting trees and expanding Iceland's forests, thus neutralizing the carbon released into the atmosphere and combating soil erosion. Kolvidur also works to increase public awareness of carbon emissions. Their forests are strategically planted to absorb the maximum amount of CO2 and are protected for a minimum of 60 years until the trees grow strong. During their lifetime, the trees absorb carbon and store it in their root system, trunk, and branches. The forests prevent soil erosion and maintain the storage of carbon in the soil. By planting 10,000 trees in Iceland, Arctic Adventures has offset 46% of its CO2 emissions from 2018. The contract brings us closer to becoming a carbon-neutral tour operator and preserving the beautiful nature we enjoy every day. We also offer our customers the chance to join us in this project by choosing to offset the carbon from their trip with us. This option will be made available in the booking process for specific tours and customers will be offered the option to purchase one tree to plant in the Kolviður forests at each booking. Through this joint effort, we hope to become 100% carbon neutral by the end of 2020.


This op has the following sustainability certifications:
Vakinn Silver Class Environmental Certificate

These are the initiatives that this operator has in place to make your adventure more sustainable:

Sustainability Programs
- Invests a percentage of revenue back into community projects or sustainability projects 
- We host community-building or sustainability projects for tour goers to partake in

Reducing Carbon Emissions
- Offers carbon offsetting solutions to our passengers
- Has a program in place and are working towards becoming fully carbon neutral

Supporting Destinations and Local Communities
- Hires local guides
- Brings our passengers to locally run restaurants & businesses

Reducing Waste
- Does not offer any single use plastic on tour
- Has a recycling program for our guests on tour

Animal Welfare
- Does not offer any tours that include elephant riding
- Does not offer any tours that use animals for entertainment
- We avoid places that sell/eat parts of endangered animals on tour

Transportation
- Uses energy-efficient transportation while on tour

Accommodation
- Tours stay in locally run hotels/accommodations
- Selects accommodation providers that have sustainability programs in place
- Most/all of our suppliers have sustainability programs in place

Company Culture
- Hosts community-building or sustainability projects for staff to partake in
- Educates passengers about sustainability while on tour
- Educates people about sustainability through our marketing
- We are a paper free company
 
 
Contact our Travel Experts
+1 844 311 8331
24/7 Support
Our team of experienced tour specialists have travelled to hundreds of countries around the globe and have decades of first-hand travel experience to share. Contact us now to have all of your tour-related questions answered!