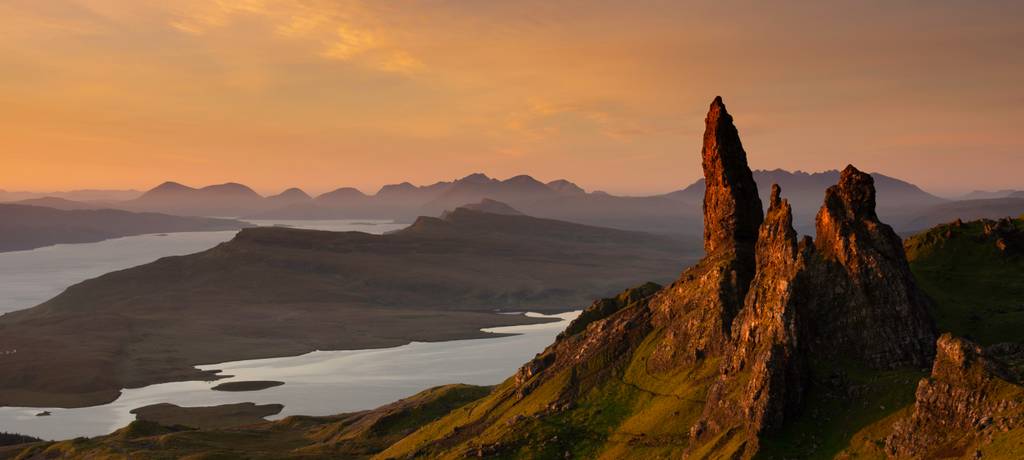 The Scottish Highlands
Mountain ranges as far as the eye can see occupy Scotland's northern region, where verdant valleys keep company with spectacular lochs, and signs of civilization are few and far between. Here, hiking trails offer both epic panoramas and a hideaway from the daily grind. These are the Scottish Highlands, peaked by Ben Nevis towering at 4,411 feet, and it's the perfect venue for an epic trek.
See Scottish Highlands Tours
Seasonality & Hiking Requirements
Best Scottish Highlands Treks & Routes
West Highland Way

With 9 to 16 miles of hiking in a day and dizzying elevation, West Highland Way isn't the easiest trekking route. Despite that – or perhaps because of it – the West Highland Way is Scotland's pride and joy. 

Distance: 96.0 mi (154.5 km)
Average duration: 6-8 days
Average difficulty: Even in the winter's foggy conditions, West Highland Way is hikeable, if only by expert hikers with proper gear. Any other time of the year, it's a reasonable hike for most skill levels.

Read more

Great Glen Way

79 miles of epic trekking path await adventurers along the Great Glen Way, starting near the foothills of the great Ben Nevis and passing Loch Lochy, Loch Oich and Loch Ness. It's a mostly manageable undertaking, with beautiful views and a more difficult stretch at the end for a bit of a challenge.

Distance: 79 miles (126 km)
Average duration: 5 to 6 days
Average difficulty: As it keeps at mostly lower elevation, the Great Glen Way is an easy-to-moderate trek for most skill levels. The success rate is very high.
 

Read more

Southern Upland Way

Crossing from the tiny village of Portpatrick in the southwest to Cockburnspath in the east, the famous Southern Upland Way is the United Kingdom's first official long-distance trail that runs from coast to coast, linking them together in an unforgettable, if strenuous in some parts, 212-mile trekking route.

Distance: 212 mi (341 km)
Average duration: 10-20 days
Average difficulty: The hike might be difficult in some parts, but a high success rate is generally expected. 

Great Trossachs Path

Set in the Trossachs National Park, the Great Trossachs Path essentially connects three of Scotland's most epic hiking trails. However, with 30 miles of breathtaking loch views, woodlands, and waterfalls (not to mention the pubs along the way), it holds its own as a long-distance hiking trail worth taking on.

Distance: 30 miles (48 km)
Average duration: 1-3 days
Average difficulty: This path has its small share of steep climbs, so we'll count it as moderate. However, it does boast a success rate of 100%. Shorter loops are available for less active folks.

Three Lochs Way

It might be a shorter trek at 34 miles, but that doesn't mean Three Lochs Way is any less spectacular than its long-distance counterparts. It offers jaw-dropping views of Loch Lomond, The Gareloch, and Loch Long; hence the name. But stunning views of gentle slopes and craggy peaks are also on hand.

Distance: 34 miles (55 km)
Average duration: 3-4 days
Average difficulty: Depending on your level of fitness, Three Lochs Way is a fairly easy hike, with a very high success rate. Nearby accommodations are available along the way if you prefer to forgo camping and carry a lighter load.

Cowal Way

Cowal Way is called Scotland in 57 miles for a reason. Running the length of the Cowal Peninsula, it offers diversity in grand landscapes and terrains from woodlands to coastlines, as well as beautiful panoramas and charming villages. It's also easily accessible, its trailhead only an hour from Glasgow.

Distance: 57 mi (92 km)
Average duration: 3-5 days
Average difficulty: With a waymarked footpath being developed for tourists and accommodations along the way, Cowal Way is an easy-to-moderate hike with a very high success rate.

The Great Glen Canoe Trail

Give your upper limbs a bit of a workout for a change. The Great Glen Canoe Trail, Scotland's first official paddling trail, is the stuff kayaking legends are made of. For 60 miles, it runs the length of the Caledonian Canal, which links Inverness to Fort William, and even traverses the famous Loch Ness.

Distance: 60 mi (96.56 km)
Average duration: 3-5 days
Average difficulty: Much like many of Scotland's footpaths and trails, the Great Glen Canoe is a challenging, yet feasible, undertaking. Chances of success are high for most people.
Facts of the Scottish Highlands
The Location

Set between the North Sea and the Atlantic Ocean, the Scottish Highlands are located in Scotland's northern region, north and west of the Highland Boundary Fault. While it doesn't encompass the major cities of Glasgow and Edinburgh, it is home to Inverness.

Coordinates

The coordinates of the Scottish Highlands are 57.12°N,-4.71°W

Elevation

Ben Nevis, the highest peak in the Highlands (as well as the entire British Isle), boasts an altitude of 4,409 feet (1,344 metres), while Ben Macdui, the second highest mountain, sits at 4,295 feet (1,309 metres).

Mountain Range

The Highland is home to Scotland's main mountain ranges. These include the Grampian Mountains, where Ben Nevis is, and the Cairngorms, which are home to Ben Macdui.

Length

Extending from Highland Boundary Fault, which separates it from the Lowlands in the south, all the way to the Orkney Islands in the northeast and the Outer Hebrides in the west, the Scottish Highlands occupy more than 30,659km² of land.
Scottish Highlands Weather
JAN
FEB
MAR
APR
MAY
JUN
JUL
AUG
SEP
OCT
NOV
DEC
Average °C
3
3
5
7
9
12
14
14
11
8
5
3
Average °F
37
37
41
44
48
53
57
57
51
46
41
37
High °C
5
6
8
10
14
16
18
18
15
11
8
6
High °F
41
42
46
50
57
60
64
64
59
51
46
42
Low °C
0
0
1
3
5
8
10
10
8
5
2
1
Low °F
32
32
33
37
41
46
50
50
46
41
35
33
Rainfall (mm)
170
123
138
86
79
85
92
107
139
162
165
169
Scottish Highlands Tours & Trips
SCOTLAND TRAVEL INSPIRATION BY TOURRADAR