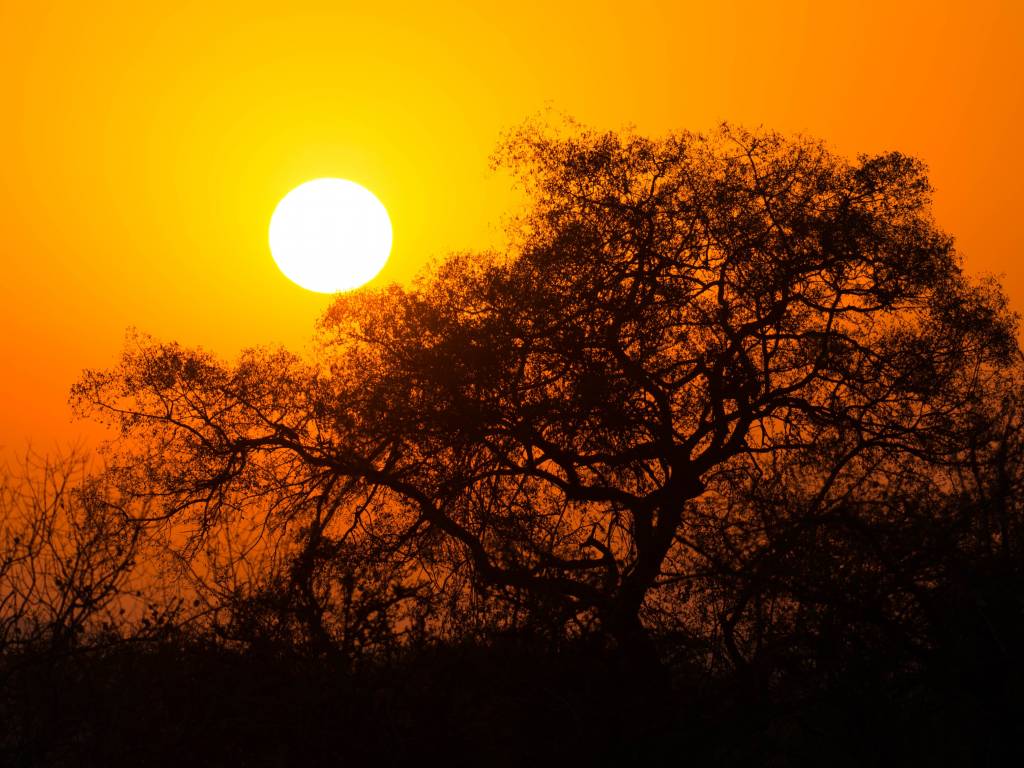 Kruger National Park Maps
Navigating your way around one of the world's most beautiful wildlife destinations is much easier than you think. Our maps of Kruger National Park in South Africa will not only give you an overview of this famous safari location but help with planning your trip. From which airport to what kind of lodging, below is some essential information for anyone travelling to this spectacular animal kingdom.
See all Kruger safaris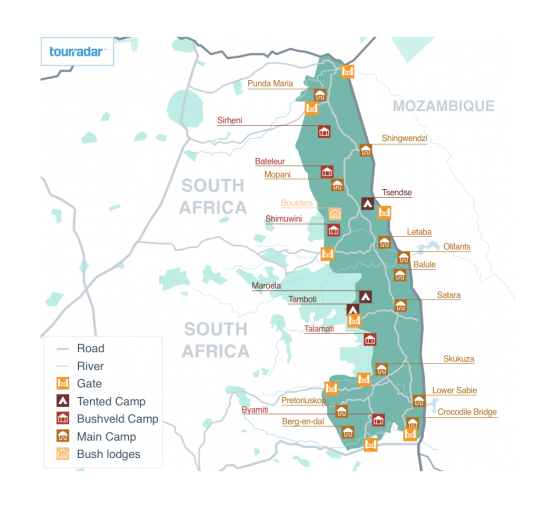 Map of Kruger National Park camps
This map highlights camps found within and around Kruger National Park. There are twelve main rest camps, four satellite camps and five bushveld camps. The easiest way to reach your camp is by driving or flying, and please be aware that the distance between gates and camps vary, so take note of gate opening and closing times. This is especially important as speed limits within the park are 40km per hour on dirt roads and 50km per hour on tar roads. 

Main Rest Camps
All the major rest camps are kitted out with electricity, a convenience shop, a first-aid centre, shared kitchen facilities, laundry options, public telephones, restaurant and/or cafe, and petrol station. 

Berg-en-Dal (with satellite Malelane): Located along the banks of the Matjulu Spruit, in the south-western corner of the Kruger National Park, Berg-en-Dal is about a five-hour drive from Johannesburg.

Crocodile Bridge: This cosy camp gets its moniker from its location on the northern bank of Crocodile River. The Crocodile Bridge Gate is only 13 kilometres from the town of Komatipoort. The game viewing area near the camp known as the Southern Circle is famous for its high density of lion prides. 

Letaba: An oasis along a bend of Letaba River, this camp offers travellers a guest house, cottage, bungalow, hut or a furnished safari tent, as well as camping and caravan sites as lodging options. This camp is prime for elephant sightings and bird watching. Use the Phalaborwa Gate to get here.
 
Lower Sabie: Situated on the banks of Sabie River, where many animals can often be seen drinking water throughout the year, this camp offers everything from a luxurious guest house to cottages and tents. The nearest gates are Crocodile Bridge (35 kilometres away) and Paul Kruger Gate (53 kilometres away), both around a five-hour drive from Johannesburg. 

Mopani: A newer camp located near Pioneer Damn, the nearest entrance gate is Phalaborwa Gate, 74 kilometres away. Visitors have the option of flying in and out of Phalaborwa Kruger Park Gateway Airport, just four kilometres away from the entrance gate. 

Olifants: This camp offers a great point from where to spot wildlife overlooking the Olifants River. Visitors should enter from Phalaborwa Gate. 

Orpen (with satellites Maroela and Tamboti): This small rest camp is located by Orpen Gate (about five and a half hours away from Johannesburg by road) and offers travellers huts and fancier cottages. 

Pretoriuskop: This is one of the oldest camps in Kruger National Park and has many amenities such as fully equipped guesthouses. This camp is home to a large population of white rhino, and the easiest way to reach Pretoriuskop is by using the Numbi Gate (60 kilometres away) or Paul Kruger Gate (24 kilometres away). 

Punda Maria: The lush vegetation of this camp attracts an abundance of wildlife and rare bird species. This is the Kruger's most northern camp and is located in a sub-tropical climate, which makes it a fascinating place to stay. The camp is ten kilometres away from the Punda Maria Gate.

Satara (with satellite Balule): This is the best camp for lion, leopard and cheetah spotting. The nearest entrance is Orpen Gate. 

Shingwedzi: Visitors staying in this camp will find that it is home to many large elephant herds. Located on Shingwedzi River, the nearest gate to this camp is Punda Maria, and the camp can be reached by road or air. 

Skukuza: This is Kruger's largest camp, and includes amenities such as a shop, ATM, internet cafe, and much more. The nearest entrance to the camp is Paul Kruger Gate. 

Satellite Camps 
These self-catered satellite camps offer a real escape in Kruger's wilderness. They have limited camping facilities but are close to the main rest camps, where there's access to more amenities.

Balule: Overlooking grasslands, this rustic satellite camp is located 11 kilometres to the south of Olifants Rest Camp and 87 kilometres from Phalaborwa Gate.

Malelane: A smaller satellite camp with flora and fauna, Malelane offers total seclusion just three kilometres away from Malelane Gate along Berg-en-Dal Road.

Maroela: This riverside satellite camp just four kilometres away from Orpen Rest Camp, is perfect for spotting leopard because of the dense trees that surround it. 

Tampoti: Another satellite camp perfect for spotting leopards in the wild, Tampoti is four kilometres away from Orpen, on the road to Satara Rest Camp. 

Bushveld Camps
For visitors looking for a more remote stay during their time in Kruger National Park, bushcamps are ideal. All units in these areas must be reserved in advance and are self-catered. They are kitted out with a refrigerator, cooking utensils, crockery, cutlery and a small stove or large stove depending on the size of the unity, and private washroom. Shops and restaurants are not available in these camps. 

Bateleur: An exclusive bushcamp experience nearby to two watering holes, makes this camp ideal for game viewing. Bateleur is located in Northern Mopane and the Bushwillow Savannah Woodlands of Kruger, the closest gate is at Punda Maria.

Biyamiti: Secluded and cosy, Biyamiti Camp is situated 26 kilometres from Crocodile Bridge Gate and just 12 kilometres from the N4. 

Shimuwini: With easy access to elephant and buffalo territories, Shimuwini's remote location along the Letaba River, makes it a lovely place to stay.  

Sirheni: Located on the banks of Sirheni Dam and surrounded by mopane, Sirheni is private but within easy reach of some of the larger rest camps that can be accessed from Phalaborwa Gate. 

Talamati: The rich grasslands surrounding this camp, give travellers incredible views of various grazing herds. Located in an open valley along N'waswitsontso River, there are lots of game viewing opportunities in Talamati. The closest gate, Orpen, is just 30 kilometres away. 
More about the location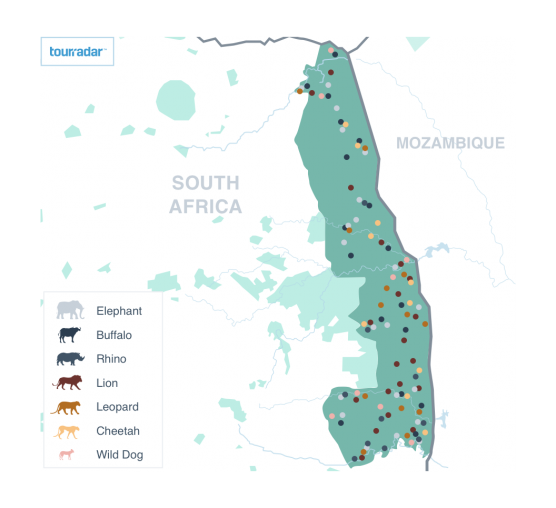 Map of Kruger National Park animals
With almost two million hectares of raw African wilderness, Kruger National Park is prime for observing game in the wild. Among the abundant wildlife found in this large sanctuary, are the famous Big Five: lions, leopards, buffalos, elephants and black and white rhinoceros. Along with these creatures, visitors will find various antelope breeds, predators such as wild dogs and hyenas as well as crowd-pleasers like hippos and giraffes, all of them immersed in the park's open plains, waterbodies and stunning landscapes. There are many ways to witness these majestic species in their natural habitats. Game viewing drives and walking safaris are just two of many options available to visitors of Kruger National Park.
More about the animals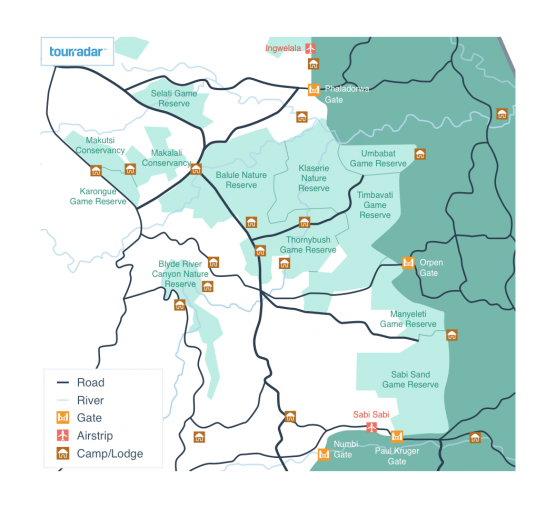 Map of Greater Kruger National Park
A joint venture between the Kruger National Park and the Associated Private Nature Reserves, Greater Kruger National Park, encompasses over twenty private reserves west of the main national park. Unlike the national park, Greater Kruger allows a limited number of people to visit, ensuring visitors experience animals in the wild without the crowds. As the borders between the national park and the Greater Kruger region remain unfenced, animals can move freely. Likewise, accommodation is much more exclusive in this part of the reserve. 
More on Kruger National Park
Most popular Kruger safaris
Contact our Travel Experts
+1 844 311 8331
24/7 Support
Our team of experienced tour specialists have travelled to hundreds of countries around the globe and have decades of first-hand travel experience to share. Contact us now to have all of your tour-related questions answered!
Tour operators and travel companies in Kruger
A TRAVEL MAGAZINE BY TOURRADAR