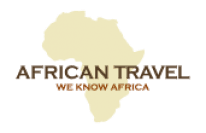 Number of tours

17
Age Range

12-99
Number of reviews

6
Rating

5.0

/5
Response rate

100%
Response time

within 2 days
Written on March 28th, 2020

Everything about this tour was top notch. Highlight was our time at King's Camp. The service was beyond expectations at each location. We felt confident in our …

Read more

Scenic Cape Town and Kruger

Written on June 11th, 2019

This was simply an amazing trip. We have traveled all over the world and this was by far the best. African Travel were there at every step of the way and planne…

Read more

African Travel commented on this review

Thank you for sharing your positive experience with African Travel! We are so thrilled to hear you had an amazing trip and we hope to welcome you back to Africa very soon.

Tanzanian Highlights

Written on June 11th, 2019

Excellent tour with a very experienced guide.

African Travel commented on this review

Thank you for sharing your comments! We are so happy to hear you enjoyed your experience with African Travel, Inc.

Carl

Incredible Cape Town and Safari

Written on May 2nd, 2019

Our recent trip to Zimbabwe was fantastic! Thanks to African Travel for their suggestions on a very thoughtfully designed itinerary. We started with our arri…

Read more

African Travel commented on this review

Thank you for sharing your thoughts on your trip with African Travel, Inc.! We are very happy to hear that you enjoyed your time with us and that all aspects of the trip were fantastic. We hope to welcome you back to travel with us again soon.

Allison

Scenic Cape Town and Kruger

Written on April 17th, 2019

As a frequent traveller, there is nothing better than feeling both safe and comfortable in the hands of an experienced and knowledgable team. From start to fini…

Read more

African Travel commented on this review

Thank you for sharing this with us. We are very happy to learn that you enjoyed your journey with African Travel. We are so pleased to hear that our tailored itinerary was a great fit for your group and can't wait for you to travel with us again soon.

Anonymous

Scenic Cape Town and Kruger

Written on April 8th, 2019

My journey with African Travel was truly unforgettable! Having private tours in Cape Town was so beneficial - we were able to spend as much time as we wanted at…

Read more

African Travel commented on this review

Thank you for your wonderful review, Kelly! We are so thrilled to hear that your journey with African Travel was 'truly unforgettable!' We look forward to welcoming you back soon.
African Travel Destinations
Well-being is Our Top Priority
Before Travel

SAFARI EXPERTS - 40 YEARS OF EXPERIENCE
African Travel has tailored dream safaris for more than 40 years. Our parent company, The Travel Corporation, started in Africa and is now celebrating 100 incredible years of service growing into one of the strongest travel operations in Africa.  We are one of the most awarded safari operators focused exclusively on the African continent. We know Africa, so you can trust that the advice and safari recommendations we offer come from our first-hand experience in Africa. We were here long before yesterday, we are here for you today, and will continue to be here far beyond tomorrow.
STRICT PARTNER POLICY
African Travel works with a wide range of hotel, lodge and airline partners. Our preferred partners adhere to strict standards when it comes to safety, security and well-being. Everything from the luxury vehicles used, to the cleanliness of the kitchens at the lodges are of the highest standards. We only book services with a provider who we personally know and they have assured that our five-star standards of service are met. Our local team in Africa allows us to rapidly respond and make changes to any services or itineraries if the need arises.
SAFELY INSURED
Trip Cancellation, Interruption and/or Medical Insurance is mandatory for all guests and proof of insurance must be provided before any booking is confirmed. Additionally, all of our suppliers in Africa must have adequate insurance coverage. Together, these policies help to eliminate concerns should anyone begin to have any health issues before or during their safari.
SAFARI LATER
We have a flexible travel policy. Should the need to postpone or delay travels because of COVID-19 concerns arise, we will work with you to move the trip to another departure of the same safari, without change fees or penalties. Departure dates can be selected between the date of original departure and December 9, 2021. The option to postpone to 2022 is also possible. For details refer to our COVID-19 Travel Alert page.
During Travel
PRIVATE AND SMALL GROUP OPTIONS
Because our journeys are tailor-made we have the option to travel privately or in small groups. If a trip has a group element, group sizes are 4-8 people. In other words - small. We're here to make special requests, such as intimate dining experiences, custom day tours and upgrades to private vehicles (when possible) a reality. Every safari is different, and we want to help ensure every safari, is a dream safari.
SPACIOUS SURROUNDINGS
Africa has some of the most beautiful open spaces. Spending time in nature makes "physically distancing" quite easy. Sightings of animals happen more often than seeing people, allowing guests to easily disconnect and enjoy the sights, sounds, smells, starry nights and sensations of Africa. A safari vehicle is not crammed full of guests; we ensure there is enough free space to enjoy the game viewing experience the best way possible. Our partner lodges are often set within the natural environment with tent or room spaced well away from other guests. Private decks and private plunge pools are often our favorite features.
SERIOUS ABOUT CLEANLINESS
The African countries we serve take hospitality and tourism very seriously. Frontline workers in countries such as Kenya and Tanzania are required to be tested for COVID-19 and have a clearance certificate. Training is just as important as testing. Staff is undergoing extensive training in how to best ensure guest well-being in Africa. Guests will often see staff actively cleaning public and shared spaces before and after use including cleaning of accommodations, disinfecting safari vehicles and adapting dining experiences to provide more personal space and a la carte dining options. Our suppliers also take well-being to heart. Every facility varies, but everything from mobile disinfecting machines to the use of UVC light may be in practice. This is in addition to core essentials such as having readily available sanitizer throughout a safari experience.
Our safaris are hosted by local safari guides, who are acutely aware of the need to monitor and follow proper hygiene etiquette for our guests. While adhering to all local rules and regulations, safari guides keep guests informed of any protocols to follow to ensure high standards are maintained and make sure to limit any unnecessary human contact where possible.
SUPPORT 24/7
Advisors and guests can always reach our African Travel team and representatives with any concerns about the safety and well-being of a safari experience. Every guest is provided with an emergency number to contact our Head Office in California, or members of The Travel Corporation family in Africa.
Personal Responsibility
We have introduced and enhanced these well-being and hygiene protocols for you, our other travelers, and our team members.
An inherent risk of exposure to COVID-19 exists in any public place where people are present. COVID-19 is an extremely contagious disease that can lead to severe illness and death. According to the World Health Organization and government health bodies, senior citizens and guests with underlying medical conditions are especially vulnerable.
We ask that you please take personal responsibility for your well-being. This begins with packing any personal protective equipment and sanitizers you require. Please adopt physical distancing and hygiene practices throughout your travel arrangements and follow all health instructions from official government workers and our staff once you are in Africa.
In choosing to travel with African Travel, you voluntarily assume all risks related to exposure to COVID-19.
Let's help keep each other safe and healthy!
Contact our Travel Experts
+1 844 311 8331
24/7 Support
Our team of experienced tour specialists have travelled to hundreds of countries around the globe and have decades of first-hand travel experience to share. Contact us now to have all of your tour-related questions answered!